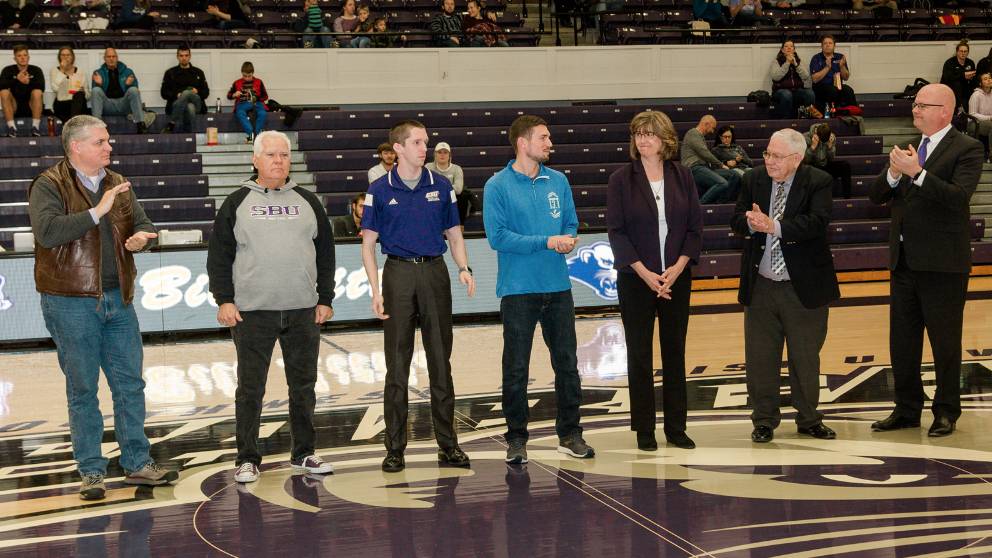 BOLIVAR, Mo. – Southwest Baptist University Athletics inducted the Class of 2020 into its Hall of Fame during ceremonies in conjunction with the men's and women's basketball doubleheader with University of Missouri-St. Louis on Saturday, Jan. 11.
Mark Rains (1970 – Tennis), Jody Mayfield-Pool (1989 – Basketball), Landon Young (2014 – Baseball), Bill Shell (2014 – Track and Field) and Dr. Bill Little (Bearcat Service Award) were recognized at the Hall of Fame banquet, as well as during halftime of the men's game.
"I love this time in our school year," said Mike Pitts, SBU Director of Athletics. "We get to share memories, share great stories and recognize individuals for great accomplishments. It is an honor to partner with Citizens Memorial Hospital (CMH) to host this ceremony."

Dr. Bill Little – Bearcat Service Award
The Bearcat Service Award, which was established in 2015, recognizes special friends of the Bearcats, who over the years, have made a meaningful impact on the Bearcat family.
Dr. Bill Little joined the SBU faculty in 1960 as a member of the chemistry department. He was appointed to serve on the athletic policy committee and later served as chair of the NAIA Eligibility Committee. Little worked with the SBU president and director of athletics as the school moved into the Mid-America Intercollegiate Athletics Association (MIAA) and NCAA Division II competition.
Little also has been an active member of the Bolivar community by serving on the city council for 45 years and a planning and zoning commissioner since 1967. A 1954 graduate of Baylor University, Little was recognized in 2004 for his work in chemistry and community service with a professional degree in chemistry. He served as vice president for academic affairs for 10 years, leading the development of the nursing and physical therapy programs, as well as graduate programs in education and business at SBU.
Mark Rains – Tennis – 1967-1970
Mark Rains '70 was a key component to the tradition of excellence that brought the Bearcats tennis program to where it is today. Rains was one of the members of the inaugural team, which was formed in 1966, and instantly got to work in building the program to respected heights.
Rains guided the Bearcats to the 1969 NAIA District 16 Championship and a No. 32 national ranking that season, the school's first national appearance in any sport. In 1970, Rains again led Southwest Baptist College to the NAIA District 16 Championship and a No. 23 national ranking, while also earning All-NAIA District 16 Team honors.
Rains continues to serve the SBU community and recently completed almost 30 years on SBU's Board of Trustees.
"The Athletic Hall of Fame induction is an incredibly humbling experience, which recognizes a plain old guy for being an advocate for SBU on the tennis court," Rains said. "I was not the best tennis player, but a member of a team having fun and representing our school at a level where no sports team had ever been before – at national tournaments.
"My four years on the tennis team were just the beginning of an incredibly successful career for coach John Bryant and the many, many trips to the national tournaments to follow, including several national championships. I am honored to have been one of the foundational building blocks of his program and legacy at SBU."
Jody Mayfield-Pool – Basketball – 1984-1988
Jody Mayfield-Pool '89 sits in the top 10 at Southwest Baptist in five career basketball records – second in field goals made, fifth in total points, tied for fifth in scoring average, tied for eighth in field goal percentage and ninth in total rebounds. She earned multiple Mid-America Intercollegiate Athletics Association (MIAA) Player of the Week awards and multiple All-District 16 (NAIA) honors, as well as being named an All-MIAA Honorable Mention selection in 1986-87.
"Initially, the honor was a such a surprise," Mayfield-Pool said. "It took me a while to wrap my head around it. I don't know that I deserve the honor, but I appreciate it very much. There have been so many awesome athletes since I was at SBU, that I really didn't consider being inducted.
"I've always felt very blessed to have been able to play college basketball, and ultimately get a degree, and I was satisfied with my accomplishments. I never regretted my decision to come to SBU. This is right where I belonged. I believe that God provides a plan and a path for every one of us, if we just follow Him. This honor – 30 years later – is like icing on the cake, the cherry on top of your ice cream sundae."
Landon Young – Baseball – 2010-2014
Landon Young ranks in the top 10 in 10 different career categories for SBU baseball. He left SBU as the single-season all-time hits leader (which since has been passed), was a two-time All-Mid-America Intercollegiate Athletics Association (MIAA) honoree and the MIAA's single-game doubles record-holder. Young stood out as a leader in a program that experienced a dramatic turnaround, going from a 7-41 record during his freshman season, to propelling the team to 70 wins over the next three years.
Young's impact was recognized both nationally and on campus. He was the program's first Academic All-American, the Rex Brown Award recipient (the highest honor an SBU student-athlete can receive) and was named Mr. Southwest in 2013.
"The honor of being inducted into the Hall of Fame is an incredibly special honor because it represents the culmination of God's goodness and a successful collective effort for which I get to be the representative," Young said. "God gave me the privilege of playing alongside many talented teammates and under the leadership of coaches dedicated to the success of their players both in the game of baseball and in life.
"This honor is not possible apart from the selfless contributions of my teammates at SBU, who willingly adopted the idea of putting the success of the team over personal preferences. It is special to know that I am considered as having an important role as a student-athlete during my time at Southwest Baptist University and I am so grateful for the privilege of induction into the Hall of Fame."
Bill Shell – Track and Field – 2010-2014, 2014-2017
Bill Shell is one of the most-accomplished Men's Track and Field athletes to compete at SBU in the school's history. Shell holds six SBU records – 400-meters (indoor), 4x400 relay (indoor), 200-meters (outdoor), 400-meters (outdoor), 4x100 relay and the sprint medley relay; he won five Mid-America Intercollegiate Athletics Association (MIAA) titles; he was a nine-time All-MIAA honoree; a nine-time USTFCCCA All-Region performer; a four-time NCAA All-American; and the 2014 CoSIDA/Capital One Academic All-American of the Year – the first in SBU history.
Shell not only was a decorated performer athletically, he won the Elite 90 award twice, which is given to the student-athlete with the highest GPA at the NCAA Division II Track and Field Championships.
"It is a great honor to be inducted into the SBU Athletics Hall of Fame," Shell said. "In my four years of being involved in SBU athletics, I saw dozens of individuals who were hall-of-fame quality. To be put in the SBU Athletics Hall of Fame means that my accomplishments measured up against all SBU athletes in SBU history, and to be inducted in my first year of eligibility is a great honor and I am very grateful."
In addition to recalling the inductees' accomplishments both by the inductees and their presenters, what they also represented off the field is what stood out to Pitts.
"What I appreciate the most about this year's ceremony is how every single person on the stage talked about their personal relationship with Jesus Christ," Pitts said. "I felt like the Lord was honored on Saturday. Each inductee had great careers here at SBU, but their love and service to the Lord was what really came across."
---
Photo (left to right): Dr. Eric A. Turner, president of SBU; inductees - Mark Rains (tennis), Bill Shell (track and field), Landon Young (baseball), Jody Mayfield-Pool (basketball), Dr. Bill Little (Bearcat Service Award); and Mike Pitts, SBU athletic director.
*Published: 1-14-2020