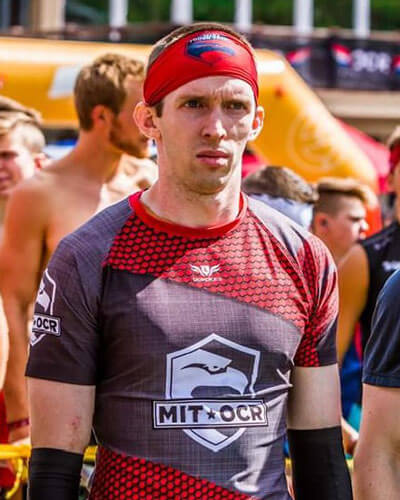 Bill Shell '14, '17
Track & Field
B.S. Athletic Training / Doctorate of Physical Therapy
Bill Shell was a highly decorated track and field athlete at Southwest Baptist University – he was an SBU record-holder, a conference title winner and an NCAA All-American.
These achievements have earned Shell a place in the SBU Athletics Hall of Fame Class of 2020, in his first year of eligibility. The class was honored on Jan. 11, 2020 at halftime of the men's basketball game against the University of Missouri-St. Louis.
Shell holds six SBU records – 400-meters (indoor), 4x400 relay (indoor), 200-meters (outdoor), 400-meters (outdoor), 4x100 relay and the sprint medley relay; he won five Mid-America Intercollegiate Athletics Association (MIAA) titles; he was a nine-time All-MIAA honoree; a nine-time USTFCCCA All-Region performer; a four-time NCAA All-American; and the 2014 CoSIDA/Capital One Academic All-American of the Year – the first in SBU history.
Shell is grateful to coaches Corey McElhaney and Andre English, not only for guiding him as an athlete but as a student, as well.
"My two coaches – Coach English and Coach McElhaney did so much more for me than coach me, at which they were excellent," Shell said. "They were really my father figures away from home and taught me how to face adversity, to work hard, to deal with failure and praise God in the successes.
"They showed me how to be a team leader. I owe a lot to both of them. They really guided me through difficult times and were always there to talk to about anything."
Shell also recalled a few of his favorite memories from his athletic career at SBU.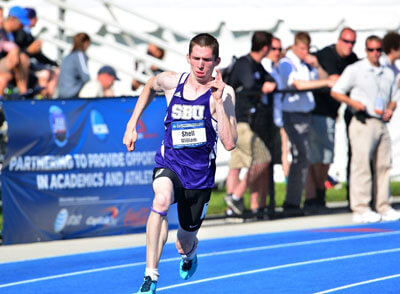 "My junior year, Deneko Brown and I both got our first All-American honors at the NCAA indoor meet in Alabama," Shell said. "We both got into the finals (seventh), and finished fourth in finals. It was cool that our paths and placing were basically identical, and we got there together.
"My favorite conference placing was the 4x400 relay team that got second my senior year. All four of us ran really well and worked hard that year as a unit. In fact, as a team we scored the most points in SBU history – it was a real special team to be a part of.
"Overall, the most important memories are ones that most looking in from the outside would consider boring – just hanging out after practice or on the weekend, surviving tough workouts, or just simple conversations on a long bus ride."
These days, Shell works as a physical therapist with Health Facilities Rehab in Sikeston, Mo. He currently has begun training for his Certified Orthopedic Manual Therapist (COMT) certification.
"SBU's quality academic programs prepared me for practicing as a healthcare professional by providing real-world and hands-on application of in-depth academic knowledge taught by professors who are clinical experts and specialists in their field," Shell said. "The SBU faculty helped me by taking the time to see me and my fellow students as more than just a student in their class, they recognized the out-of-class commitments we had and helped us balance it all."
And, while Shell worked hard and is honored to be recognized by his alma mater, he also advises student-athletes to not be consumed by the awards.
"It's not all about the records and medals – although that's what we are here to win and you should certainly give your best," Shell said. "The most valuable thing I got from being a student-athlete was the friends and the memories we made together.
"When I think about my time as an athlete at SBU, it's not the big wins that come to mind; it's all the times we were lying on the infield, dying after a hard workout, or the times we stayed up late just hanging out and talking about anything and everything. Trophies collect dust, the friends I made changed my life."
*Published: 12-29-19