cost to attend sbu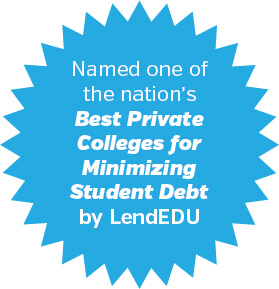 At SBU, we will work with you to ensure that SBU is a valuable investment for you and your family. We offer generous scholarship offerings for academic achievement, athletic or fine arts performance, and more. Our SBU Estimator tool can help you learn about the scholarships and financial aid for which you qualify, and allow you to calculate your estimated cost. You will receive personal attention throughout the financial aid process.
Did you know?
SBU has earned national recognition as one of America's 100 Best College Buys each year since 1996!
SBU has been named one of the nation's Best Private Colleges for Minimizing Student Debt by LendEDU
The average SBU student receives a financial aid package of more than $27,000 in scholarships and financial aid!
More than 98% of SBU students receive financial aid.
SBU awards $23.7 million in scholarships and grants to our students each year.
Your admissions counselor will work with you one-on-one to work out the finances that will allow you to enroll at SBU.
SBU offers payment plan options to help you manage the cost of your education.
2020-2021 tuition and fees
Cost breakdown for undergraduate students on the Bolivar campus:
| | |
| --- | --- |
| Tuition | $24,500 |
| Room | $3,400 |
| Board (20-meal plan) | $4,640 |
| Fees | $940 |
| Total | $33,480/year |
With an average financial aid package of more than $27,000 for each student, this cost is greatly reduced by our generous scholarships and other financial aid. Use the SBU Estimator to calculate your estimated cost.
Branch Campus and Graduate Studies cost information can be found below.
Note: Textbooks are a separate cost, not directly charged by the University.
Calculate your estimated cost

Whether it's your academic accomplishments, your athletic achievements, your fine arts skills, or more, we are sure there are scholarship opportunities for you! The SBU Estimator is our cost calculator tool that will help you and your family get a better idea of your estimated financial aid at SBU. Fill out the cost calculator to learn more, then send your results to our admissions staff to receive follow-up contact to discuss how we can make your SBU dream a reality!
further financial information
For detailed financial information, please see the University Catalog.
Program-Specific Fees
Some academic programs on the Bolivar campus have additional program fees. View information on program-specific fees.
Textbooks
The cost of textbooks is not directly charged by the University. Students are responsible for purchasing the textbooks needed for their courses. View textbook information online through the University Bookstore, which is independently owned and operated.
Branch campus costs and financial aid
graduate studies costs and financial aid