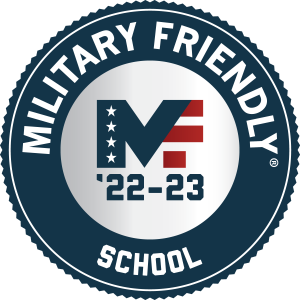 Southwest Baptist University is grateful for the brave men and women who served and are serving in the U.S. military. SBU supports veterans and military students in their pursuit of a college education.
SBU has been recognized as a military-friendly school, a designation that recognizes colleges, universities and trade schools that are doing the most to embrace military service members, veterans, and dependents.
SBU participates in tuition assistance opportunities for veterans and active duty military members, and their dependents. A designated staff member is available to answer questions and help students utilize their educational benefits.
Financial Assistance
Apply for VA Education Benefits
Make sure you apply for your VA Education Benefits through the government. We recommend you apply at least 16 weeks prior to your anticipated start date at SBU.
After completing your application for VA Education Benefits, you will need to submit a Certificate of Eligibility (COE) which will be provided to you by the VA. You will need to meet with the SBU Certifying Official to be certified for using VA educational benefits at SBU.
Available benefits programs
Military students at SBU may be eligible for the following:
Tuition assistance
GI Bill benefits
Yellow Ribbon program additional funding
Chapter 31 — Disabled Veterans/Vocational Rehabilitation
Chapter 33 — Post-9/11 GI Bill
Chapter 35 — Survivors/Dependents Education Assistance (DEA)
Chapter 1606 Montgomery GI Bill — Reserve/Guard
Dual-certification
Credit for military training
Active military service members and veterans may receive college credit for their military training. You must submit your military transcript for evaluation of transfer credits. Contact the SBU VA Certifying Official at (417) 328-1609 for more information.
ROTC
Southwest Baptist University is an affiliate school partnering with Missouri State University in Springfield, Mo., to offer ROTC participation for our students. ROTC students can pursue an Army officer commission and may apply for scholarship opportunities.
Other SBU Resources
Counseling Services
SBU students have access to free counseling services with licensed mental health clinicians on campus.
Tutoring Services
The University Success Center offers academic advisement, peer mentoring, and tutoring services. Additionally, many departments and majors offer tutoring and study sessions on campus for specific courses.
External Links and Resources
Helpful numbers
U.S. Department of Veteran Affairs Education Line: (888) 442-4551
Veterans Center, Springfield: (417) 881-4197
Missouri Veterans Commission: (573) 751-3779
Helpful Links