BOLIVAR, Mo. — Seven Southwest Baptist University students in the Gordon and Judy Dutile Honors Program recently presented at Ozarks Technical Community College's eighth annual Honors Research Conference at OTC in Springfield.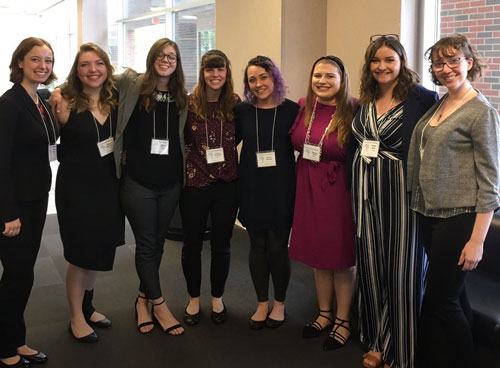 Ilene Adair, a general music major from Overland Park, Kan.; Isabela Schwarz, a biblical studies major from Holts Summit, Mo.; Sarah Kate Fortna, an interdisciplinary studies major from Macon, Mo.; Lauren Wineinger, a cybersecurity major from Topeka, Kan.; Breanna Prater, a communication arts major from Abilene, Kan.; Shelby Kurz, a biology (environmental) major from Basehor, Kan.; and Emma Hale, a psychology major from Springfield, Mo., joined more than 100 students at the conference for college honors programs in southwest Missouri.
The conference began eight years ago to provide an opportunity for OTC honors students to interact with other honors programs and students, experience an academic conference and share their research and work. This year, the conference included attendees and participants from Ozarks Technical Community College, Missouri State University-West Plains, Missouri Southern State University, Drury University, Missouri State University, University of Missouri-Kansas City and SBU.
SBU presenters and presentations:
Ilene Adair – "The Alzheimer's Mind on Music." Adair discussed how music inherently stimulates the hippocampal region of the brain, which controls long-term memory as well as voluntary muscle movement. A deep look at the science behind the incredible reaction that patients have to the beloved tunes of their past will lead to better patient care, restored honor for the elderly, and a more comprehensive view of therapy in general.
Sarah Kate Fortna – "The Great Salvador Dali: Artist, Oddball, and Genius." Fortna talked about how Dali was "enthusiastically defiant of social norms and any expectations placed on him." She introduced Dali as a person, artist, and, according to himself, genius, and looked at his personality, process and some of his artwork in relation to his personality and process.
Isabela Schwarz – "My Son he shall be: Adoption in ANE Contracts and the Bible." Schwarz researched three adoption contracts written between 2000 BC-416 BC, originating in various locations in the ancient near east. Typical structure and phraseology used in these ANE adoption contracts was noted. Adoptions in the ancient near east typically were two-party, conditional contracts in which there were specific expectations that must be upheld by both adoptive parents and adopted children. These finds are compared with Psalm 2:7, as well as several of Paul's adoption metaphors, and the implications of the similarities between ANE and biblical adoption documents was explored.
Breanna Prater – "Creativity: The Lost Virtue." Prater examined how 21st century American society has let many aspects of creativity and innovation fall to the wayside. College students are told that art and music are useless majors and young people are discouraged from pursuing their artistic dreams. This lack of creativity is damaging society. She also looked back at how integral creativity was to ancient innovation, before examining methods individuals currently can employ to include creativity in their busy lives. Because a creative mind, is a thriving mind.
Lauren Wineinger – "The Internet of Things: Why You Should be Concerned." The Internet of Things (IoT) is the term for the millions of everyday objects connected to the internet, like refrigerators and home security systems. While these things are helpful (and a little magical), they present a huge security concern – individual privacy. This session informed listeners about IoT devices, security concerns connected to these devices, and helpful tips to reduce security risks.
Shelby Kurz – "Environmental Character: A Virtue Ethics Approach to Environmentalism." Kurz asked the questions how can we, and why should we, act good for the sake of humans and the biotic community. Her presentation gave an overview of a virtue ethics approach to environmental ethics, as well as examined wonder, love, and hope as key virtues derived from this ethic. In addition, she looked at how they construct a framework that is more effective in the cultivation of character and long-term environmental progress.
Emma Hale – "Teen Depression and Suicide: Is Social Media the Culprit?" Teen depression and suicide rates are ever increasing in the U.S. Hale examined what makes this generation of teens so different from those who have come before – Technology. Today's teens have more access to the connectivity offered by the internet than any previous generation and, specifically, social media. Teens spend hours upon hours each day using social media. However, with increased connectivity comes increased loneliness and depression. This presentation explored the relationship between teenage social media use and both depression and suicide rates for that age group.
"We are grateful to OTC for providing such an excellent regional honors conference," said Dr. Jodi Meadows, director Dutile Honors Program and assistant professor of university studies. "The opportunity for students to present their work outside of our campus can be educationally formative for undergraduates. These experiences foster the challenge and support for high-ability students that is the heart of the mission of the honors program."
For more information on SBU's honors program, contact Meadows at (417) 328-1460 or jmeadows@SBUniv.edu.
---
Photo: SBU attendees at the OTC Honors Conference included (from left): Ilene Adair, Isabela Schwarz, Shelby Kurz, Lauren Wineinger, Ashton Hensley, Breanna Prater, Emma Hale and Sarah Kate Fortna.
*Published: 5-13-19