current opportunities
Each year, the Center for Global Connections organizes and equips dozens of projects in locations across the globe. Use the map below to learn more about current CGC opportunities or to donate to a project team.
Local Projects
Catalyst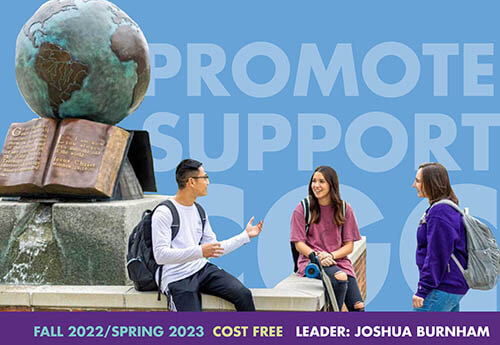 SBU's Catalyst Team serves as a support team for the Center for Global Connections department and CGC teams. Catalyst team members promote mission awareness on the SBU campus, support current CGC projects, facilitate communication between the SBU student body and the CGC department, and help encourage mission participants.
---
DISASTER RELIEF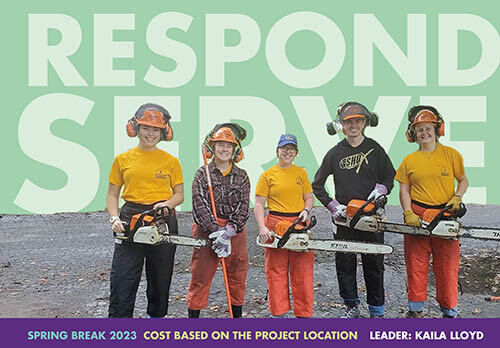 Each year we experience a number of natural disasters in the USA. SBU's Disaster Relief team is trained to respond to these disasters. This year-round team will travel to affected areas as schedules allow. Disaster relief training is coordinated through the Missouri Baptist Convention. Volunteers will help clear debris, "mud out" buildings after flooding, provide childcare and food services, and more.
Give to the Disaster Relief Project
---
HOUSE OF HOPE
Polk County House of Hope provides immediate and long-term safety to victims of domestic and sexual violence and their children through a hotline, victim services, emergency shelter or placement in a safe facility, and connection to community resources. This SBU team will minister with House of Hope weekly through service projects, providing activities for the women and children, and caring for the needs of the residents as they arrive.
Give to the House of Hope Project
---
LEVITICUS 19:32
"Stand up in the presence of the aged, show respect for the elderly and revere your God. I am the Lord." Many of the elderly are lonely and have no family. They are suffering from ailments that prevent them from participating in life in ways they have in the past. This team will be a bridge by helping the elderly in practical ways as they meet weekly in a local nursing home where they will also help lead activities.
Give to the Leviticus 19:32 Project
---
POLK COUNTY
This local Bolivar team will host an after-school Good News Club for children aged kindergarten through fifth grade every Wednesday afternoon. Many of these children are from unchurched backgrounds and Good News Club provides an opportunity for them and their families to get to know Jesus. Activities with the children include Bible stories, Scripture memory, songs, snacks and games. This project is in partnership with Child Evangelism Fellowship.
Give to the Polk County Project
---
U.S. Projects
Cheyenne River
The Cheyenne River team serves the Lord by serving the Lakota people on the Cheyenne River Reservation. Activities may include a children's VBS program, feeding distribution with Feeding South Dakota, attending a powwow, a sweat lodge ceremony, visiting Lakota museums and historical sites, and volunteering at the private Christian school for Lakota.
Give to the Cheyenne River Project
---
Delta
SBU's Delta Team will travel to Charleston, Missouri several times during the fall and spring semesters. The ministry will involve serving meals at the Charleston Nutrition center, helping with youth ministry, plus a "helping hands" service to the elderly, which involves home maintenance and yard work.
---
Houston
More than 100 different ethnic groups reside in Houston making it one of the most multicultural cities in the country. SBU's Houston team will share the love of Christ in inner-city Houston in partnership with the Faith Center and First Baptist Church of Houston. Team members will join in various ministry opportunities including teaching children and youth, tutoring, service ministry, street evangelism, visiting different religious sites, and assisting in a local food bank and clothing closet ministry.
---
Passion Conference
Join a group from SBU and spend three days connecting with your peers from other college campuses around the country for a time of worship, teaching, and prayer. You are invited to participate in the Passion Conference in Dallas, Texas this January 2019. Passion exists to glorify God by uniting students in worship and prayer for spiritual awakening in this generation.
---
South Dakota
The vision of the South Dakota CGC team is to invest in long-term relationships with communities on the various reservation. We seek to share life with the Lakota and to learn from them. We want to help meet their needs physically, relationally, and spiritually. In Spring 2019, we will minister on the Rosebud reservation.
Give to the South Dakota Project
---
International Projects
Athens
SBU's Athens team will partner with GoSendMe Global and Helping Hands to minister to Afghan and Iranian refugees who have arrived in Greece and are enduring the long process of seeking asylum. Ministry will include providing meals, basic cleaning tasks, helping with men's and women's ministry days, and showing the Jesus film.
---
Atlas
The Atlas team will journey to one of the most hospitable cultures of the world where the majestically rugged Atlas Mountains are inhabited by a people group called the Berber. Located in North Africa, this people group is scattered across several countries who often live high in the mountains or in remote desert areas. Though these followers of Islam refer to themselves as the "free people," they have not heard about the true freedom in Jesus Christ for hundreds of years. Trip participants will trek long distances and will be involved in a variety of projects that could include construction, literature and blanket distribution, sheep vaccinations, and a "day in the life of a Berber." The team will proclaim the Gospel and encourage the local believers.
---
Baja
SBU's Baja team will ministry in the community of La Mision and the Door of Faith Orphanage, which is home to more than 100 children. The team will spend Spring Break ministering to the children and partnering with local ministries to serve in a variety of local projects.
---
Colombia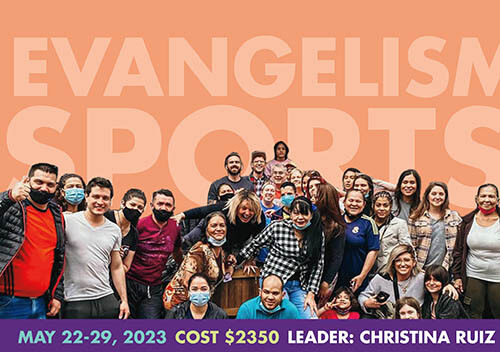 The long-term strategy of this project is to help see a church planted in Bogota that will ultimately have the vision for planting other churches within the community. Ministry will include evangelism through relationships, using community events and door-to-door visitations to advance this work. The team will also host an outreach event in the community.
---
Guatemala
The CGC continues a long-standing partnership with Casa Bernabe orphanage in Guatemala City. This orphanage is home to more than 135 children on a beautiful 13 acre campus. All of the children come from difficult living situations. Many of the staff members are former recipients of this loving care. The SBU team will assist their ministry by serving the orphanage in a variety of ways including service projects, playing with the children, and providing childcare during a staff retreat weekend.
---
Honduras
SBU's Honduras team will spend Spring Break helping provide a water well for a community in Honduras. The team will install a new water well using a well drilling machine. The team will also teach about sanitation, proper hygiene, wellness, and the Gospel while in the village.
---
Ireland
The Ireland project will involve a variety of outreach opportunities, including street evangelism, a feeding program, and helping a local church with youth ministry, worship, and a national church conference.
---
Mexico
Join the SBU Mexico team to help build a house in Acuna, Mexico with Casas por Cristo. The team will spend a week building a home for a family in need. No prior building experience is needed to work on this project.
---
Mongolia
SBU's Mongolia team will travel to the capital city of this sparsely populated country. They will camp alongside the gers of the nomadic herdsmen of Mongolia and will share their testimonies and God's story (Creation to Christ). The team also will assist with work in impoverished communities working toward poverty relief while sharing the Good News of Jesus Christ.
---
Panama
Partnering with Go in the Name ministries, this team will serve in El Valle, Panama, a mountainous community outside of Panama City. The team will partner with a local church to assist in various activities from canvassing neighborhoods to assisting in VBS and door-to-door evangelism.
---
Philippines
Partnering with Souled Out International ministries, this team will serve in Majayjay, Laguna, Philippines, which is on the large north island of Luzon. This project will include children's ministry, street evangelism, youth rally, and responding to God's leading.
GIVE TO THE Philippines PROJECT
---
Pyrenees
This team will hike through beautiful northern Spain and make friends with fellow pilgrims from all over the world. Each day, the team will have the opportunity to share testimonies, experience group meals, help fellow travelers, and explain the Gospel message. Each year, thousands of sorrow stories are carried by pilgrims on the Camino de Santiago. SBU's team will minister to these people by explaining how these sorrows and burdens are carried by Jesus.
---
Senegal
This team will travel to three villages in the eastern part of Senegal to share testimonies and the Good News to the Jahanka and Mandinka people groups. The trip will involve evangelism through storytelling, discipleship, and encouragement. The team will be fully immersed in the culture as they sleep in huts, gather water, and help prepare meals. Visiting villagers, greeting and storying with them through translators will be the primary focus of this trip.
---
South Asia
This team will reach out to the youth of South Asia as they hang out with college students, build friendships, learn about their culture and beliefs, and share the hope of Jesus with them. SBU's team will encourage the few local believers as they help reach local college students with the Gospel.
Give to the South Asia Project
---
Thailand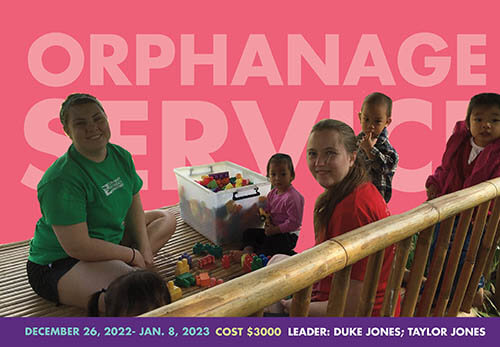 The team's ministry in Chiang Mai will include serving alongside an orphanage by caring for the children, performing service projects, and providing a much-needed retreat for the Thai staff. The team will conduct a VBS at an area hostel working with children and youth, share their testimonies in local churches, and prayer walk the streets of Chiang Mai.
---
Ukraine
Partnering with Future Leaders Foundation and the Missouri Baptist Children's Home, this team will serve at New Hope Camp, an orphan family camp in Ukraine. More than 100 children and parents will unite as one big family where they will study together, participate in program activities, and connect with one another. The team seeks to disciple children through personal testimony and to unite foster families to communicate and encourage each other. Activities will include preparing games, Bible studies, and prayer support for the camp.