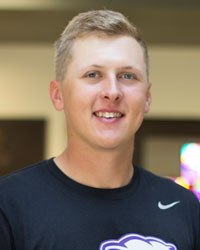 With plans to work in banking as a loan officer and then move into bank management in the future, Aaron Head secured a summer internship with a local bank.
Aaron, a senior economics and finance major and baseball player at Southwest Baptist University, primarily has been working as a financial analyst assistant in the loan department at the Bank of Billings.
"My first week, I worked as a teller and handled transactions while doing other tasks," Aaron said. "I then began to shadow the vice president/senior lender at the bank and learned how to create loan documents, how inspections work, and everything that goes into the loan process.
"I have learned about loan origination along with what goes into the rates we give and the reasons why. There are also a lot of regulations that I have learned concerning banks and what the loan department must file, which includes lots and lots of documents."
Aaron says the classes he has taken at SBU helped prepare him not only for his internship, but also for his job as a bank teller last summer.
"I took an accounting class last semester and we would go over different statistics," Aaron said. "At the bank, we would have meetings and cover a lot of information. Because of my classes, I understood what was going on and could understand more of how to succeed, including relating real-life examples with people.
"Business communications was big, too, from learning how to reply or write emails to more of the business etiquette side of things, which you learn as you go."
Those communication skills have helped Aaron learn how to interact with customers who are seeking to take out loans, while finding the common ground of helping the customer and doing what is best for the bank.
"I have learned probably the most important aspect on getting loans is from references," Aaron said. "Everyone wants to have a good relationship if they borrow money, and treating people the right way can go a long way. We truly live in a small world and word of mouth can bring a lot of business.
"I have learned how to create the necessary documentation for the loans, which help the loan processors do their job better and makes the complete loan process run smoothly."
The key, Aaron says, is the communication with the buyer and the lender, as well as the lending staff.
That teamwork and the work ethic that SBU has cultivated in Aaron as a student-athlete have equipped him for a successful future.
"SBU makes you work hard and go for your goals," Aaron said. "Even in classes, the teachers push you to be the best. While the homework might seem tedious, it has real-world examples so that way you're prepared for whenever you leave here."