BOLIVAR, Mo. — Eighty-two undergraduate students graduated from Southwest Baptist University during commencement Friday, Dec. 15, at the Jane and Ken Meyer Wellness and Sports Center on the Bolivar campus. The University holds graduation twice a year, in December and May.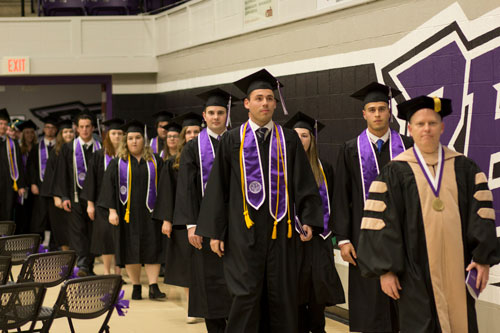 SBU President Dr. C. Pat Taylor said commencement is the most important academic event for any university and an important occasion in the lives of graduates and their families.
Laura Campbell, an organizational and strategic communication graduate from Springfield, Mo., delivered the Bob R. Derryberry Senior Address. She is the daughter of Nathan and Carla Kester, and wife of SBU senior, Collin.
Zachary and Kati Shelton presented the senior music performance. Zachary, a bachelor of music graduate in church music from Plattsburg, is the son of Robert and Sandy Shelton. Kati, a music education graduate from Lawson, is the daughter of Kirk and Kristi Baker. The Sheltons performed "Be Thou My Vision," arranged by Paul Marino.
In his commencement address, Dr. Kenneth Parker, president of the Missouri Baptist Convention and senior pastor of First Baptist Church of Kearney, Mo., encouraged the graduates to follow Jesus in their daily lives and emphasized the cost involved.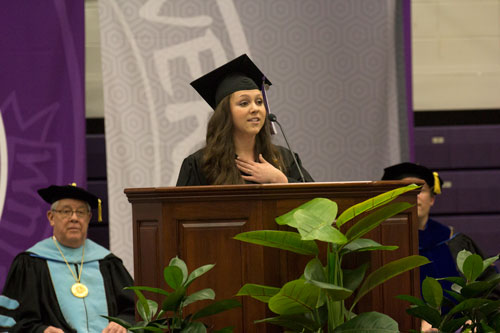 "Jesus told his disciples, 'If anyone would come after me, let him deny himself, take up his cross and follow me,'" Parker said. "For whoever would save his life will lose it, but whoever loses his life for my sake, will find it. For what will it profit a man if he gains the whole world and forfeits his soul.'
"There is not a two-tiered system of followership," Parker said. "Jesus is not making these demands for pastors and missionaries only. These admissions are for all who consider themselves Christians. The Christian faith is not a buffet of faith, in which we get to choose only what we want."
Parker congratulated the graduates and reminded them that even if they go on to lead average lives, "there is something spectacular in the spectacularly ordinary," especially if they choose to live for Jesus.
"If you help point somebody to Jesus, that's a win."
Parker also encouraged the graduates that, as believers moving into the next chapter of their lives, there is a call upon them – not just for financial gain, though it is a means to an end.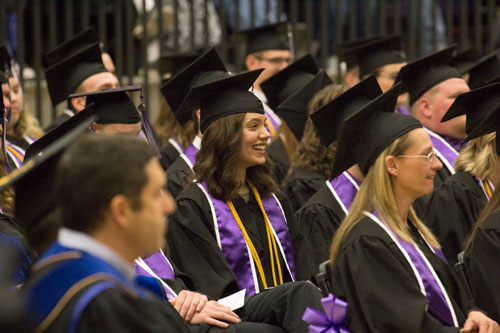 "The end is glorifying Jesus and the means is whatever He gives us to do," Parker said. "It's not that you can't experience success in life – you can. The point is that in the process of doing whatever you choose to do with your life, you make sure that knowing and loving and serving Jesus is priority No. 1."
Dr. Parker was ordained into the ministry in June 1985. He has served as founding pastor of Southpointe Family Church in Fort Smith, Ark., and as pastor of Fianna Hills Baptist Church, also in Fort Smith, and First Baptist Church in Union, Mo. He is the chairman of the board of trustees and adjunct professor at Midwestern Baptist Theological Seminary and is chairman of the board of trustees at The Baptist Home.
He earned his bachelor of arts degree in church music and vocal performance in 1988 from Missouri Baptist University, his master of divinity in 1995, doctor of ministry in 2002 and master of arts in counseling in 2013 from MBTS.
PHOTO CUTLINES: 1. Members of the SBU Class 2017 enter Meyer Wellness and Sports Center for the winter commencement. 2. Laura Campbell delivers the Bob R. Derryberry Senior Address. 3. Michaela Wingerd (center) and the Class of 2017 listen to Dr. Kenneth Parker's commencement address.
*Published: 12-18-17