BOLIVAR, Mo. — Jenell Wagner was installed as an academic chair during Southwest Baptist University's academic chair installation ceremony Wednesday, March 6 in Meyer Recital Hall on the Bolivar campus.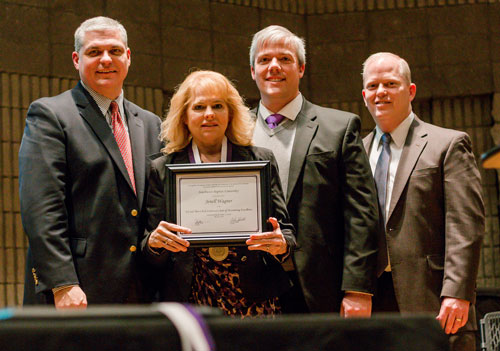 Wagner, assistant professor of accounting, was installed with the Ed and Theo Clark Endowed Chair of Accounting Excellence in conjunction with the annual Psalm 15 Lecture.
"In higher education, it's an honor to hold an endowed academic chair," SBU Provost Dr. Lee Skinkle said. "An academic chair is supported by an endowed fund that is permanently invested for a faculty member in a specific academic discipline. Earnings from the endowment help to off-set the faculty member's salary and support the faculty member's budget for professional development."
Ed and Theo Clark Endowed Chair of Accounting Excellence
Jenell Wagner
Wagner earned bachelor degrees in business administration and religious studies from SBU in 1986 and completed her master of accountancy from Missouri State University in 1997. She served as an adjunct faculty member at MSU, worked in the banking industry and performed tax preparation services prior to working at SBU.
Wagner is a member of Macedonia Baptist Church in Springfield. She and her husband, Todd, have three daughters, Bethanie, Emily and Kathryn, and two grandchildren, Abbi and Bella.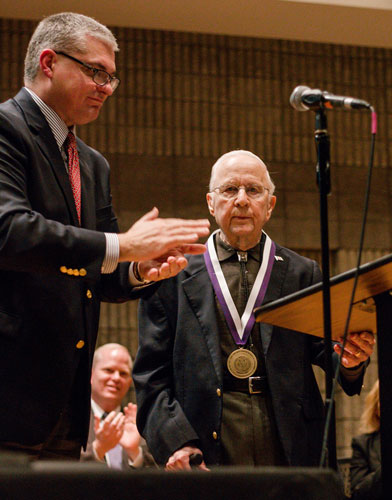 The chair of accounting is named in honor of Dr. Ed and the late Theo Clark. Dr. Clark started the accounting program at SBU during the 1975-76 academic year. He taught accounting at SBU for 21 years and built the foundation of the program before becoming vice president for financial affairs in 1987. Dr. Clark retired from that role in 1992.
The first accounting program graduating class included five students in 1978. Since the inception of the program, 380 accounting students have graduated, including 180 certifications earned by accounting graduates (CPA, CMA, CIA, CFM, JD, PhD, and foreign country certifications).
"This is overwhelming, to say the very least," said Dr. Clark of being recognized for supporting the academic chair in accounting. "I could never have anticipated such a day as this would have occurred, when I came to SBU in 1966. My first accounting class was in Monroe, La., as a student in 1945. I never would have thought that a course would have hatched an egg that has lasted a lifetime. Starting a major in accounting at SBU has been a rewarding experience."
Dr. Clark recalled former professors and instructors who helped build and continue the program, as well as students who went on to be successful in the field of accounting.
"I am pleased to be able to establish the Ed and Theo Clark Endowed Chair of Accounting Excellence with the anticipation that, by God's grace, this program may continue to impact SBU students in the future," Dr. Clark said.
SBU now has eight endowed academic chairs. The others are:
Dr. Troy Bethards – Dean, Robert W. Plaster College of Business and Computer Science / Ruby Letsch-Roderique Chair of Economics/Finance
Dr. Angela Brown-Peterson – Assistant Professor of Business Administration / Elaine Simpson Chair of Business Administration
Dr. Julie Bryant – Associate Professor of Education / Lewis E. Schollian Chair of Education
Dr. Michael Fuhrman – Chair, Department of Christian Ministries / Robert and Ruth Powell Chair of Preaching
Dr. Kelly Malone – Associate Professor of Intercultural Studies / Jack Stanton Chair of Evangelism
Dr. Rodney Reeves – Dean, The Courts Redford College of Theology and Ministry / Courts Redford Chair of Biblical Studies
Dr. Timothy L. Wood – Chair, Department of History and Political Science / Roy Blunt Chair of History
Psalm 15 Lecture
Each semester, the SBU Robert W. Plaster College of Business and Computer Science hosts a Psalm 15 Lecture, featuring a guest speaker engaged in the industry. The guest shares how they live out their faith in the workplace by speaking to the Psalm 15 character trait that is emphasized that semester.
The College has identified eight character traits that should be the hallmark of the College's students and graduates, and are emphasized in coursework and in the lecture series. The highlighted traits are: Integrity, Service, Respect, Charity, Faithfulness, Truthfulness, Humility and Perseverance.
PHOTO 1: Jenell Wagner, who was appointed with the Ed and Theo Clark Endowed Chair of Accounting Excellence, was presented the honor by (from left) SBU President Dr. Eric A. Turner, Dr. Lee Skinkle, provost, and Dr. Troy Bethards, dean of the Robert W. Plaster College of Business and Computer Science.
PHOTO 2: Dr. Ed Clark, founder of the SBU accounting program, is honored by SBU President Dr. Eric A. Turner (left).
*Published: 3-12-19