BOLIVAR, Mo. — The Southwest Baptist University Theatre program opens the 2018-2019 season with "Wit," a play written by Margaret Edson and directed by SBU senior Bethany Vermillion. The show will be presented at 7 p.m. Sept. 27-29 in the Davis-Newport Theater on the Bolivar campus.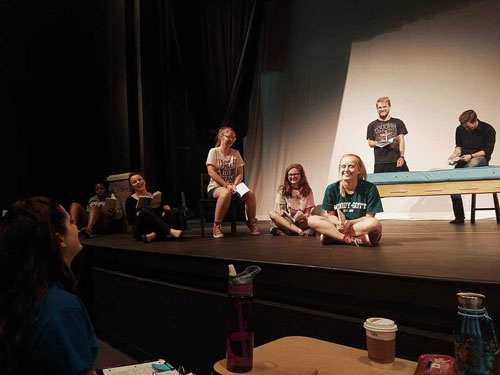 "Wit," which was awarded a Pulitzer Prize in 1999, is Edson's first and only play. First produced in 1998, "Wit" centers around Vivian Bearing, an accomplished scholar of the poetry of John Donne, as she battles terminal ovarian cancer. During her cancer treatments, she evaluates the path her life has taken. Watching Vivian reshape her way of thinking, the audience will effortlessly empathize with her physical and mental battle.
"It's not just a play about cancer," Vermillion said. "It's a story that shows us what strength looks like, and how our strongest moments can be found when we are vulnerable with the people around us."
SBU Theatre is working with the Poetry Workshop in the English Department, which will be writing poetry about the play to be displayed in the theatre lobby. SBU Theatre also is partnering with the Art Department, which will host a talk-back session after each performance in the Driskell Art Gallery and display student works based on the themes and events of the play.
The post-show discussion, led by the production's dramaturges, will discuss the themes in the play. This talk-back will encourage the audience to reflect on the events and relate them to life in society, the Church and the community.
Tickets are $10 for adults, $6 for SBU alumni, senior citizens, and other students, and $4 for SBU students and children. Tickets may be purchased at the Box Office in Jester Learning and Performing Center, over the phone at (417) 328-1691 or online at http://www.sbuniv.edu/theatre.
For more information about the production and SBU Theatre, contact Jonathan Wehmeyer, instructor of theatre, at (417) 328-1954 or jwehmeyer@SBUniv.edu.
CUTLINE: Bethany Vermillion (left), director of "Wit," engages with the actors during rehearsal.
*Published: 9-19-18