Sophia Marsh qualifies for consideration for national festival
BOLIVAR, Mo. – Southwest Baptist University theatre students recently were honored at the 51st annual Kennedy Center American College Theatre Festival, which celebrates work by colleges and universities in the eight-state region during 2018, on Jan. 20-25, 2019, in Sioux Falls, S.D.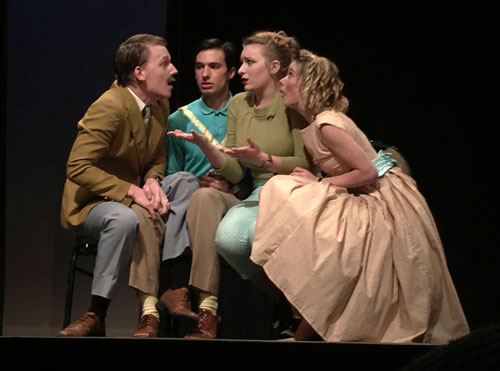 The festival honored SBU theatre with several meritorious achievement awards. Commendations were awarded to Austyn Burgess for his projection work for "The Bald Soprano;" Alyssa Bethards for her hair and makeup design for "The Importance of Being Earnest;" Max Stoner for his original compositions for "Medea;" the cast of "The Bald Soprano" for their ensemble work; Bethany Vermillion for directing "Wit;" and Sophia Marsh, for stage-managing "Wit" and for her dramaturgy work on "Medea."
The festival features performances of selected, invited scenes from the region. This year, SBU was invited to present a scene from "The Bald Soprano," directed by Jonathan Wehmeyer, instructor of theatre at SBU. The performance featured costumes by Vermillion and sound design by Christina Foltz.
"Not only was this one of the greatest acting experiences of my life, I also was able to see other performances of the same nature, and even got to network with many of the other performers backstage," Stoner said. "Getting to perform a familiar scene on an unfamiliar stage really grew me as an actor, and I look forward to returning to ACTF next year."
Dramaturgy, which is the research and advising that shapes theatre production, plays an important role at the festival. This year, Marsh was awarded one of four dramaturgy fellowships for the region. She participated in new play dramaturgy for the festival's original 10-Minute Plays.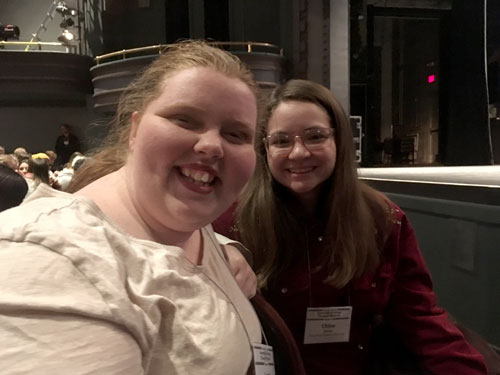 "Through the dramaturgy fellowship, I learned a lot about the role of a dramaturg in new play development and was able to hone the research and script analysis skills that I've learned during my time at SBU," Marsh said. "The fellowship was also a great networking opportunity where I formed relationships with other dramaturgs, directors and playwrights."
Marsh also received the LMDA/KCACTF Student Dramaturgy Award, which qualifies her for consideration for the national festival in Washington, D.C.
Six SBU students, including Vermillion, Stoner, Brittany Davis, Ali Oldweiler, Bethards and Jessie Paxton, competed along with their partners in the Irene Ryan Acting Competition. The competition is an event where nominated students audition for a scholarship established by the late Irene Ryan, famous for playing Granny on "The Beverly Hillbillies." This year's festival had 337 nominees from more than 80 colleges and universities in the region competing for the scholarship. Paxton and her acting partner, Chloe Jones, were one of 66 teams to advance to the semifinal round.
In the design/tech expo, Abigail Andrews entered her painting design for "Medea;" Davis competed in stage management with her work on "The Importance of Being Earnest;" and Christina Foltz entered her sound design for "The Bald Soprano."
SBU participates in the festival every year by entering productions for review by a respondent from another institution in the region and by attending the annual festival. Next year, the festival will again be in Sioux Falls, S.D.
For more information about SBU Theatre, contact Dr. Bethany Wood, assistant professor of communication arts and theatre, at (417) 328-1688 or bwood@SBUniv.edu.
PHOTO 1 (Left to right): Max Stoner, Joel Walley, Haley Gill and Brittany Davis present a scene from "The Bald Soprano" at the Kennedy Center American College Theatre Festival.
PHOTO 2 (Left to right): Jessie Paxton and Chloe Jones celebrate moving on to the semifinals in the Irene Ryan Acting Competition.
*Published: 2-4-19