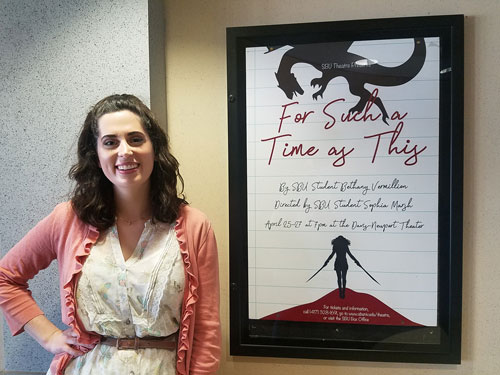 BOLIVAR, Mo. — The Southwest Baptist University Theatre program presents the world premier of "For Such a Time as This" – a play written by SBU senior Bethany Vermillion – at 7 p.m. April 25-27 in the Davis-Newport Theatre on the Bolivar campus.
In addition to Vermillion's playwriting, the play includes original music by SBU students Daniel Stucky and Joel Walley, and is directed by SBU student Sophia Marsh.
"For Such a Time as This" is inspired by the biblical story of Esther and tells of a girl who writes stories to help her process the events of her life, both good and bad. The play showcases the topics of grief, depression, and love from a Christian perspective.
"'For Such a Time as This' offers a refreshing, Christian take on mental health problems," Marsh said. "It teaches that even in the darkness, we can have hope knowing that Jesus has already overcome the struggles of the world."
The play was one of three in the region invited to have a staged reading at the 2018 Kennedy Center American College Theatre Festival, where it received The John Cauble Outstanding Short Play Award.
"It's amazing to see the journey this play has taken and how different audiences react to it," Vermillion said about her play.
For more information, check out SBU Theatre's website at sbuniv.edu/theatre or call (417) 328-1691.
Tickets are $10 for adults, $6 for SBU alumni, senior citizens, and other students, and $4 for current SBU students and children. Tickets may be purchased at the Box Office in Jester Learning and Performing Center, by phone at (417) 328-1691 or online at sbuniv.theatre.
For more information about the production and SBU Theatre, contact Dr. Bethany Wood, associate professor of theatre, at (417) 328-1688 or bwood@SBUniv.edu.
Photo: SBU senior Bethany Vermillion is the playwright for "For Such a Time as This."