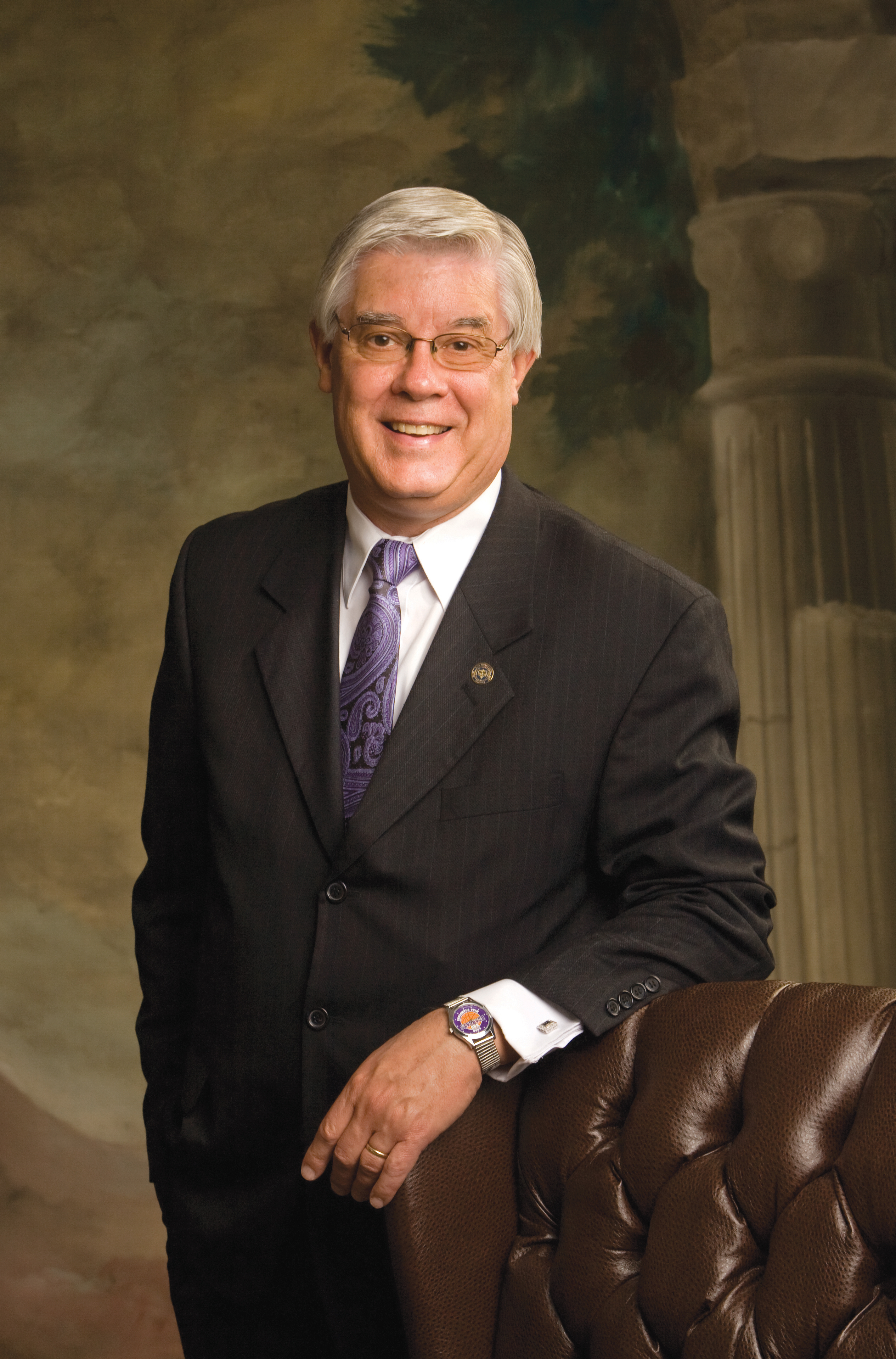 Southwest Baptist University President Dr. C. Pat Taylor informed the SBU community today of his plans to retire Aug. 31, 2018, after nearly 22 years as the University's president.
"It has been a great 22 years," Taylor said. "I've loved being president of SBU. From the time Judy and I first visited Bolivar in 1996, we fell in love with SBU and the Bolivar community. SBU has many accomplishments during the past 22 years, thanks to the efforts of the hard-working faculty and staff who have made my job easier.

"I will miss the students and the great people with whom I have had the honor to work. I have said often, and I still believe it today, that SBU has the best faculty, staff and students anywhere. The University is on a good trajectory, making this a great time for a transition to a bigger and greater future."

Taylor assumed his duties as the University's 24th president on Oct. 21, 1996, and is the longest-serving president in the University's 139-year history.

"When Dr. Taylor told me he was retiring, it was bitter-sweet for me," said Don Fahrni, chairman of the SBU Board of Trustees. "I was so happy for him to be moving on with his life. Now, he will be able to spend more time with his family and any personal endeavors that he may choose. But, for me, I am really going to miss him. After working with him all these years I know where his heart is. And it has always been with the university."

21+ years of service to SBU

Since his arrival in 1996, Taylor has conferred 16,963 diplomas. He always says that commencement is his favorite event because it is the University's No. 1 objective — to graduate students who are prepared to be servant leaders in a global society.

Taylor has been instrumental in fundraising, expanding academic offerings and obtaining record student enrollment numbers. He also led the adoption of a new mission statement that continues to guide the institution today: "Southwest Baptist University is a Christ-centered, caring academic community preparing students to be servant leaders in a global society."

Fundraising proceeds during his tenure total more than $122 million. Under his leadership, endowment funds have increased from $4.6 million to more than $32 million. He also was instrumental in the success of the Partners in Excellence campaign, which surpassed its $50 million goal by raising more than $62.5 million when the campaign ended in June 2006. That campaign funded 13 major building projects, including the addition of the Jane and Ken Meyer Wellness & Sports Center. Other fundraising projects include the recent expansion and renovation of the Gene Taylor Center, artificial turf for Plaster Stadium, completion of the Jester Center, renovation of the Jim Mellers Center, renovation of the Burnidge Memorial Forum, a new front entrance, renovation of the Sells Administrative Center lobby and an upcoming renovation within the Jester Center for space to be used as a simulation lab for a new pre-licensure bachelor's degree in nursing.

New academic offerings during Taylor's tenure include the University's first doctoral program, the doctor of physical therapy. Multiple graduate degrees in education, including the doctor of education in educational leadership, were launched under his leadership. Other new master's degree programs include the master of science in nursing, master of business administration and master of arts in Christian ministry. Undergraduate degree offerings have changed as needed to stay relevant with an ever-changing global society.

Other academic enhancements started under Taylor's leadership include the Ed and Theo Clark University Success Center, a transition program for incoming freshmen; the updated Gordon and Judy Dutile Honors Program that integrates intercultural, spiritual and servant leadership components; and the Darrell R. Strait Center for the Integration of Science and Christian Faith, an interdisciplinary program that integrates appropriate scientific and biblical principles.
In the broader education community, Taylor has served on the boards for the Council for Christian Colleges & Universities, the Consortium for Global Education, the International Association of Baptist Colleges & Universities, and the CEO Council for the Mid-America Intercollegiate Athletics Association. He served as chairman of the Missouri Colleges Fund and president of the Independent Colleges and Universities of Missouri association. He also is a peer reviewer for the Higher Learning Commission, the University's regional accrediting body.

Taylor was recognized by the Springfield Business Journal as a 2016 Men of the Year Honoree and has been recognized by Rotary International as a Paul Harris Fellow.

Prior to becoming president of SBU, Taylor served as chief academic officer at Oklahoma Baptist University for 10 years. He previously served as associate vice president for academic affairs at Union University in Jackson, Tenn., from 1979-86. From 1975-79, he was an assistant professor of education at Belmont University in Nashville, Tenn. While at Belmont, he served as head resident of Pembroke Hall, a men's dormitory housing 150 men. His experiences also have included community college and high school teaching and coaching.

A native of Salem, Ky., Taylor received his doctor of education degree with emphasis in history and philosophy of education from then Memphis State University. He received a master's degree in history from Western Kentucky University and a bachelor's degree in history and secondary education from the University of Tennessee-Martin.

Taylor and his wife, Judy, were married for 47 years before she passed away on March 26, 2016, after courageously battling a neurological disease for several years. He has two daughters and two grandchildren.

Fahrni has appointed a 12-person presidential search committee that is meeting today to start the search process. The committee includes six trustees, a faculty member, an academic dean, a member of the executive cabinet, a staff member, a student and an alumna.

"The search committee begins its work today, with the goal of having a new president in place by Aug. 1," Fahrni said. "But if that doesn't happen, we do have a succession plan for an interim president. We are so thankful for Dr. Taylor's willingness to continue to serve while the search committee does its work to find the person God has called to lead SBU going forward. Please join me in praying for the committee members as they undertake this important work for the future of the University."