BOLIVAR, Mo. – Southwest Baptist University dedicated the Robert W. Plaster College of Business and Computer Science and re-dedicated the Gene Taylor National Free Enterprise Center in a ribbon-cutting ceremony held Thursday, Sept. 7, outside the Taylor Center on the Bolivar campus.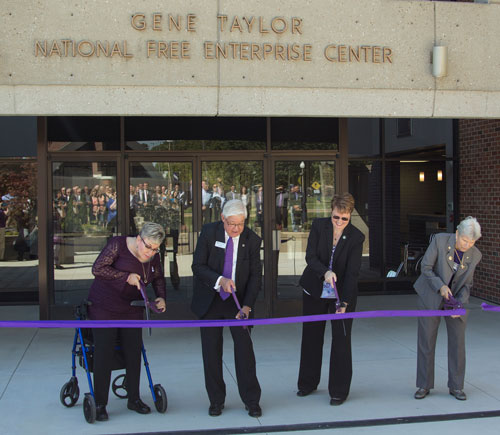 Fundraising began in 2014 with a lead gift from the Robert W. Plaster Foundation. The SBU Board of Trustees accepted the lead gift at the fall 2014 meeting and approved the naming of the college after Plaster. The campaign included 176 donors, for a total of $3,224,226.00, toward the project.
"Today, we celebrate and dedicate this college and this building to our students, to our faculty and to the glory of God," said SBU President C. Pat Taylor, Ed.D., who was assisted in the ribbon cutting by Dr. Dolly Plaster Clement, Dr. Charlie and the Rev. Barbara Clemmons and Jill McLoud.
The renovation increases the building's space by 43 percent, making it a 37,690 square-foot facility. The additional 11,318 square feet includes five state-of-the-art classrooms, four presentation rooms, an open computer lab and a student lounge. The new wing was made possible by a generous gift from Jill McLoud, in honor of her late husband, Tom.
Renovations to the existing facility also include the remodeling of the first-floor office suite, two computer labs, two research labs for computer and information science, five classrooms, three study rooms and an auditorium named after SBU graduate and retired president and CEO of Enactus, Dr. Alvin Rohrs. The project was necessitated by steady enrollment growth in business, accounting and computer science and the reinstatement of the master of business administration degree.
Additional features to the landscape of the building include a patio area, given by Fresh Ideas, in honor of SBU students; the Mabee Courtyard, given by the J.E. and L.E. Mabee Foundation, which gave a $500,000 challenge grant for the project; the Landscaping Garden in honor of longtime accounting professor Wayne Clark; and the Psalm 15 Walkway, made possible by a generous gift from Dr. Charlie Clemmons Jr. '59 and his wife, the Rev. Barbara Clemmons; The Psalm 15 Walkway highlights the eight character traits the college desires to instill in the lives of its students and graduates.
The continuing pursuit of excellence is what drives Bethards and the college.
"Excellence is what we strive for in the Robert W. Plaster College of Business and Computer Science," Bethards said. "It's because it's what God expects of us. And, in pursuit of excellence, in terms of education that we provide, our faculty are vital in doing that. I am honored and I'm blessed to work with such great faculty in this college; I truly am."
In some instances, for faculty to be effective, they need adequate facilities and equipment in order to provide excellent instruction. The new and updated facilities now enable them to do this. The three teaching computer labs allow for more instructional time with students; classrooms support and encourage group activity within the class environment; numerous spaces allow for students to find solitude to work in private, if they need to, or to work in groups;
"Everything that we've done with this facility has been done with students in mind," Bethards said. "This new and renovated facility has created an opportunity for continued excellence.
"It's certainly our desire, as faculty, that excellence be achieved, but our students are showing that they are reaching that level, as well."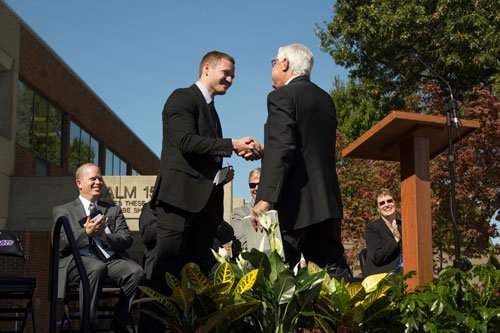 Taylor Parrish, a senior management and marketing double major and SBU's president of Enactus, had high praise for the faculty in the college, not only for his success, and the successes of his fellow students, but for meeting him on a personal level.
"SBU is a place where we are able to get knowledge, we are able to increase our academic successes, but more importantly, we are able to serve our Lord," Parrish said. "The faculty and staff in the Robert W. Plaster College of Business and Computer Science are focused on more than just our grades and our GPA and what we learn in the classroom. They thoroughly enjoy getting to know us as students and meeting us where we are. They encourage us to pursue our faith, and in doing so, reach the lives of many in our community."
Parrish also is excited to be able to utilize the new and updated facility, as well as the impact it will have on future students.
"I am very blessed to say that I get to take classes in these new classrooms and get to study in these new study rooms. But more important to me, is now students that will come after me will have the ability to be impacted by the amazing faculty and staff.
"The renovation is going to be a place where students will find God's calling, will become servant leaders and will discover ways to use knowledge to impact society in a unique and positive way. And, for that, I say thank you on behalf of all the students of the College of Business and Computer Science."
Dr. Tim DeClue, professor of chair of the department of computer and information science, said the new and updated facility represents a great past, a great present and a great future.
"There are students who are learning computer science better than ever before this semester, just because we have enough labs and we have enough lab machines," DeClue said. "This is a great change from where we were in the past, and I'm very grateful because I remember where we have been."
The binary code in the floor tiles on the second floor (which represents the binary code for SBU) reminds him of SBU's great present, and the renovation has given SBU the opportunity for a great future.
"I know our faculty seek to achieve a great future because of how much we care about our students and this university," DeClue said. "And, I think our outcomes do demonstrate that great future (which include the new cybersecurity degree and 100 percent placement rate for CIS students). Those great outcomes are matched by a great facility."
Dr. Dolly Plaster Clement, executive director of the Robert W. Plaster Foundation, shared how important a college education and hard work were to her father, and how passionate he was about the free enterprise system.
"I'm very excited about this project, and I know Dad would be, too," Clement said of the renovation. "Many of the projects we help fund involve business schools and free enterprise centers and entrepreneurship.
"This college of business is one part of a larger, complete package providing students the opportunity to leverage their hard work with an education; to help them create their own best futures that they choose for themselves. And, Southwest Baptist students – I can't wait to see your future accomplishments."
In addition, a Free Enterprise Symposium – made possible by donations from the Charles Koch Foundation and the Acton Institute – was held in the Meyer Recital Hall, and moderated by Dr. Rohrs. Presenters and panelists during the three sessions included Dr. Anne Bradley, Dr. Lloyd Harsch, Dr. Rachel Douchant and Stephen Moles.
Bradley, vice president of Economic Initiatives at the Institute for Faith, Work & Economics, presented "A Biblical Perspective of Market Economics and Free Enterprise." Bradley, Harsch, Douchant and Moles also were part of a panel discussion on "The Role of Integrity, Technology and Entrepreneurship with Free Enterprise," and Harsch closed the symposium with a discussion on "The Ethics of Religious Liberty."
For more information about the Robert W. Plaster College of Business and Computer Science at SBU, contact Dr. Troy Bethards, dean of the college, at (417) 328-1757 or tbethards@SBUniv.edu.
PHOTO CUTLINES: (Top photo) SBU President C. Pat Taylor, Ed.D., cuts the ribbon at the re-dedication ceremony for the Gene Taylor National Free Enterprise Center, along with Jill McLoud (left), Dr. Dolly Plaster Clement and the Rev. Barbara Clemmons (far right).
(Second photo): SBU President C. Pat Taylor, Ed.D., greets senior management and marketing double major Taylor Parrish, who was one of the speakers at the ceremony.