Expo to feature Fortnite tournament, chance to win scholarship
BOLIVAR, Mo. – Two new and popular events on Southwest Baptist University's Bolivar campus are joining forces this year to host the inaugural Southwest Comic and Gaming Expo to be held April 21, with prizes and a scholarship to be awarded.
The student content creation program, Horizons Project, and the University Library are co-hosting the event with activities across campus. At the Library, activities include an escape room, tabletop game demos, a trivia contest, a cosplay contest and presentations by local sci-fi/fantasy authors. In addition, the Library will be hosting several vendors. Visitors can purchase merchandise, visit vendor tables and/or enter individual giveaways. Admission is $1 at the door.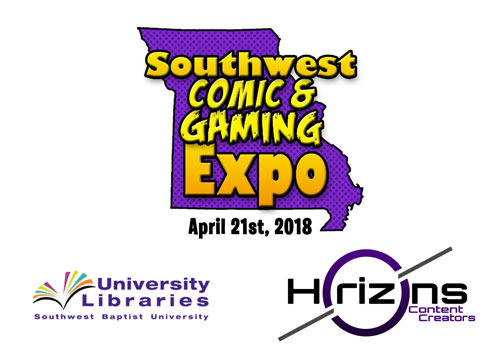 The Gaming portion of the Expo, which is free, will feature a "Fornite" tournament for middle school and high school students. Players will compete in a survival format with points awarded for placement and eliminations. The top 48 players advance to the finals. Middle school students compete for a $25 Visa gift card, and the winner of the high school division will receive a $400 scholarship to SBU.
The Expo also will host an Open Rocket League tournament, free-play Mario Kart and VR demos with Facebook's Oculus rift and the HTC Vive. There will be a Twitch meeting for streamers and anyone wanting to get into streaming.
Fortnite sign-ups begin at 11 a.m., with finals starting at 6 p.m. Rocket League sign-ups begin at 11 a.m. Doors open at noon.
There will be a live Overwatch League watch party at 7 p.m. in the Goodson Student Union for "The Battle for Texas" between the Houston Outlaws and Dallas Fuel. Team-themed giveaways will take place before and after the game.
Pete Vlastelica, CEO of MLG (an Activision Blizzard company), is the featured guest speaker, and will present about the Overwatch league and how professional gaming has changed in recent years.
Remote guest speaker Steve Arhancet, Co-CEO and Owner of Team Liquid, will talk about how a professional organization handles new esports games like "PUBG, "Fortnite" and "Arena of Valor."
Other Expo speakers and topics include:
SBU streamer Braden Gilbert – "Streaming meets Homework," with a look at balancing both being a student and a content creator
SBU League of Legends team members – "Life of a Varsity LOL Player," talking about what it's like to be at the front edge of collegiate esports
SBU esports coach Chris Allison – "How to Catch a Collegiate Esports Coach's Eye." Find out what it takes to make the college roster and what secret qualities they seek.
Horizons Project members – "How to Start Streaming," moderated by Tyler Dugger of Solid Rock Gamers
Guest speaker – "The Importance of the YOU Brand." Learn about marketing and branding your Twitch and YouTube channel in a way that will change the way people see your content.
SBU professors will present on the topics of cybersecurity and its importance, gaming and more.
A breakout session for streamers – "The Importance of Networking" – presents the importance of reaching out and connecting with other content creators. Attendees will learn how to network, the importance of LinkedIn and more.
The Expo's livestreams will be listed at www.SBUniv.edu/esportsexpo.
Horizons Project, the first live streaming student program in the nation, has grown to include more than 20 students from all different majors on SBU's Bolivar campus. Working together, the group has built a successful stream program and received sponsorship from Blue Microphones, NZXT, Nixeus, Vertagear, Vivo and Twitch Student.
For more information or to register, visit www.SBUniv.edu/esportsexpo.
*Published: 4-13-18