BOLIVAR, Mo. — Ninety-eight undergraduate students graduated from Southwest Baptist University during commencement Friday, Dec. 16, at the Jane and Ken Meyer Wellness and Sports Center on the Bolivar campus. The University holds graduation twice a year, in December and May.
SBU President Dr. C. Pat Taylor said commencement is the most important academic event for any university and an important occasion in the lives of graduates and their families.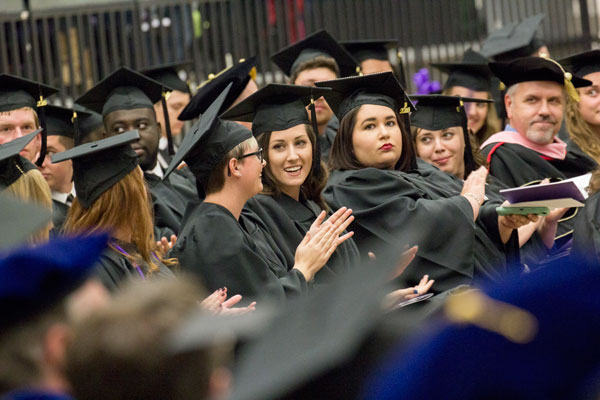 "When our graduates receive their diplomas, we know that we have accomplished our primary objective, graduating students," Taylor said. "Our graduates are extraordinary people and they have worked very hard to achieve this significant milestone."
Tyler Hernandez, a psychology graduate from Bloomington, Calif., and the daughter of Mike and Debbie Hernandez, delivered the Bob R. Derryberry Senior Address.
Dustin Surber, a music education graduate from Marshfield, and the son of Jerry Surber and Rochelle Zebell, presented the senior music performance. Surber performed "Corner of the Sky," from the musical "Pippin," by Stephen Schwartz.
In her commencement address, Dr. Carolyn Bishop, president of the Consortium for Global Education, shared that there will be fears, joys, lessons learned, and a challenge "that what we become is determined by what is common to us all."
"You're our heroes," Bishop told the graduates, "because you are going to take technology and do things with it that we never dreamed of doing just out of university.
"You're a unique graduating class. You're active learners, you're open to self-awareness, you're willing to experiment, and more importantly, you're willing to try new approaches and are willing to risk failure as part of the process to find success."
Dr. Bishop challenged the graduates to learn from the power of fear and joy; "working through fear and coming out the other side can give a feeling of peace and becomes a greater gift of satisfaction."
Dr. Bishop began her work with CGE, an international education organization, in 1997 after completing her Ph.D. at Emory University in Educational Leadership and Supervision. She assists internationalization of education through partnerships and training national experts. She leads CGE in providing professional certification, J-12 visa exchanges, study abroad programs and international recruiting models, and has traveled overseas alongside SBU students and faculty, as well as with Dr. Taylor and his late wife, Judy.
Check out the 2016 winter commencement photo album on SBU's Facebook page at: https://www.facebook.com/SBUniv/photos/?tab=album&album_id=10154576088965622
PICTURED: SBU graduates Jordan Harris (left), Molly Floyd (center) and Kathryn Doshier during the 2016 winter commencement.