Bethany Vermillion selected to participate in national festival
BOLIVAR, Mo. – Southwest Baptist University theatre students recently were honored at the 50th annual Kennedy Center American College Theatre Festival, which celebrates work by colleges and universities in the eight-state region during 2017, on Jan. 21-27 in Des Moines, Iowa.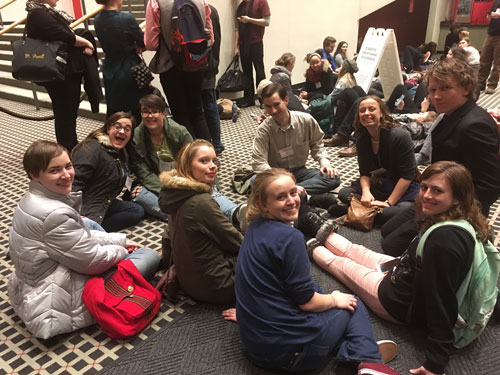 In the playwriting category, theatre major Bethany Vermillion's original one-act play, "For Such a Time as This," was selected out of 40 other entries to be performed in a staged reading at the festival. Vermillion's play was selected as a semifinalist and will be going on to the national festival in Washington D.C.
"Attending ACTF gave me an amazing opportunity to compete in the one-act play competition and bring a staged reading of my original play to the festival," Vermillion said.
"Through the competition, I received feedback from working playwrights and directors, and I was able to meet fellow playwrights and witness audience response to my work. I left the festival inspired to improve my play and a notebook full of ideas for future writings."
Meritorious achievement awards for productions in 2017 went to Daniel Stucky for his original composition for "Inventing Van Gogh;" the cast of "The Curious Savage" for ensemble performance; Lyndal Doherty for directing "The Curious Savage;" the ensemble of "Inter(actions)" for development of a devised piece; David Platter and Student Sculpture Artists for collaborative scene design on "Inter(actions);" and DJ Luckel for directing "Inventing Van Gogh."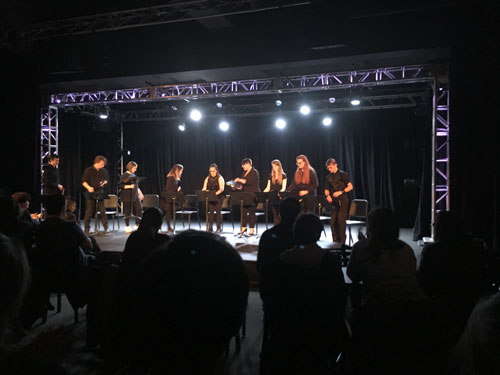 SBU also had six students compete along with their partners in the Irene Ryan Acting Competition including Vermillion, Max Stoner, Ilene Adair, Ashton Hensley and Brittany Davis. The Irene Ryan Acting Competition is an event where nominated students audition for a scholarship established by the late Irene Ryan, famous for playing "Granny" on "The Beverly Hillbillies." This year's festival had 312 nominees from more than 90 colleges and universities in the region competing for the scholarship.
Representing SBU in the design/tech expo were: Sophia Marsh entered her scene design for "Inventing Van Gogh" by Steven Dietz; Lindsay Simonis competed in dramaturgy with her work on "Inter(actions);" Vermillion entered her costume design for "Inventing Van Gogh;" and Kris Hulsey competed in the arts leadership challenge.
SBU participates in the festival every year by entering productions for review by a respondent from another institution in the region and by attending the annual festival. Next year, the festival will be in Sioux Falls, SD.
For more information about SBU Theatre, contact Jonathan Wehmeyer, instructor of communication arts and theatre, at (417) 328-1954 or jwehmeyer@SBUniv.edu.
CUTLINE 1 (Left to right): Christina Foltz, Lindsay Simonis, Sophia Marsh, Brittany Davis, Ali Oldweiler, Seth Walley, Ilene Adair, Hannah Mayfield and Max Stoner.
CUTLINE 2 (Left to right): Joel Walley, Max Stoner, Alexa Bell, Emmi Kerr, Lindsay Simonis, Sophia Marsh, Alyssa Bethards, Abigail Andrews and Daniel Stucky.
*Published: 2-12-18