BOLIVAR, Mo. – In celebration of, and the preparation for, the inauguration of Southwest Baptist University's 25th President, Eric A. Turner, Ed.D., on Friday, April 26, a number of events commemorating the occasion were held throughout the week.
The inauguration, which formally commemorates the beginning of Dr. Turner's leadership at SBU, while celebrating the University's rich history and reaffirming the University's mission, will be held at 10 a.m. in Mabee Chapel on the Bolivar campus. A reception will follow in the Mabee Chapel lobby after the ceremony.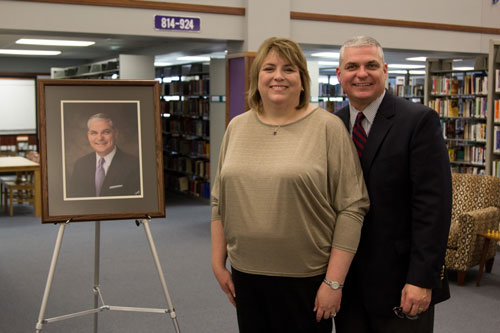 Presidential Portrait, historical display unveiling
In front of the backdrop "Celebrating our History," Dr. Turner's official presidential portrait was unveiled Monday, April 22, as the official kickoff for an SBU historical display from the University Archives at the Harriett K. Hutchens Library on the Bolivar campus. Dr. Turner's portrait will hang alongside the photos of previous SBU presidents.
Dr. Ed Walton, dean of University Libraries, professor of library services and university archivist, introduced the SBU historical display, which will be featured in the Hutchens Library and Joyce Sells Heritage Center through Dec. 31.
"In putting together this exhibit over the past few months, it's been a privilege to review and handle many of the historic documents and artifacts, some dating back to the late 1800s," Dr. Walton said. "We have learned more of the University's history than we ever thought possible."
Eight distinct displays that highlight specific time periods or aspects of the University's history have been created for patrons to view
Founding of the Baptist College (1878-1910)
Time Capsule (1913)
Between the Fires (1911-1962)
New Campus – New Growth (1962-1968)
Growth & Expansion (1968-1995)
Women of SBU
Partners in Excellence (1996-2017)
A Season of Change (2018-Present)
"Today, we come at the beginning of Inauguration Week to recognize God has again looked around to find a person to lead the University in a new direction that resonates with our heritage," Dr. Walton said. "We are dedicating ourselves to following God's leadership through the leader He has chosen."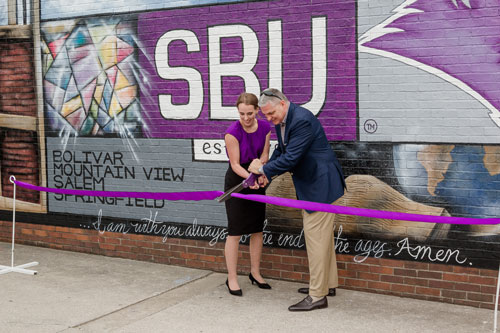 Student Association Inaugural Mural ribbon-cutting
A ribbon-cutting ceremony for the Student Association Inaugural Mural was held on Tuesday, April 23, on the west side of the Goodson Student Union, where the mural is located. The mural, which was completed by SBU freshman Lexi Haley, highlights various landmarks on campus and embodies SBU's mission.
S.A. President Samantha Martin highlighted the sectors of the mural, which include:
Belltower – Showcases the SBU landmark, of which the campus is centered.
Stained glass – Represents Randolph Chapel, which ties in worship and brings the focus to the Lord.
Four campuses – Bolivar, Mountain View, Salem and Springfield.
Athletics – A major part of the University, highlighted by the Bearcat logo.
"Everything has a significance to the school in some way, and we were able to represent our mission and our culture through this mural," Martin said. "Everyone involved has had a tremendous amount of effort in getting this mural together.
"During our S.A. meetings, we were able to formulate what we envisioned for the mural. In turn, Lexi was able to bring that to life."
Haley, who is enrolled in 18 hours this semester, said it took three weeks – from start to finish – to complete the mural, and was honored to be involved in the project.
"It is important that I was commissioned for this project for more than just myself; especially for Dr. Turner and the art department, in general," Haley said. "I feel that I've had the privilege of starting this band of future murals and that is quite a blessing. I know this will be here for years to come, and I'm glad that I have had a chance to leave this mural at a great University where I know it'll be safe."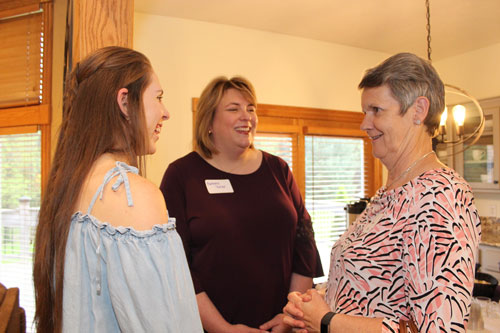 First Lady Welcome Tea
SBU Women's Club hosted a First Lady Welcome Tea on Tuesday evening. Ladies within the SBU family and the Bolivar community welcomed both Barbara Turner, SBU's First Lady, and the Turners' daughter, Emma, to SBU and Bolivar.
Dr. Turner was named president-elect on July 20, 2018. He began his service as president-elect on Aug. 6, 2018, and assumed the presidency on Sept. 1, 2018. He came to SBU from Black River Technical College in Pocahontas, Ark., where he served four years as president. Prior to this, he served 17 years in various administrative capacities at Williams Baptist University in Walnut Ridge, Ark.
For more information about the inauguration, visit www.SBUniv.edu/inauguration or call Brittany Earl, executive coordinator in the President's Office, at (417) 328-1500.
Photo 1: SBU President Dr. Eric A. Turner and First Lady Barbara Turner with the Presidential Portrait.
Photo 2: SBU Student Association President Samantha Martin (left) and SBU President Dr. Eric A. Turner cut the ribbon to dedicate the S.A. Inaugural Mural.
Photo 3: (From left) Emma Turner and SBU First Lady Barbara Turner visit with Donna Neil at the First Lady Welcome Tea on Tuesday, April 23.
*Published: 4-24-19