BOLIVAR, Mo. — Lena Campbell, housekeeper, and Paula Steiert, instructor of health sciences, received the Staff and Faculty Life Beautiful Awards during the annual employee Christmas banquet Dec. 6 at Southwest Baptist University.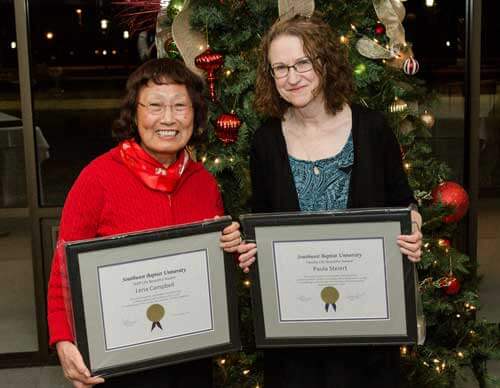 "The designation 'life beautiful' is the highest honor a person can receive at Southwest Baptist University," said Dr. Eric A. Turner, SBU president. "Each year during the Bolivar spring commencement, we honor two graduating seniors who are chosen by the faculty as best exemplifying a 'life beautiful.' During our employee Christmas Banquet, we honor a faculty member and a staff member who exemplify a 'life beautiful.'"
The Faculty Life Beautiful Award was established in 1987, and the Staff Life Beautiful Award was established in 1992.
Staff Life Beautiful
Lena Campbell, a native of Korea, arrived in the United States in 1979 and began working at SBU in 1999. In addition to her full-time job in housekeeping at SBU and her part-time job in Bolivar, she attends Korean Presbyterian Church in Springfield, where she helps prepare church dinners and volunteers in whatever capacity is needed for her church body.
"She is a very generous person who has taken upon herself over the years to regularly feed and nourish the Department of History faculty by periodically providing us with meals and snacks," one of her co-workers said. "Her willingness to share her meager resources with us stems from a generous heart and demonstrates her Christ-like love with this sacrificial service of hospitality."
Known by many as a "bright ray of sunshine," she makes a positive impact on those with whom she comes in contact.
"She meets the highest standards in the performance of her duties at SBU, and does so with an attitude that exudes kindness and joy," another co-worker said.
Faculty Life Beautiful
Paula Steiert, who has been a member of the SBU faculty since 1993, currently instructs the pre-requisite science courses for nursing and radiography on the Springfield campus.
She has a bachelor of science degree in biology from the College of St. Catherine in St. Paul, Minn., and a graduate degree in microbiology from the University of Minnesota.
"She has a long-standing history on this campus as being a dedicated faculty member that truly cares for each student," a colleague wrote. "She will go above and beyond to help any student to be successful."
And, her students echo that thought.
"Her pathophysiology class made the biggest impact on my career, not only as a student, but as a nurse," one of her students wrote. "Pathophysiology set the tone for the BSN program; it was tough, but well worth my time. This class drove me to ask 'why' questions and to propose possible answers to the questions I was asking.
"She never robbed me of the time I needed to critically think. She helped me develop the answers to my own questions. Without her as my critical-thinking coach, I would not be the student or nurse I am today."
Steiert is active in her church and volunteers for SBU's Mercy College of Nursing and Health Sciences homeschool health fairs and college open houses. She and her husband, Jack, have one child, Brianna, who is a research assistant at the University of Kansas Medical Center.
PHOTO: SBU's 2018 Life Beautiful Award recipients (left to right) Lena Campbell and Paula Steiert.
*Published: 12-10-18