BOLIVAR, Mo. – The holidays generally are a time of family, friends, food, gifts and togetherness.
But for the Southwest Baptist University Disaster Relief team, it was an opportunity to help others in their time of need.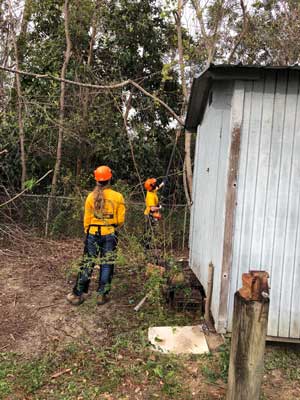 Led by Gabe Craig, a senior chemistry education and intercultural studies major from Park Hills, Mo., the SBU team of Sara McDonald, Hannah Gibbs, Jacob Showers and Haden Liska spent their Thanksgiving break in Bristol, Fla., helping residents clean up after Hurricane Michael, which ravaged the Florida panhandle in October. The team served alongside Joe Banderman of Missouri Baptist Disaster Relief.
"This was a little tough because family is important," Craig said. "I know for me, personally, my family would have loved for me to be there, especially since this was my second Thanksgiving I have been out doing disaster relief. But they understand the passion I have in this area, as well as the calling it has on me to invest in college students and develop these physical and spiritual skills to advance the kingdom.
"I am sure for the other team members it was hard not being home, but they were in similar boats and understood that there was a need that Christ was calling us for."
The team worked on seven projects while in Florida – mostly chainsaw work – helping remove trees that potentially could fall or cause harm to the homeowners or others in the area.
"I always give it thought," Craig said of being away from family to do disaster relief work, "but I know that the people we are going to help might not be able to see their family because they are having to deal with these trees on their house or yard that could be hazardous. Too often we think that the disaster relief only lasts a few weeks, but this will take years for the people to find their new normal.
"If we can answer the calling Christ has for us and spend our Thanksgiving helping those that might not have one so that when Christmas comes they can have family back at their house safely, then by all means it is worth it. Especially when we are given the opportunity to share the gospel with them and let the spirit work in the individual."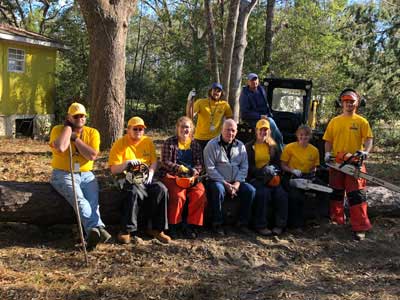 Craig has been part of the Missouri Disaster Relief since 2014. The impact of this service led him and a close friend to establish the SBU Disaster Relief team two years ago.
"I have been invested in meeting the needs of others and sharing Christ," Craig said. "The state and those in charge keep us on constant alert of disasters that are in need of volunteers.
"I greatly enjoy (disaster relief work) and the relationships that I have been able to build. I want to take these experiences and share them with the team so they can get involved as well. There are several team members where this is their second or third callout, so they have some prior experience as well."
The team was hosted by First Baptist Church-Bristol and was invited to a family lunch on the Sunday it was there, as well as having access to the kitchen and facility for the cooking team to prepare meals for all the volunteers.
SBU was the only Missouri team in Bristol, Fla., that specific week, though other Missouri teams had been there in weeks past. Three other men from Missouri joined the SBU team when it arrived, while a team from Illinois Disaster Relief also was there to help.
"There was a need and we were able to help out as much as we were able to and be the hands and feet of Jesus that we are called to be," Craig said. "We are not just there to clean up. We are there for the homeowners and helping them find their new normal and how that relates to Christ's obedience. We were able to have great encounters with homeowners, some lasting relationships were made and everyone on the team was able to understand what it means to be obedient in Christ."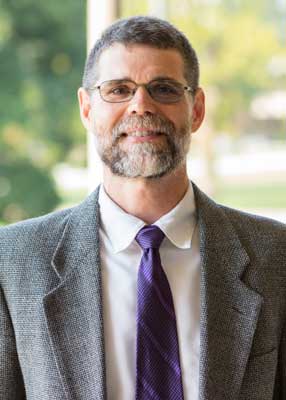 Dr. Steve Bowling, assistant professor of mathematics, also followed the call to help with Missouri Disaster Relief in late September/early October, following Hurricane Florence.
Bowling traveled with Jon Felty of Hollister to Wallace, N.C., where they worked on a team that did two mud-outs its first day there.
"Jon and I had the opportunity to serve on a smaller team made up of individuals from various parts of Missouri, that went from 6 to 5 to 4 members due to people going back to regular responsibilities," said Bowling, who was appreciative of Dr. Kevin Hopkins and Dr. Benny Fong for filling in for him the six school days he was gone. "On this smaller team, we had the opportunity to do chainsaw work, put a tarp on the roof of a house, and help with the spraying down of a house (to help prevent mold and mildew) that had already been mudded out."
In addition to the physical work in Wallace, Bowling said there were 66 presentations of the gospel and four professions of faith.
"Supporting people and efforts through prayer, going and serving, filling in at work for volunteers who are going, and giving funds or goods can all be types of spiritual fruit," Bowling said.
And for Craig, as long as there is a need, he will continue to serve.
"I will definitely do this as long as I am called to do disaster relief work," Craig said, "if that means leading college students and developing them so they can lead teams in the future or even just going out to serve those that are in need.
"As long as I am called to this, I will be obedient in Christ and give Him all the glory and praise for all He is doing. It is not something I have done but what He has done through me, and it would be selfish if I kept that to myself because, as believers, we are to advance the kingdom."
PHOTO 1: Sara McDonald and Hannah Gibbs, members of the SBU Disaster Relief team, work to remove trees damaged by Hurricane Michael.
PHOTO 2: The SBU Disaster Relief team takes a break from their work in Bristol, Fla. Team members included: Charles, Jacob Showers, Ashley Palmer, Gabriel Craig, Sara McDonald, Hanna Gibbs, Richard and Haden Liska.
PHOTO 3: Dr. Steve Bowling
*Published: 12-10-18