BOLIVAR, Mo. – The SBU Community Concert Series opens its inaugural season with a voice recital presented by Dr. Eric McCluskey at 7:30 p.m., Tuesday, Oct. 9 in Meyer Recital Hall on the Bolivar campus of Southwest Baptist University.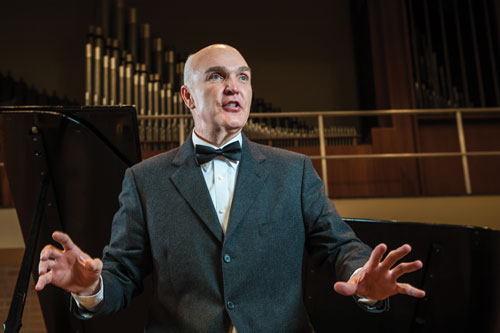 McCluskey, a baritone, will be performing works by Schumann, Bellini, Massenet, Finzi, Rossini and Wilson.
A native of southern Illinois, McCluskey began performing throughout the United States with opera companies and symphony orchestras after completing a master's degree at Southern Illinois University-Carbondale. He had the opportunity to sing Mahler's "Songs of a Wayfarer" with the Paris Opera Ballet while the late Rudolf Nureyev danced. McCluskey, an assistant professor of voice at the University of Evansville, sang professionally for 18 years before earning a doctor of music degree from the Jacobs School of Music at Indiana University.
The public is invited to attend this free recital and is encouraged to attend a reception in the Meyer Recital Hall lobby after the performance, as well as support SBU Music students through donations for music scholarships.
Other artists scheduled to appear as part of the SBU Community Concert Series include: Danilo Mezzadri and Brian Hsu. The William and Kathy Brown Guest Artist Series will present Duo MemDi (Igor Kalnin and Rochelle Sennet) in concert in April 2019.
For more information about the concert series, contact Dr. Robert Carney, associate professor of music at SBU, at (417) 328-1644 or rcarney@SBUniv.edu.
PHOTO CREDIT: Steve Woit Photography
*Published: 10-2-18