BOLIVAR, Mo. — John A. Bryant '61 of Bolivar, and Charles E. Clemmons, Jr. '59 of Seabrook, Texas, received Honorary Doctor degrees from Southwest Baptist University during the annual Founders' Day chapel service held Monday, March 6, in Pike Auditorium on the Bolivar campus.
SBU awards honorary doctorates to recognize outstanding individuals who have made significant contributions to society and to kingdom work.
John A. Bryant '61
John A. Bryant, who received an honorary doctor of mathematics degree, graduated from Southwest Baptist College in 1961 with an associate of arts degree. He then earned a bachelor of science in mathematics education (1963) and a master of science in mathematics education (1966), both from Mississippi College. He earned a second graduate degree, a master of arts in mathematics, from the University of Illinois in 1970. In 1966, he was hired by SWBC as a mathematics teacher, and named the new men's tennis coach.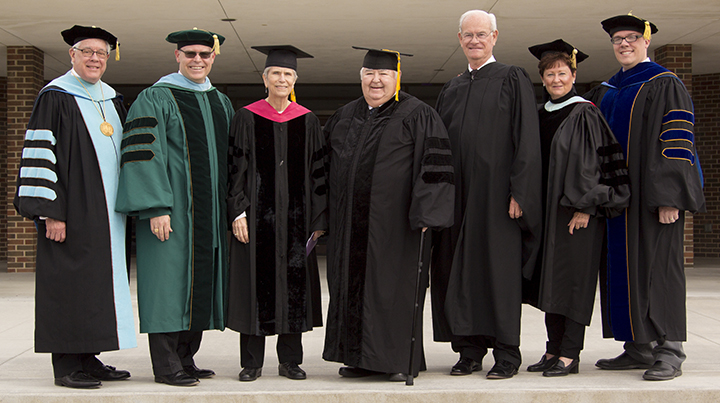 CUTLINE: (Left to right) SBU President Dr. C. Pat Taylor; Dr. Brad Johnson, vice president for university relations;
the Rev. Barbara Clemmons; Charles E. Clemmons '59 of Seabrook, Texas, recipient of an Honorary Doctor of
Computer and Information Science; John A. Bryant '61 of Bolivar, recipient of an Honorary Doctor of Mathematics; Dr. Susan Lynch, professor emeritus of business administration; and Dr. Lee Skinkle, provost, during the annual Founders' Day chapel March 6 at SBU.
In his 50 years at SBU, Bryant has amassed a record of 937-523, won national championships, made 48 national appearances, had 36 men and seven women be named all-America, been named national coach of the year in 1983 and 1990, and was inducted into the SBU Sports Hall of Fame (1982), the NAIA Hall of Fame (1987) and the Missouri Sports Hall of Fame (2010). In 2001, the SBU tennis courts were named in his honor.
Bryant retired from teaching mathematics in 2016, and was recognized as the Orien B. Hendrex Distinguished Teacher in 1974 and given the Governor's Award for Teaching Excellence in 1996.
In a "This is Your Life" presentation, Dr. Susan Lynch, professor emeritus of business administration, introduced some key players during Bryant's time at SBU – his college roommate, James Westbrooks; former tennis player Sanah Chung '89; and former player and current graduate assistant Fanni Varga '15 – who all paid tribute to Bryant via video.
"It is incredible how God shapes each of our lives," Lynch said. "Today, God's plan for John Bryant's life is evident in his stellar career as a math professor, and in his career as a world-known NCAA Division II tennis coach," Lynch said. "Having recruited student-athletes from all over the world, both men and women, to his recollection, at least 32 of his players have completed master's degrees and 18 have completed terminal degrees of some kind – law, medicine, dental, physical therapy, math and business.
"During his 51 years of coaching tennis at Southwest Baptist College/University, John Bryant has coached hundreds of young men and women in both tennis and in life."
Bryant said he could thank people for hours, but noted SBU trustees, Dr. C. Pat Taylor, president of SBU, Dr. Lynch, Westbrooks, family, friends and faculty.
"Southwest has done so much for me," Bryant said. "They got me in the classroom. I came back on faculty in math, but my career path really started on that first faculty workshop day.
"The athletic director, who had a little bit of a linebacker look to him, said, 'I looked at your sports background; you've played a lot of sports. Tennis or wrestling?' I'm 6-1, 155 pounds, and I'm going to do wrestling? I don't think so. But he handed me a book by Bill Tilden on how to play tennis, and I came running home to my wife and said, 'I'm the new tennis coach.' And, she looks at me with that look, raised eyebrow, 'Are you out of your mind?'"
Bryant assured his wife, Dr. Judy Bryant, that he'd do it for one year, "and, we're still trying to get that thing down," he joked.
Charles E. Clemmons Jr. '59
Charles E. Clemmons Jr. received an associate's degree from Southwest Baptist College in 1959 and a bachelor of science degree from Iowa State University in 1961. He went to work for the Department of the Navy for seven years in Washington, D.C., before working 12 years for Lockheed Aircraft Corp. in New York for the U.S. Army.
Clemmons and his family moved to Tuscan, Ariz., where he worked for a design team for the L-1011 commercial aircraft before moving to Houston, Texas, to work for the Johnson Space Center. In 1979, Clemmons founded Pro-tem, Inc., now doing business as PTI Systems, Inc. PTI remains the dominate supplier of radiation tracking and work authorizing software in the nuclear power industry.
In 1994, Clemmons retired from his company, but continues to serve on the company's board of directors, while turning his attention to Rotary International. Clemmons has held several Rotary offices, nationally and internationally, and has been honored with the Rotary International's Service Above Self Award, the Rotary Foundation's Distinguished Service Award and the Rotary Foundation's Citation for Meritorious Service.
Clemmons also founded the Second Wind Foundation, which collects books and other educational material and ships them to developing countries. Since its founding, the foundation has sent more than 12 million books to 20 different countries. Many of the books, including Bibles, go to orphanages and schools in countries where it is hard for missionaries to enter.
Dr. Brad Johnson, vice president for university relations at SBU, described Clemmons as someone "who despite his remarkable accomplishments, will often deflect the credit to those who have helped him get there.
"SBU has a long history of producing servant leaders who influence the world for Christ; (Clemmons) is no exception."
Johnson asked the audience to think about an SBU graduate (Clemmons) working on the space shuttle, and for students to think about where an SBU degree can take them. Johnson also thanked Clemmons and his wife, Barbara, "for creating those magic moments for people all over the world," with the Second Wind Foundation and its mission to supply books to those who have none.
From the first Chapel service Clemmons attended 59 years ago at SBU, he knew what he wanted to do. He just didn't know how to get there.
"SBU helped me along the way," Clemmons said. "It instilled the confidence in me. What it taught me was to spend my time learning, and especially, for you students, to dream. Know what you want to be; dream about being there, because dreams really do come true.
"You never know what doors the good Lord will open for you, but recognize opportunity when it comes to you."
Clemmons reminded the audience that it is never too late for dreams to come true. After having worked on the space shuttle, Clemmons finally realized his dream, while in his 40s.
"I had two dreams – one, of working for myself, and one, of being in the nuclear industry," Clemmons said. "I wanted to be a nuclear physicist, but it took me 20 years to get from that dream to its reality. So, dream. You never know when it will come true."
About Founders' Day
SBU was founded 139 years ago this coming fall semester, in 1878, when James Rogers Maupin and Abner Smith Ingman established Southwest Baptist College in Lebanon. A year later, the college moved to Bolivar. Founders' Day is a time set aside to reflect on the university's history and heritage.
"Today, we take time to honor the committed Christian scholars who have worked diligently during these 139 years to ensure that SBU offers a quality Christian higher education," SBU President Taylor said. "Founders' Day is an important time when we are challenged to reflect on our past and thank God for the men and women who have gone before us and created an environment that inspires us to be successful today."
Taylor reflected on some of the pivotal points in SBU's history and how they illustrate God's provision since SBU's founding, from going bankrupt to recovering from a devastating fire in the early 1900s to working to transition from a two-year college to a four-year institution.
"We must recognize that we would not have survived if God had not had his hand on this University, and we would not be able to enjoy the successes of today if the heroes of the past had not answered God's call to be a part of the kingdom enterprise here at SBU."