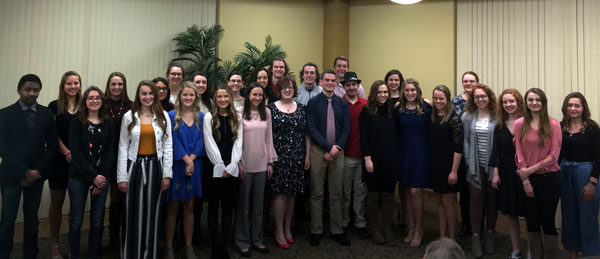 BOLIVAR, Mo. – The Southwest Baptist University chapter of Phi Eta Sigma inducted 50 new National Honor Society members in a ceremony Feb. 21 in the McClelland Dining Facility on the Bolivar campus.
Phi Eta Sigma was founded at the University of Illinois in 1923 to recognize and promote superior scholarship among freshmen. The Society has established chapters in more than 300 institutions of higher learning in the United States. The SBU chapter was formed in 2007.
Phi Eta Sigma was originally a freshman men's scholastic honor fraternity having a formal grip, a password and secrets. In 1974, the society dropped the word "fraternity," accepted both men and women into membership, and opened the induction ceremony to non-members.
The mission of PES is to recognize and support academic excellence among first-year students. SBU's chapter works to fulfill that mission by sponsoring 4-6 PES Coffee Talks each year to promote faculty/student engagement outside the classrooms.
In the fall of 2018, the chapter added a new initiative called "FreshFest," focused on social events for first-year students during the first 6-8 weeks of transition to the campus.
PHOTO: The newest members of SBU's chapter of Phi Eta Sigma National Honor Society were inducted in a Feb. 21 ceremony.
*Published: 3-6-19