BOLIVAR, Mo. – Southwest Baptist University's Phi Beta Lambda (PBL) organization had six students compete at the PBL National Leadership Conference on June 23-26 in Baltimore, Md., and claimed eight top-10 finishes, as well as a national championship.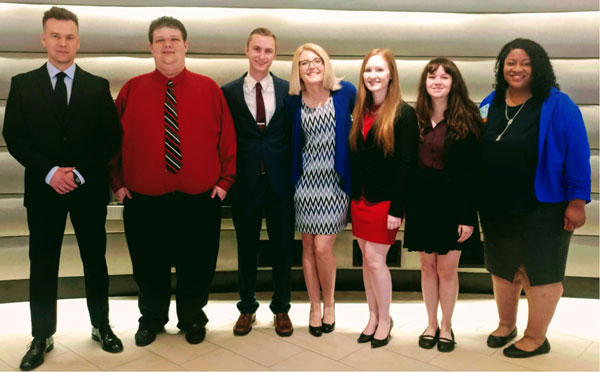 SBU PBL, which competed against more than 1,800 students, has claimed 29 top-10 finishes at nationals the last five years.
SBU students qualified for the national competition after an impressive showing at the PBL State Leadership Competition in April in Springfield. At the state competition, SBU PBL had 18 top-five finishes, including five first-place winners.
SBU national competitors included:
Allison Hawkins — junior, St. Joseph; first place — Cybersecurity; fourth place – Computer Concepts
Josh Adams — junior, West Plains; second place — Computer Concepts; third place – Programming Concepts
Mikayla Throne — junior, Ozark; second place — Impromptu Speaking
Nathan Hooper — freshman, Bolivar; ninth place — Networking Concepts
Emily Munsell — senior, Osceola; 10th place — Future Business Executive

Team events
Emily and Stephan Munsell — second place — Business Presentation
"Our organization is blessed to have outstanding officers and members who strive to challenge their academic acumen on a national scale," said Meilani Conley, SBU PBL advisor and instructor of computer and information sciences. "I am thankful to be a part of their journey as they embody our mission statement to become servant leaders in a global society."
Future Business Leaders of America-Phi Beta Lambda (PBL) is a nonprofit education association with a quarter million students preparing for careers in business and business-related fields.
Photo cutline: (Left to right) Nathan Hooper, Josh Adams, Stephan Munsell (vice president), Emily Munsell (president), Mikayla Throne, Allison Hawkins and Meilani Conley (advisor).
*Published: 6-28-18