BOLIVAR, Mo. – Southwest Baptist University's Phi Beta Lambda (PBL) organization had nine students compete at the PBL National Leadership Conference on June 24-27 in Anaheim, Calif., and brought home eight top-10 finishes.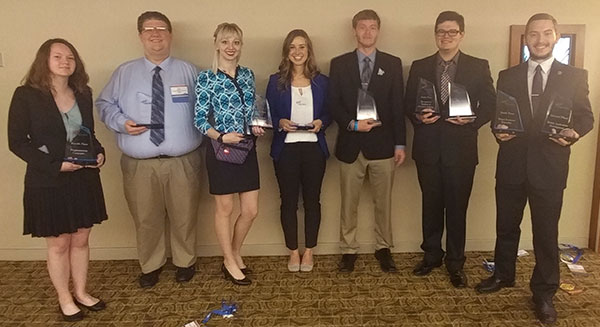 SBU PBL, which competed against more than 2,000 students, has claimed 21 top-10 finishes at nationals the last four years.
SBU students qualified for the national competition after an impressive showing at the PBL State Leadership Competition in April in Springfield. At the state competition, SBU PBL competed against 208 students and 15 universities and had 20 top-five finishes, including six first-place winners.
"I am amazed each year by the commitment, effort, and performance of each student," said Meilani Conley, SBU PBL advisor and instructor of computer science. "Watching them become student leaders and work as a team has been extremely rewarding.
"They are strong representatives of SBU and the quality of academics available here."
SBU national competitors included:
Allison Hawkins — sophomore, St. Joseph; fourth place — Programming Concepts
Emily Woods — junior, Osceola; 10th place — Future Business Executive
Jalen Supancic — senior, Lynchburg; seventh place — Contemporary Sports Issues
Jessalyn Kliewer — junior, Lee's Summit; honorable mention – Organizational Behavior and Leadership; Sports Marketing and Management
Josh Adams — sophomore, West Plains; 10th place — Cyber Security
Kiersten Harper — sophomore, Monett; sixth place — Public Speaking
Stephan Munsell — junior, Belton; ninth place — Information Management
Team events
Chase Bussey-Austin Masters — Second place — Mobile Application Development
Woods-Munsell — Sixth place — Management Analysis and Decision Making
"PBL is an organization focused on service, education and progress," said Emily Woods, SBU PBL president. "This organization has helped me put my classroom knowledge to the test and pushed me to become a better leader through volunteering, networking and competing in many of the competitive events."
Future Business Leaders of America-Phi Beta Lambda (PBL) is a nonprofit education association with a quarter million students preparing for careers in business and business-related fields.
"I encourage other students, regardless of their major, to join PBL," Jalen Supancic said. "There are several majors represented in our organization. It is a rewarding experience and I look forward to competing next year."
Photo cutline: (Left to right) Allison Hawkins, Joshua Adams, Kiersten Harper, Jessalyn Kliewer, Jalen Supancic, Chase Bussey and Austin Masters. Not pictured: Emily Woods and Stephan Munsell.