BOLIVAR, Mo. – The SBU Community Concert Series opens its inaugural season this fall with two concerts in October and one in February 2019, and will partner with the William and Kathy Brown Guest Artist Series to bring in national and international guest performers to the SBU and Bolivar communities.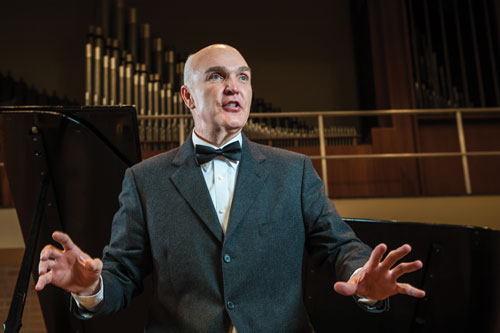 The concerts, which open with Dr. Eric McCluskey on Tuesday, Oct. 9, will be held in the Meyer Recital Hall on the campus of Southwest Baptist University and are free to the public.
"Most recently, Bolivar Live on Stage provided exceptional concerts with national and international guest artists for many years, and SBU supported the organization as it benefited both the Bolivar and SBU communities," said Dr. Robert Carney, associate professor of music at SBU. "With the departure of that series, SBU is filling the void with this new series."
McCluskey, a baritone, began performing throughout the United States with opera companies and symphony orchestras after completing a master's degree at Southern Illinois University-Carbondale. He had the opportunity to sing Mahler's "Songs of a Wayfarer" with the Paris Opera Ballet while the late Rudolf Nureyev danced. McCluskey, an assistant professor of voice at the University of Evansville, sang professionally for 18 years before earning a doctor of music degree from the Jacobs School of Music at Indiana University.
The public is invited to attend these free concert series and are encouraged to attend a reception in the Meyer Recital Hall lobby after each event, as well as support SBU Music students through donations for music scholarships.
Other artists scheduled to appear as part of the SBU Community Concert Series include: Danilo Mezzadri and Brian Hsu. The William and Kathy Brown Guest Artist Series, which was started several years ago through the generous support of Drs. Bill and Kathy Brown, will present Duo MemDi (Igor Kalnin and Rochelle Sennet) in concert in April 2019.
"I am excited about the performances coming to SBU in this series and feel the quality will be in line with many of the performers that were brought to the Bolivar area in the past by Bolivar Live on Stage and Bolivar Area Community Concert Association," said Cheryl Bowers, community leader and a key part of Bolivar Live on Stage for many years.
For more information about the concert series, contact Carney at SBU, at (417) 328-1644 or rcarney@SBUniv.edu.
CUTLINE: Dr. Eric McCluskey will be the first guest artist to perform in the SBU Community Concert Series. (photo credit: Steve Woit Photography)
*Published: 9-25-18