BOLIVAR, Mo. — Parker Hall, an economics and finance and marketing major from Stockton, Mo., and Kailee Knudsen, an organizational and strategic communication major from Kearney, Mo., won the titles of Mr. and Miss Southwest at the annual pageant on Friday, March 1, at Southwest Baptist University.
Eight candidates were nominated by SBU faculty and staff and voted upon by the student body for the purpose of selecting a pair of students to represent the Bearcat family for the next year.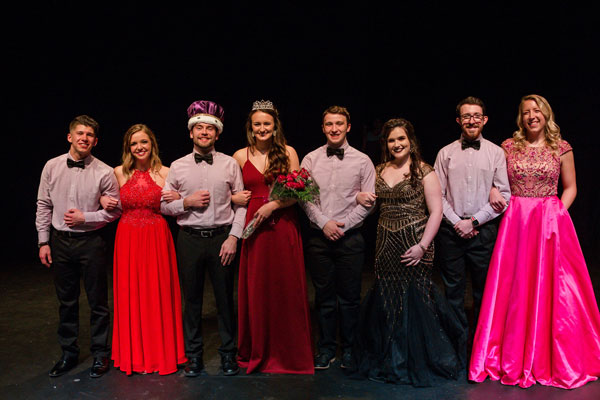 This year's candidates also included: Bailey Bowe, of Springfield, Mo.; Katelyn Brantingham, of Gainesville, Mo.; Micailah Burgess, of Mount Vernon, Mo.; Caleb Harris, of Bolivar, Mo.; Jordan Martin, of Blue Springs, Mo.; and Jeffrey Metzler, of Minneapolis, Kan.
The pageant featured introductory videos and a talent presentation by each candidate, followed by a round of text-message voting to determine the top four candidates, who then participated in question-and-answer sessions. A final round of voting determined the winners.
During the talent competition, Knudsen performed a spoken-word piece accompanied by music and a video, followed by a dance routine with several of her friends to "This is Me," from "The Greatest Showman" soundtrack.
Knudsen said she wanted her talent presentation to "show people a little more of who I am."
"I believe there is such an importance in being able to share our story and that is what inspired my spoken word," Knudsen said. "I want people to know that our identity is not found in who society tells us we should be, but our identity is found in Christ. I thought it was important to share my journey since coming to SBU and how faithful the Lord has been and will continue to be through everything in my life.
"I knew from the beginning that I wanted to include my friends because they are such an important part of my life and my story. My experience here at SBU would not be the same without them and I wanted to share this moment with them."
Knudsen, who said she will "follow wherever the Lord calls me next," after graduation, was honored to be named Miss Southwest.
"It was such an honor to even be nominated alongside such beautiful women and then to be chosen as Miss Southwest was incredible," Knudsen said. "My goal for the evening was to impact those attending in some way and being chosen as Miss Southwest gives me reassurance that hopefully happened.
"It means the world that both my peers and faculty/staff consider me as someone who represents SBU and our community. I am very thankful for the opportunities SBU has given me, and being Miss Southwest gives me the chance to share my story with even more people. I will never forget this experience and I am blessed by the support from my friends, family and the community."
Hall had several friends join him in a synchronized swimming routine – minus the water – to the song, "Blue Danube Waltz."
"When asked to do a talent, I realized I wasn't talented in a traditional way," Hall said. "I got together with some friends and brainstormed about what to do; after a while, synchronized swimming seemed like the best option. I just wanted everyone to enjoy their time at the show and to include some of my friends up there with me.
"Each men's dorm and off-campus were represented in some way with the guys. I've been blessed with great friends and wanted to showcase them up there with me."
Hall, who plans to attend law school after graduation, said he is honored to be named Mr. Southwest.
"Through my years at SBU, I've been committed to being involved and trying to show others how great SBU is," Hall said. "Some days can be exhausting and frustrating, but overall, I wouldn't trade my days at SBU for anything. Knowing that students and faculty and staff recognized me for this title is such an honor and makes me even more thankful for all of them."
The beginnings of the "Miss Southwest" pageant date back to the 1930s, with "Mr. Southwest" being added in 1963. The pageant, which was organized by the students of SBU's University Activities Council, was one of the keynote happenings of Bearcat Days, a visit event in which admitted students considering SBU attendance were hosted on campus.
For more information, contact student activities director Nathan Penland at (417) 328-1828 or npenland@SBUniv.edu.
PHOTO: 2019 Mr. and Miss Southwest candidates (from left): Jordan Martin, Katelyn Brantingham, Parker Hall, Kailee Knudsen, Caleb Harris, Micailah Burgess, Jeffrey Metzler and Bailey Bowe.
*Published: 3-4-19