BOLIVAR, Mo. — Five Southwest Baptist University alumni were honored with special awards in recognition of living lives of service at Honors Chapel on Friday, Sept. 28.
The event marks the beginning of Homecoming festivities and also featured the presentation of the 2018 Homecoming court.
"The alumni receiving the Life Service Awards today are people whose lives have been lived in such a way that they have earned our utmost respect and admiration," said SBU President Dr. Eric A. Turner. "We are proud that they are alumni of Southwest Baptist University and are delighted to honor them with the Life Service Award – the highest honor given to alumni by this university."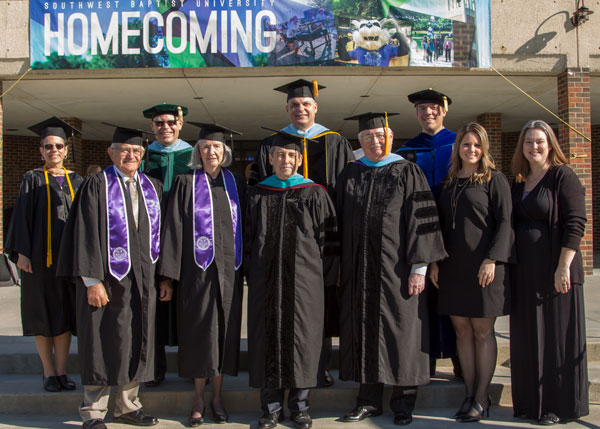 Edwin Lightfoot Distinguished Alumni Award
The National Alumni Association Board presents the Edwin Lightfoot Distinguished Alumni Award annually to an alumnus or alumna who demonstrates the ideals personified by the late Edwin Lightfoot '40. The award criteria include alumni leadership in the University, dedication to the education and welfare of youth and demonstrated support for SBU.
Carolyn Swinfard Hampel '61,'74: Carolyn Swinfard Hampel retired from St. Luke's Hospital, where she worked for 10 years as a medical technologist – a calling she had since she was 14 years old. During her career, she was instrumental in the development of the safety syringe and needle shields.
Hampel earned her certificate of completion in 1961 from Southwest Baptist College and returned to SWBC to earn her bachelor of arts degree in 1974.
"I have looked back at my life and realized I have been blessed with so many wonderful people, and particularly the educators," Hampel said. "Those are the ones who, all of you who are students here today, may not realize how much they will mean to you in the future. When you look back, there will be those special ones, and I had some of those here."
When she learned she was receiving the Lightfoot Award, Hampel said she had to do some research to learn about him and how her life correlated with his.
"The main thing that I found was that we were Christians and that we love Southwest Baptist University," Hampel said, "and we have been honored to do what we have been able to do for it."
Hampel, who also was part of the development of a self-study booklet and nationally acclaimed video program, is a member of First Baptist Church of Wildwood, where she attends with her husband, Joseph. They have one daughter, Kimberly Bertel, and two grandchildren.
Alumni Life Service Awards
Inspired by the Life Beautiful Award presented each year to one male and one female graduate, President John Dowdy suggested to the Southwest Baptist College Board of Trustees in 1955 that the Life Service Award be given annually to graduates whose lives have exemplified the principles which are upheld at Southwest. The award is the highest recognition that the University can bestow upon an alumnus or alumna. This year's recipients include:
Kathy Arnett '78: Kathy Arnett served as an IMB missionary for 31 years in West Africa and passed away on March 14, 2018, while serving in the Democratic Republic of Congo. She spent the majority of her time witnessing to Africans and building relationships with people.
Arnett earned her bachelor of arts degree in music education from SWBC in 1978 and her master of arts degree from Southern Baptist Theological Seminary in 2012.
Arnett's daughters, Jillian Arnett Cavness '09,'12 and Bevin Arnett Wyrick received the award on behalf of their mother.
"Our mother would have been so humiliated by this attention," Cavness said. "She lived an enviably minimalistic and God-centered life, spending 31 years in Africa pointing people to Christ."
Cavness explained, during her time as a "missionary kid" in Africa, she never understood why she was born to such privilege and others to such devastation.
"Mom explained it to me by saying that there are people who would wish for your worst day," Cavness said. "It's our obligation to use our privilege for good in the world. Our mom, Kathy Arnett, epitomized what this Life Service Award is all about. I hope you join me in looking at her life and what you've heard of our mom and feeling burdened for the nations; encouraged to use our privilege for good in the world and to continue sending out more missionaries to the world."
Arnett participated in traveling revival teams and Chorale, and played piano for events, while a student at SBU. Her late husband, Randy, who also passed away on March 14, was a Life Service Award recipient in 2007.
Daniel Duckworth '78: Daniel Duckworth has been pastor of Rocky Mount Southern Baptist Church for 41 years. In 1997, he established Visions Unlimited food pantry, a Social Ministry of Rocky Mount SBC, a ministry that still assists those in need today. He continues to work with The Food Bank of Northeast and Central Missouri.
Duckworth earned his bachelor of arts degree in theology from SWBC in 1978.
"I never was expecting to receive an award like this," Duckworth said. "I don't deserve it. I serve the Lord. That's what is joyful in my heart. To me, this is a challenge to be more humble in the service of our Lord and Savior. We must stand firm for our practice and our belief and love the Lord our God with all of our heart, with all of our soul and with all of our might; and to love our neighbor as ourself."
Duckworth said it is an honor to be recognized for upholding the standards established by SBU, whether that be in business, missions, church-related fields or other vocations.
"I would like to thank the SBU faculty and staff for being a Christ-centered caring academic community to bring us students to be the servant leaders God has called us to be."
Duckworth has held several roles in the Miller County Baptist Association, including moderator from 2001-2003. He and his wife, Marylin, have two adult daughters, Rebecca Jane Jackson and Rachel Jean Roark.
John Murphy '70: John Murphy has worked as a chaplain at Saint Luke's East Hospital since 2006 and has worked as a director and missionary for the International Mission Board of the Southern Baptist Convention.
Murphy earned a bachelor of arts degree in music education from SWBC in 1970, an M.A. in music education from Central Missouri State University, an M.R.E from Midwestern Baptist Theological Seminary in 1979 and an Ed.S. from the University of Missouri-Kansas City in 1988.
Murphy recalled his Sunday school teacher, who had a unique way of encouraging and affirming him as a youngster.
Murphy said the version of him today is better because of the service of his Sunday school teacher, and expressed his gratitude to SBU for the Life Service Award.
"The occasion does give us an opportunity to talk about this all important matter of service," Murphy said. "I am convinced that genuine, abundant human living is not measured in terms of the acquisition of wealth, or early retirement, or fame, or position, or power, or the accumulation of advanced degrees.
"I am convinced that genuine, abundant human living is measured in terms of service, actions that build people up and change their lives, that make a positive, life-altering difference in people. Regardless of our resources, our skills, our gifts, our GPA, or academic degree, we can serve, and serve with distinction and make a difference in our world."
Murphy and his wife, Sherry, attend North Heartland Community Church in Kansas City, where he serves as a deacon, music minister and education minister. The couple has two daughters, Lesley Boulton '94 and Audrey Reyes.
John Rush '61: John Rush is retired after working in a variety of capacities for the United Way over the span of 42 years, including serving as president and CEO of United Way of the Ozarks in Springfield.
Rush earned his associate of arts degree from SWBC in 1961, a B.A. in psychology from Baylor University in 1963, an M.S. in social work from the University of Missouri-Columbia and and honorary D.P.A. from Missouri State University in 2013.
"I think my life would be nothing without my family, my children and even my sons-in-law," Rush said. "Because of them, and because of many more, here I stand.
"The truth is, if I have achieved any good at all, it is because I have been surrounded by those with a common cause, who most likely were wiser than I and who wanted to make the community a better place."
Rush said every community has heroes and recalled heroes he encountered throughout his life and career, describing them as serving without recognition or fanfare.
"Why they committed to such cause is their story," Rush said. "Why I was involved and why I was committed is really quite simple – my faith required it."
Rush and his wife, Sandra, a Miss Southwest winner, attend First and Calvary Presbyterian Church in Springfield, where he is an elder and deacon. He also teaches Sunday school. The couple has three children: Penni Adams, Paige Folger and John Rush.
For more information about SBU Homecoming, please contact the Office of Alumni Engagement at (417) 328-1806.
CUTLINE: Southwest Baptist University presented special alumni awards during Honors Chapel on Friday, Sept. 28. Front row (left to right) — Daniel Duckworth (Life Service Award), Carolyn Swinfard Hampel (Edwin Lightfoot Distinguished Alumni Award recipient), John Rush (Life Service Award), John Murphy (Life Service Award), Jillian Arnett Cavness and Bevin Arnett Wyrick, daughters of Kathy Arnett (Life Service Award-presented posthumously). Back row (from left) – Brenda Morris, president SBU Alumni Association; Dr. Brad Johnson, vice president for university relations; Dr. Eric A. Turner, president of SBU; and Dr. Lee Skinkle, provost.
*Published: 9-28-18