BOLIVAR, Mo. — Rebekah Wright, assistant director for digital marketing, and Dr. Steve Bowling, associate professor of mathematics, received the Staff and Faculty Life Beautiful Awards during the annual employee Christmas banquet Dec. 7 at Southwest Baptist University.
"The designation 'life beautiful' is the highest honor a person can receive at Southwest Baptist University," said Dr. C. Pat Taylor, SBU president. "Each year during the Bolivar spring commencement, we honor two graduating seniors who are chosen by the faculty as best exemplifying a 'life beautiful.' And, each year during the employee Christmas Banquet, we honor a faculty member and a staff member who exemplify a 'life beautiful.' "
The Faculty Life Beautiful Award was established in 1987, and the Staff Life Beautiful Award was established in 1992.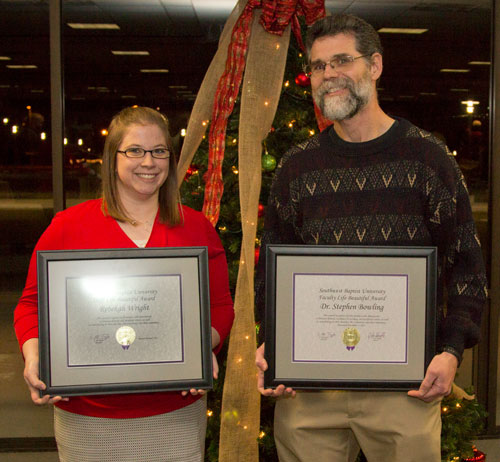 Staff Life Beautiful
Rebekah Wright, a native of Wichita, Kan., earned bachelor of science degrees in international business and economics/finance from SBU in 2010. While a student, she worked as a tour guide for the office of admissions and was president of SBU's chapter of Students in Free Enterprise (now Enactus). After graduation, she worked as an admissions counselor for three years before moving to the office of marketing and communications, where she currently serves as the assistant director for digital marketing, managing the University's website and social media accounts.
"She invests in the lives of students and co-workers every day, showing her love for Christ in all that she does," said Charlotte Marsch, director of marketing and communications. "She passionately believes in SBU's mission. She demonstrates servant leadership at SBU and by serving in her local church, and in the Bolivar community."
She attends Wellspring Baptist Fellowship, where she serves on the church's administrative team, teaches a middle school girls' Sunday school class and leads a team every summer to work and minister to the Oasis, a residential home in Guatemala for girls who have experienced sexual abuse and trauma. In addition, she attends Bible Study Fellowship, mentors several SBU students and previously served as treasurer for Polk County K-Life. She represents SBU in the community by serving on the Bolivar Area Chamber of Commerce board of directors.
Faculty Life Beautiful
Dr. Steve Bowling has been a member of the SBU faculty since 2001 when he began as an assistant instructor of mathematics. He currently is a professor of mathematics.
He has a bachelor of science degree from John Brown University, a master of science and a Ph.D. from the University of Arkansas.
"He attends Chapel more regularly than any other faculty member I know," a colleague wrote. "In the department, he is a beacon. His first comment about a problem is, 'Let's pray about it now.' "
Prayer is an important part of Bowling's life. One colleague noted Bowling's custom of prayer walking in the Wheeler Science Center, praying at each door for the students and staff within each office and classroom. He has graded AP calculus exams since 2009, and prays that he does good work as well as be a good ambassador for Christ in his interactions with other AP graders.
Bowling also has assisted with Missouri Baptist Disaster Relief efforts and has trained as a chaplain for that effort.
He regularly receives student evaluations with comments like: "He showed a Christ-like attitude every day; he prayed every day before class; and, he is present for his students and his university."
Bowling is a member of First Baptist Church in Bolivar, where he has been a member of the construction team and is actively involved in the Esquire Ministry, greeting people as they enter. He and his wife, Claire, have one child, Peter.
*Published: 12-8-17