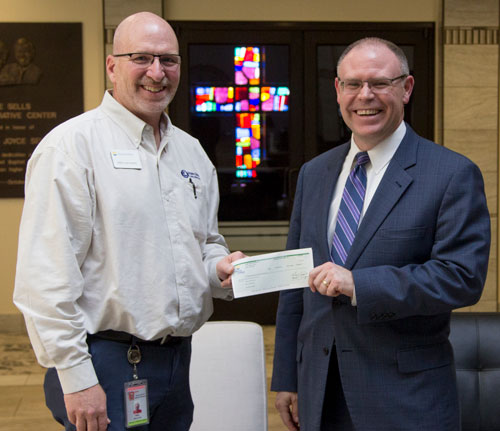 BOLIVAR, Mo. — Liberty Utilities - Empire District recently delivered a $15,000 check to Southwest Baptist University that is part of $30,000 pledge toward the $175,000 renovation of the Lloyd & Frances Randolph Meditation Chapel, which was built in 1985, and the Clement Amphitheatre & Prayer Garden.
The renovation work on the Bolivar campus is complete, and a dedication ceremony will be held Thursday, May 9, at the Randolph Chapel from 4:30 to 6:30 p.m. with the dedication ceremony at 5:30. For more information, contact Ashley Dinwiddie, director of donor relations, at (417) 328-1835.
Photo: Mike Hayward (left) business and community development manager for Liberty Utilities - Empire District, presents a $15,000 check to Dr. Brad Johnson, vice president for university relations at Southwest Baptist University, toward a $175,000 renovation project on the University's Bolivar campus.
*Published: 4-17-19