Southwest Baptist University's Department of Computer and Information Sciences (CIS) assistant professor Dr. Jeffrey Kimball is the newest CIS faculty member to earn a Ph.D. Dr. Kimball successfully defended his dissertation research project Nov. 24 at the College of Engineering and Computing at Nova Southeastern University in Ft. Lauderdale, Fla.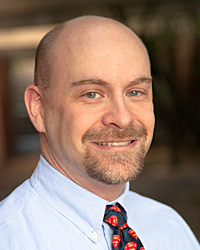 "I am pleased and humbled to have finished this work," said Kimball. "God has been gracious in His provision throughout this entire learning opportunity. I look forward to seeing how my experience can be used to benefit the computing students at SBU."
Kimball graduated from SBU in 1992 and earned his master's degree from the University of Central Missouri. He is one of five full-time faculty members in the SBU CIS Department along with department chair Dr. Tim DeClue, Dr. James Cain, Dr. Baochuan Lu and Meilani Conley, who was accepted into the Potsdam University doctoral program in computer science this fall.
SBU CIS is the largest computing program at a private school in the Ozarks and is one of only six evangelical Christian colleges in the United States to house an ABET-accredited computer science degree. SBU's Department of Computer and Information Sciences has garnered multiple national awards in recent years and is housed in the nationally ranked Robert W. Plaster College of Business and Computer Science at SBU.