BOLIVAR, Mo. – Southwest Baptist University's Dr. Bob Glasgow, professor of mathematics, was presented with the Leroy Sachs Award for lifetime achievement (or contribution) on Nov. 30 at the Missouri Council of Teachers of Mathematics Fall Conference in Columbia.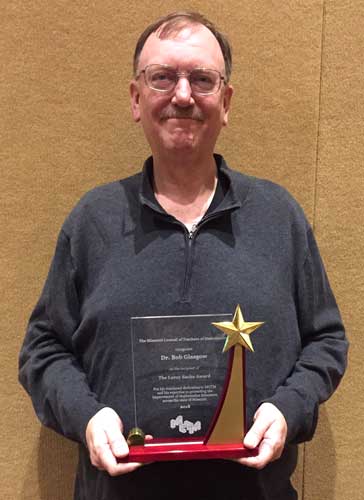 "I was very surprised and humbled to receive this award," Glasgow said. "It is a recognition that comes from my colleagues across the state of Missouri; people I have worked with, learned from and respect greatly. God has blessed me immensely to have so many great friends to work with over the years, and I am thankful to Him for all of my opportunities."
The award was established in 1993 to recognize an individual who has given time, energy, and expertise to benefit the organization and to promote the improvement of mathematics education across the state of Missouri, the MCTM website states. It is named in honor of Leroy Sachs, a well-known St. Louis educator, who is recognized nationally for his excellence in teaching and support of teachers. Sachs, who is now 104 years old, was a former president of MCTM as well as the Illinois Council of Teachers of Mathematics.
According to the MCTM website, the nomination is made by an MCTM Executive Board member to recognize outstanding contributions of leadership and service to MCTM, and is the highest honor that the Missouri Council of Teachers of Mathematics offers to those who have given so much of themselves to Missouri mathematics.
"It was a great honor to receive the award and it was very exciting that my daughters were there (without me knowing) to experience the night," Glasgow said. "I am also very thankful to SBU and the support I have received for the last 30 years to be involved in mathematics education in the state of Missouri. I am honored to represent who we are as a university in all that I do."
Glasgow previously was honored by the MCTM in 2011 as the Outstanding Post-Secondary Mathematics Teacher. He also received SBU's Orien B. Hendrex Distinguished Teacher Award in 2017, the Science and Christian Faith Award in 2007, which is given by the SBU College of Science and Mathematics, and was the SBU Faculty Life Beautiful Award recipient in 2005.
"Bob has been an integral part of the mathematics department at SBU since 1989," said Dr. Kevin Hopkins, department chair. "His lifetime of service has been evident to the department and to his church since that time. He has repeatedly demonstrated for our students what it looks like to be a servant leader.
"MCTM's awarding him the 2018 Leroy Sachs Award is a recognition of his service to and leadership in Missouri mathematics beyond his contributions at Southwest Baptist University."
As part of the MCTM conference, Glasgow's session was the culminating half-day workshop of the "Empowering Teachers and Students in the Mathematics Classroom" MCTM professional development series. The first two sessions of the series were presented at six sites across the state (Poplar Bluff, Washington, Bowling Green, St. Joseph, Warrensburg and Springfield) during the summer and concluded with the half-day workshop. Glasgow and Carrie Stone, of Monett Public Schools, led the high school sessions focusing on modeling in Algebra 1 and Algebra 2.
Hopkins presented, as well. His presentation, "Math Games for All Ages," discussed how several games require critical thinking and math ideas. He demonstrated how to play Set, KenKen, Shikaku and binary puzzles, as well as how games can be used to teach students the value of clear definitions, perseverance, constructing and critiquing arguments.
According to the organization, the MCTM is a 501(c)3 not-for profit organization dedicated to supporting and improving mathematics teaching and learning at all levels. With a membership of 1,000, the organization has a long history of quality activities and programs. MCTM holds its annual meeting the first weekend of December in Columbia.
*Published: 12-6-18