BOLIVAR, Mo. — Rev. Barbara Ruth Clemmons, of Seabrook, Texas, and Lee Kanakis, of Bartlesville, Okla., received Honorary Doctor degrees from Southwest Baptist University during the annual Founders' Day chapel service held Monday, March 4, in Pike Auditorium on the Bolivar campus.
"It is always our goal to honor the University by recognizing outstanding individuals who have made significant contributions to society and to the Kingdom's work," SBU President Dr. Eric A. Turner said. "We indeed honor our University by awarding two great individuals honorary doctorates."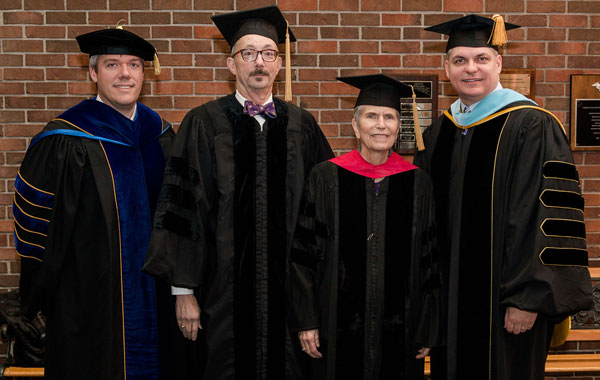 Rev. Barbara Ruth Clemmons
Rev. Barbara Ruth Clemmons was born to Herbert and Lenore Miller in Minneapolis, and was raised in Ann Arbor, Mich. She graduated in 1961 from Pioneer High School, in Ann Arbor, earned her bachelor of arts in religion from Michigan State University in 1965, her MA in history from the University of Arizona in 1967 and her BD from Harvard Divinity School in 1971.
Clemmons' life has been dedicated to service, including Rotary International and the ministry. She was recognized with the distinguished "Service Above Self Award" by Rotary International. Clemmons and her husband, Charlie '59, who received an honorary doctorate from SBU in 2017, were inducted into the Rotary Foundation's Arch Klumph Society and are among the foundation's top leaders, innovators and philanthropists.
Clemmons has served as Christian Education Minister at La Porte (Texas) Community Church, and the Senior Minister of the First Christian Church of Woodville, Texas. She also served on the Regional Committee on Ministry and has trained many who entered the ministry. She currently is retired and serves as an occasional worship leader in the Taylor Lake Christian Church.
The Clemmonses founded the Rotary Books for the World program and ultimately the Second Wind Foundation, which collects books and other educational material and ships them to developing countries. Since its founding in 2000, the foundation has sent more than 14.5 million books to 20 different countries. Many of the books, including Bibles, go to orphanages and schools in countries where it is hard for missionaries to enter. They currently are exploring a partnership with the Bolivar Rotary Club and First Baptist Church to send books to a private Christian School in San Salvador, El Salvador.
The Clemmonses also founded Pro-Tem, Inc., the dominant developer of access control and exposure management software to the nuclear power industry throughout the world. Prior to Pro-Tem, Inc., they were engineers with NASA's Space Shuttle program. The couple belongs to the Taylor Lake Christian Church in Seabrook, Texas. They have four children, seven grandchildren and five great-grandchildren.
Dr. Brad Johnson, vice president for university relations at SBU, said Clemmons "is one of the most brilliant individuals you will ever meet."
Barbara and Charlie have been faithful scholarship donors to SBU since 2014 and recently partnered with SBU's Robert W. Plaster College of Business and Computer Science to fund the Psalm 15 Walkway. They use Psalm 15 as an anchor scripture for Pro-Tem, Inc., and have committed to funding an endowed Chair in Accounting in memory of her mother.
"She has a distinct love of history and can relay intricate details of experiences she encountered throughout her life," Johnson said. "While she may have degrees from other universities, she has become a diehard SBU fan.
"Barbara, for the many accomplishments we have mentioned today, and the many, many more that we have not, we are so pleased to be able to bestow upon you this honorary degree. You are now, and forever, an SBU Bearcat."
Clemmons, recipient of an Honorary Doctor of Computer Science, recalled getting her start in computer science through a summer job after her freshman year at Michigan State.
"We're down to the 'I have seen everything' part of the story," Clemmons said. "What Michigan State University had was a vacuum tube computer. Every bit had two tubes: one for the 1 and one for the 0. It was the second real computer in the United States. I didn't know that; I just did my job."
Clemmons' academic advisor gave her a Fortran 2 manual, which Clemmons, a math major, studied.
"I went and found how to make things work, when you were really learning from the ground up," Clemmons said.
"Now, here I am, after having done all of these first-of-a-kind of things," Clemmons said of her career. "But, I feel like this is my third home, here in Bolivar. People are friendly; their horizons are open; they support one another; and they have good faith. I want to thank you for including me in your role of Bearcat."
Lee Kanakis
Lee Kanakis was born in Arkansas and lived in Illinois during his early years before moving to Joplin, Mo. He is a graduate of Carl Junction High School and earned his bachelor of science degree in business administration from Missouri Southern State University in 1978 and his master of divinity from Midwestern Baptist Theological Seminary in 1981.
From 1982-1996, Kanakis served in a variety of areas at SBU, including as associate director of admissions, associate director of development, senior associate director of admissions, assistant men's and women's soccer coach and director of international relations. He served in various areas of public relations and outreach within the university system, was the longest-serving admissions recruiter and assisted in the development of the soccer programs at SBU.
Kanakis also has worked at Oklahoma Wesleyan University in Bartlesville, Okla., and East Central University, in Ada, Okla., and served as the president of the Oklahoma Association of Student Financial Aid Administrators. He was on staff at the Missouri Sports Hall of Fame and has continued to volunteer there for the past 20 years. Currently, Kanakis serves as a project manager for Diversified Systems Resources, a national broadband aggregator, managing approximately 70 projects for customers.
Kanakis is a licensed minister and has mentored nearly 200 young men over the past 30 years. He has served as chair and vice chair of the Fellowship of Deacons at First Baptist Church of Bartlesville. He speaks to regional churches, youth, college and adult groups, as well as conducting a radio talk broadcast and developing a video podcast in October 2018 on the areas of mentoring and discipling.
One of the students Kanakis mentored, Dr. Nathan Penland, introduced Kanakis at the Founders' Day chapel service.
"Books could be filled in regards to the influence he has had on individuals he has met," said Penland, director of student activities at SBU. Penland shared a story about a time when students were helping Kanakis stay out of the fountain on the forum.
"I appreciate a man who is willing to interpret rules differently than the norm," Penland said. "More importantly, I appreciate a man who is willing to build relationships with others for the Kingdom, regardless if there is a cost involved.
"Investing in others for the Kingdom is the theme of Lee's life. The cost is always worth it to Lee. Your investments are continuing to pay off, Lee. Individuals, who 20 years ago, were causing trouble standing in a fountain, are now impacting the Kingdom in their own communities and in their own professions.
"Lee often states that he is an average guy used in God's way to point people to Him. Lee, the Lord has used an average guy and his commitment to Christ to have an extraordinary impact on His Kingdom."
Kanakis, who was the recipient of an Honorary Doctor of Humanities, said he was humbled to receive the honor, and that he is thankful to SBU for the opportunity to have served God and colleagues for 14 years.
"I am thankful for a strong family that nurtured me and built my character and have supported me," Kanakis said. "In my adult years, I have served in five places of employment: three educational institutions and two in the business world.
"Two of the five, I've been hired by the same man, who is deeply rooted in family and has shown me loyalty and trust over 40 years. (Jerald Andrews, one-time senior vice president for university advancement at SBU and current director of the Missouri Sports Hall of Fame) took a chance on me twice and I'm glad he did because it brought me here to SBU and has given me 22 years of being an employee, a volunteer and now an ongoing supporter of the Missouri Sports Hall of Fame."
Kanakis said, throughout his life, people have asked what drives him.
"Honestly, I'm just a guy saved by the blood of Jesus Christ on the cross," Kanakis said, "redeemed in my freshman year of college and then beyond that God chose to use."
He advised SBU students to focus on what God wants and needs them to be; not where they were or where they think they're going.
"Ask God what He needs from you now," Kanakis said. "As you understand that, hear his call for your life. Do well in your studies and your relationships, and even try to let those hurts that you may have experienced in life heal, that you may be ready for His work for your life now and in the future."
As Kanakis has mentored so many, he also encouraged students to find a mentor of their own.
"Find someone that will walk with you through good and bad; through challenges and triumphs," Kanakis said, "someone who you can sound things off and that you know you're going to get the truth out of. Ask out of them loyalty and trust; honesty rooted in godly principles, which always build up and strengthen both of you in your lives."
About Founders' Day
SBU was founded 141 years ago this coming fall semester, in 1878, when James Rogers Maupin and Abner Smith Ingman established Southwest Baptist College in Lebanon, Mo. A year later, the college moved to Bolivar. Founders' Day is a time set aside to reflect on the university's history and heritage.
"Today, we take time to honor the committed Christian scholars who have worked diligently during these 141 years to ensure that SBU offers a quality Christian higher education," SBU President Dr. Turner said. "Founders' Day is an important time when we are challenged to reflect on our past and to thank God for the men and women who have gone before us and created an environment that inspires us to be successful today."
Turner reflected on some of the pivotal points in SBU's history and how they illustrate God's provision since SBU's founding, from going bankrupt to recovering from a devastating fire in the early 1900s to surviving The Great Depression to working on the transition from a two-year college to a four-year institution. He also reflected on the people who have supported, and continue to support, the University.
"Today, the success of our University depends upon many people – alumni who love the University and support it both financially and with their prayers," Dr. Turner said, "current students who are dedicated to the pursuit of God's truth; former faculty and staff who have given much to lead us to where we are today; and today's faculty and staff, who are dedicated to making SBU a world-class evangelical Christian University."
PHOTO: (Left to right) SBU Provost Dr. Lee Skinkle; Lee Kanakis, recipient of an Honorary Doctor of Humanities; Rev. Barbara Clemmons, recipient of an Honorary Doctor of Computer Science; and SBU President Dr. Eric A. Turner, during the annual Founders' Day chapel March 4 at SBU.
*Published: 3-5-19