BOLIVAR, Mo. — Two faculty members and a staff member were honored at Southwest Baptist University's annual convocation Wednesday, Aug. 23.
Convocation marks the formal beginning of the academic year and is a time when campus gathers to focus on SBU's mission and traditions.
"An important tradition at SBU is our commitment to stay focused on our mission, which has remained consistent down through the years … that it always has been a Christ-centered institution," said SBU President C. Pat Taylor, Ed.D. "SBU never has wavered on its commitment to high academic standards and academic integrity. The University, from its very inception, has challenged students to become all that God has called them to be.
"If each of us will continue the tradition of living out the SBU mission statement in our lives, the 2017-2018 academic year, which is our 140th, will be a great year."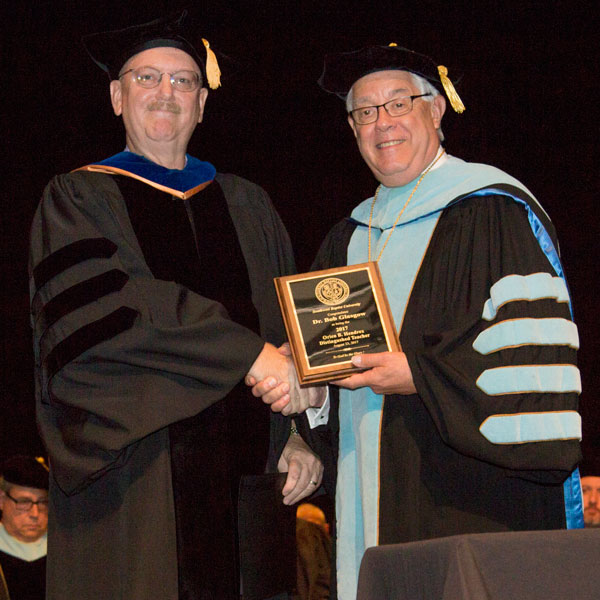 Convocation Address
The tradition of the Orien B. Hendrex Distinguished Teacher Award delivering the convocation address continued with Dr. Bob Glasgow, the 2017 recipient. The Distinguished Teacher Award is chosen by previous graduating classes and is presented annually to a faculty member for "outstanding teaching ability and personal guidance."
Glasgow joined the SBU faculty in 1989 and currently is a professor of mathematics, teaching math courses for future teachers, and statistics courses for math majors and business majors. Glasgow earned his bachelor of science degree in mathematics from SBU in 1984, his master's from Pittsburg State University in 1985 and a Ph.D. in mathematics education from the University of Missouri-Columbia in 2000. Prior to joining the SBU faculty, he taught public school in Barnsdall, Okla., for four years.
Glasgow also was the Faculty Life Beautiful Award recipient in 2005 and received the Outstanding Post-Secondary Mathematics Teacher award in 2011 from the Missouri Council of Teachers of Mathematics.
In his address, Glasgow presented to the students, "The idea of fitting in; of finding your place." "Have you ever felt like a puzzle piece that didn't fit? I have – many, many times."
He encouraged students that "God has a purpose and a place for you to fit in His puzzle – a perfect place." He shared the verse Jeremiah 29:11 – "For I know the plans I have for you, declares the Lord, plans to prosper you and not to harm you, plans to give you hope and a future."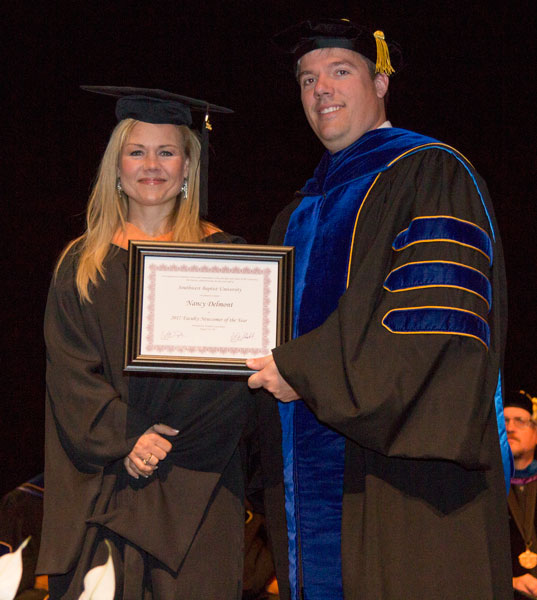 Glasgow also shared three ways he continues to learn about God's purpose for his life:
• "I can only fulfill His purpose when I'm connected to Him."
• "My God-given purpose and direction in life is not based in the past, or in the future – it's today."
• "God's call for me always involves investing in people."
Glasgow reminded students that investing in others takes time, and that requires sharing who they are. And, when they invest in others, they will receive an investment in return.
"I have learned so much from the people that I have invested in in my life," Glasgow said. "We need each other."
He also inspired students to "seek God first every day. He has a plan for your life – not for later, but for today."
Newcomer of the Year awards
The Newcomer of the Year awards began in 1995 to recognize one full-time faculty member and one non-teaching staff member who, in their first months of employment at Southwest Baptist University, demonstrate exceptional commitment to the University's mission and make a positive impact as part of the SBU family. Faculty and staff members who have been employed full time for no more than 18 months prior to the selection process are eligible. Committees of peers select the winners.
Faculty Newcomer of the Year: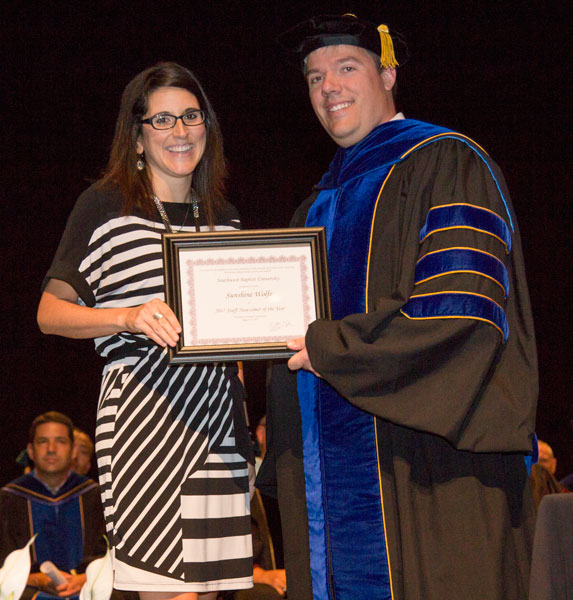 Nancy Delmont joined the University in January 2017. Delmont currently serves as chair of the pre-licensure BSN program on the Bolivar campus.
"She is one of the hardest-working people that I know," said Dr. Kezia Lilly, dean of the college of nursing. "She genuinely loves what she does and it shows daily through her enthusiasm. She goes above and beyond what is expected of her and does it with a vivacious smile on her face."
Delmont, a 1991 graduate of Bolivar High School, earned her diploma from the St. John's School of Nursing; a bachelor of science from Chamberlain College of Nursing; and a master of science in nursing education from Western Governors University. She and her husband Dr. Rodney Delmont, who is principal of Weaubleau High School, have four children, and attend First Baptist Church of Hermitage.
Staff Newcomer of the Year:
Sunshine Wolfe currently works as accounting services cashier. Prior to coming to SBU, she worked as an administrator for the Polk County Prosecuting Attorney's Office.
"She has changed the culture of the cashier's office to one that always is very friendly and welcoming," Wolfe's co-workers shared. "She often has to handle difficult situations with customers and their bills, but always does so with grace and kindness. She always is pleasant and enjoys chatting with each person that comes into her office."
Wolfe, who is working on her associate's degree, lives in Bolivar with her husband, Jason, and two children. They attend Mt. Gilead United Methodist Church. She volunteers with Aftershock Baseball and is active in the Bolivar Primary School PTA.
CUTLINES:
Dr. Bob Glasgow – Dr. Bob Glasgow, professor of mathematics, (left) delivered the convocation address during the Aug. 23 chapel. SBU President C. Pat Taylor, Ed.D., presents Glasgow with a plaque recognizing his selection as the Orien B. Hendrex Distinguished Teacher. The winner is announced each year at graduation and then is the speaker at the next fall's convocation.
Nancy Delmont – SBU provost Dr. Lee Skinkle (right) presents Nancy Delmont, chair of the pre-licensure BSN program on the Bolivar campus, with the Faculty Newcomer of the Year Award.
Sunshine Wolfe — SBU provost Dr. Lee Skinkle (right) presents Sunshine Wolfe, accounting services cashier, with the Staff Newcomer of the Year Award.