BOLIVAR, Mo. — Southwest Baptist University's Enactus team advanced to the semi-final round in the Enactus USA national competition in St. Louis May 15-17, placing the team in the top 20 in the nation. The team previously won the regional competition in Rogers, Ark., April 18, to advance to the national competition that started with nearly 200 teams.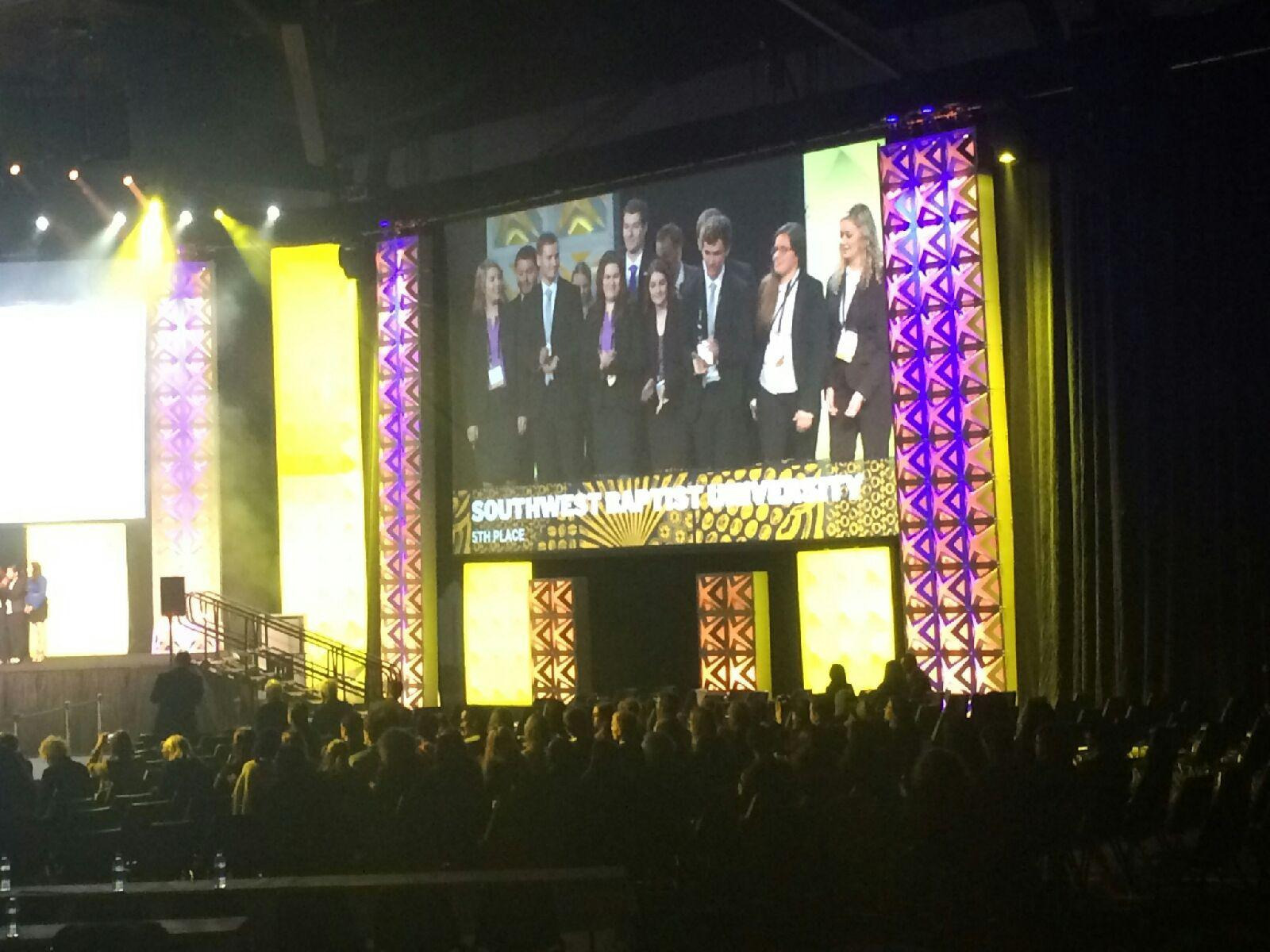 During the competition, SBU Enactus presented four projects through which team members have been living out the team's mission of serving others and promoting free enterprise by empowering community members engaged in entrepreneurial and non-profit efforts in southwest Missouri.
"This year, our mission is really to serve," said Tori Bailey, SBU Enactus president. "We are trying to help people in need and better the Bolivar community by putting business practices into place."
The four projects are:
Sentrepact
SBU Enactus is empowering students at Lebanon High School in Lebanon, Mo., to put entrepreneurship and free enterprise skills to use in their community. By creating a program at the high school level that is similar to what Enactus is at the collegiate level, Lebanon High School juniors and seniors have partnered with businesses in the Lebanon area to increase sales. Fifteen students also were enrolled in a dual credit course for college credit through SBU.
Community Outreach Ministries
Community Outreach Ministries (COM) in Bolivar operates a food pantry for Polk County and serves as the local Salvation Army Extension Unit, assisting 500-700 families per month. Funds from the annual bell-ringing campaign are used to provide assistance with utility payments, rent, fuel, medicine, food and other needs.
SBU Enactus has helped COM by organizing its warehouse to improve efficiency, contacting local groups to increase COM's volunteer base, creating an online signup system for volunteers and assisting with Salvation Army bell-ringing fundraising efforts.
As a result, thrift store profits have increased by 11 percent; volunteer hours increased by more than 300 hours; and COM exceeded its $25,000 goal and increased bell-ringing revenue from 2014 by more than 11 percent. Through increased profits and fundraising, COM is able to provide food to an average of 600 more individuals each month.
Nightlight Branson
Through a continuing partnership with Nightlight Branson, SBU Enactus focused this year on assisting the organization's new director with developing a business plan, budget and accounting protocols for the organization; increasing fundraising efforts; and creating an interactive website to assist women leaving the sex trafficking industry in the job search process.
Downtown Bolivar
Among business space on and surrounding the downtown square in Bolivar, more than 25 percent of business space is unoccupied, and many small businesses started in downtown Bolivar close within the first five years of operation. With these statistics in mind, SBU Enactus partnered with one business on the Bolivar square to begin making an economic impact in the local community and has plans to expand within the downtown area.
SBU Enactus helped to promote Wee Create, a special space at a crafting store set aside for children to sell their craft projects. By creating a logo and advertising the opportunity within the local schools, participation in Wee Create has increased by 100 percent, children have learned about business practices and sales were boosted at a local business.
Presentation team members were:
Sean Bates, Junior, Computer Science Major, Swansea, Ill.
Erin Corner, Sophomore, Public Relations Major, Greenville, Mich.
Taylor Parrish, Sophomore, Marketing & Management Major, Blue Springs, Mo.
Jordan Price, Junior, Marketing & International Business Major, Geneseo, Ill.
Michele Wyatt, Senior, Marketing & Management Major, Blue Springs, Mo.
"I am extremely impressed with the SBU Enactus team. They are competent, energetic, and not afraid to get their hands dirty as they work hand in hand with us," said Neal DeShazo, president of the board of directors for COM. "It's hard to remember sometimes that they are still university students, as they roll up their sleeves to tackle our real-world problems. I am anxious to see what these young adults accomplish in the future, both in the SBU Enactus partnership with COM, and in their professional and personal lives."
What is Enactus?
Enactus, formerly known as Students in Free Enterprise and with headquarters in Springfield, Mo., is an international non-profit organization dedicated to inspiring students to improve the world through entrepreneurial action. More than 69,000 students at more than 1,740 universities in 36 countries plan and implement community development projects to improve the world around them. At the end of each school year, the teams present their projects at a regional competition. Top-ranking teams advance to the U.S. national competition, with the winner advancing to the Enactus World Cup in the fall, where one team is chosen the winner among all participating universities.
"Our mission is to serve others," said Angie Brown-Peterson, SBU Enactus co-advisor and chair of the Department of Business Administration. "I remind the students that God has gifted them with a business mind, but not everybody thinks that way. Their fresh ideas and business minds help."