BOLIVAR, Mo. – Southwest Baptist University's Enactus team captured its 33rd regional championship from its competition on April 9 in Chicago, and will move on to the national exposition, which will be held May 20-22 at the Kansas City Convention Center.
It is the team's 33rd regional championship out of the past 34 competitions.
"I'm so proud of this team," said Dr. Aaron Black, assistant professor of business administration. "We've had a good year and now we get to head into nationals with a great performance to build on. I think we're all excited and grateful for a successful trip to Chicago."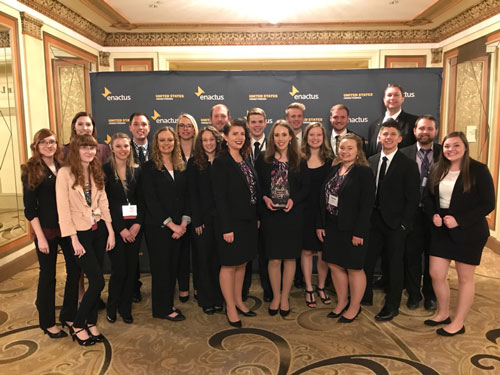 The team presented the following four projects it has identified and pursued:
Downtown Bolivar
SBU Enactus learned that many small businesses that open in downtown Bolivar close within the first five years of operation.
The team began working with B-Town Custom Apparel. The team assisted B-Town Custom Apparel in creating an efficient inventory system and a website to facilitate online ordering, as well as creating an internship that will be transformed into a full-time position.
SBU Enactus also has helped improve the economic state of the downtown area by assisting and empowering local businesses in improving their practices.
Sentrepact
Through its Sentrepact initiative, SBU Enactus has empowered students at Lebanon and Bolivar high schools to put entrepreneurship and free enterprise skills to use in their communities.
The course curriculum at Bolivar and Lebanon high schools has been expanded by promoting free enterprise and preparing students for higher education and entrepreneurship.
Community Outreach Ministries
SBU Enactus is in its third year of assisting Community Outreach Ministries (COM) in Bolivar. COM operates a food pantry for Polk County and serves more than 500 families per month.
SBU Enactus helped COM to develop a food donation system called the "COM Box," better utilize its floor space, implement effective business practices to increase sustainability and partner with three churches to encourage donations using the COM Box.
Jump Start
SBU Enactus saw a need on its own campus to help students who lack the resources and business skills to start their own business, so it offered a consulting relationship and up to $1,500 in capital.
The team hosted a competition on the Bolivar campus to promote innovation and entrepreneurial action, and provided students with feedback on their business plans, as well as provided an opportunity for a business to enter into the market.
The team's mission is: "Southwest Baptist University Enactus is a team of servant leaders that promotes free enterprise as a critical means of preparing others to lead rewarding, self-sufficient lives in a global society."
"This is truly an outstanding group of students," said Dr. Nathan Wright, assistant professor of business administration. "They exemplify the servant leadership aspect of SBU's mission statement. I am so proud of the team's accomplishments."
The presentation team included: Jordan Martin, a sophomore international business major from Blue Springs; Samantha Martin, a junior marketing major from Dardenne Prairie; Stephen Pierce, a junior marketing major from Lee's Summit; Ashley Bell, a junior computer information science major from Dodgeville, Wis.; Erin Corner, a senior public relations major from Green Bay, Wis.; and Taylor Parrish, a senior management and marketing major from Blue Springs.
The 2018 Enactus officers include: Parrish, president; Adrey Gallaher, a junior management major from Quincy, Ill., vice president of projects; Larissa Duckworth, a junior elementary education major from Eldon, vice president of competition; and Emily Raines, a junior management major from Marshall, vice president of operations.
Project leaders are: Jordan Martin, who leads Jump Start; Samantha Martin – Sentrepact; Ryan Northcutt, a sophomore management major from St. Charles – Downtown Bolivar; and Stephen Pierce, a junior marketing major from Lee's Summit – COM.
"Our students are truly making an impact and represented SBU in a Christ-like and professional manner," said Levi Bridge, instructor of business administration and director of the MBA program. "The judges recognized that, and I am proud of the group of students we have and their representation of SBU."
What is Enactus
Enactus, formerly known as Students in Free Enterprise and with headquarters in Springfield, Mo., is an international non-profit organization dedicated to inspiring students to improve the world through entrepreneurial action. More than 69,000 students at more than 1,740 universities in 36 countries plan and implement community development projects to improve the world around them. At the end of each school year, the teams present their projects at a regional competition. Select teams, including SBU's team, advance to the U.S. national competition, with the winner advancing to the Enactus World Cup in the fall, where one team is chosen the winner among all participating universities.
Cutline: Front row (left to right): Bethany Russell, Larissa Duckworth, Adrey Gallaher, Emily Raines, Erin Corner, Samantha Martin, Claire Van Doren, Ashley Bell, Jordan Martin, Dr. Aaron Black and Bethany Wingerter. Back row (left to right): Latisha Russell, Christine Winkelman, Dr. Levi Bridge, Sara White, Ryan Northcutt, Colton Masters, Stephen Pierce, Taylor Parrish and Dr. Nate Wright.
*Published: 4-11-18