BOLIVAR, Mo. — Southwest Baptist University Enactus recently competed in the Enactus U.S. National Exposition, finishing in the top 32 at the Kansas City Convention Center.
SBU Enactus presented on three projects it has worked on during the 2018-2019 academic year: Sentrepact – Enables high school students to engage and empower local businesses in their communities; Jumpstart – Entrepreneurship competition for SBU students; Sling N Stones – Rehabilitation center and ministry.
"I am so proud of the impact our Enactus students had in our local community and surrounding communities this year," said Dr. Angie Brown-Peterson, assistant professor of business administration at SBU. "Our officers, project leaders, and members worked diligently to better our partner organizations."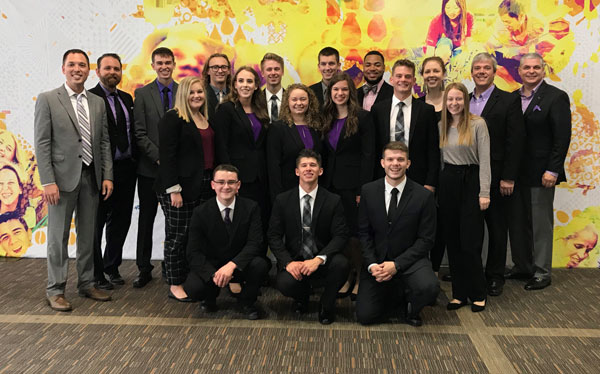 The projects
Sentrepact
Through its Sentrepact initiative, SBU Enactus has empowered students at Bolivar, Lebanon and Independence high schools in Missouri, to put entrepreneurship and free enterprise skills to use in their community.
The team has sustained and expanded programs at the high school level that is similar to what Enactus is at the collegiate level, and has assisted Bolivar, Lebanon and Independence high school seniors and juniors as they partner with businesses in their communities.
As a result, Enactus assisted Bolivar High School on four projects: created a promotional video for The Flower Patch; implemented a social media presence for Goodman Dentistry; increased social media presence for Sweet Kayle; and increased revenue, customer awareness and social media presence for Sentrecut. SBU Enactus also helped Lebanon High School on four projects: formulated a business plan for Brew Ha-Ha; increased community awareness through events for Madison Street Grill; created business logos and business cards, as well as promotional videos for Happy Camper Life; and demonstrated what it means to be an entrepreneur for Sentrepact-Lebanon. For Independence High School, Enactus helped increase fudge sales, store awareness and social media followers for A Taste of Independence; and updated branding, created employee uniforms and implemented a rewards system for All Things Independence.
SBU Enactus also announced that The Flower Patch team from Bolivar High School is its 2019 Sentrepact champion.
Jumpstart
SBU Enactus is in its second year of offering a consulting relationship and up to $1,500 in capital for an SBU student to start or expand his/her personal business by hosting the Second Annual Jumpstart Competition.
Enactus maintained a relationship with last year's winner and consulted with six aspiring entrepreneurs, as well as assisted with the 2019 winner in establishing an LLC and other business-operating procedures.
This last Spring, SBU Enactus held its second annual Jumpstart Competition. The winner was Paige Swearengin, whose idea was PS Productions, a videography business. The team already has helped Swearengin purchase a new camera and lens, and establish an LLC, operating agreement, tax identification number, business bank account and website.
Sling N Stones
SBU Enactus assisted the owners of Sling N Stones in editing and completion of a business plan for a drug rehabilitation facility/recovery center for Polk County, and reformatted the current website to be more innovative and easy for users to access.
The project helped to empower the owners of Sling N Stones to help others, to spread the message of hope and recovery in Bolivar and the surrounding areas, and to empower those in the community who might be struggling with drug or alcohol dependencies to change their current situation.
The team
The team's mission: "Southwest Baptist University Enactus is a team of servant leaders that promotes free enterprise as a critical means of preparing others to lead rewarding, self-sufficient lives in a global society."
The presentation team included: Samantha Martin, a senior marketing major from O'Fallon, Mo.; Stephen Pierce, a senior marketing major from Lee's Summit, Mo.; Ashley Bell, a senior computer information science major from Dodgeville, Wis.; Jordan Martin, a junior international business and Christian studies major from Blue Springs, Mo.; Alexis Stout, a freshman management major from Lee's Summit, Mo.; and Tyler Burnett, a freshman computational finance major from Wildwood, Mo.
The 2019 Enactus officers include: Jordan Martin, president; Colton Masters, a senior marketing and management major from Troy, Ill., vice president of projects; and Ashley Bell, vice president of operations and competition.
Project leaders are: Tyler Burnett, who leads COM; Tennessee Ervin, a freshman economics and finance major from Festus, Mo. – Sentrepact; Samantha Martin – Jumpstart; and Tyler Eads, a freshman international business and Christian studies major from Neosho, Mo. – Sling N Stones.
"SBU Enactus is proud to be involved in projects that will enable students to be servant leaders to those both in and out of our community," said Dr. Levi Bridge, Master of Business Administration director and instructor of business administration at SBU.
What is Enactus
Enactus, formerly known as Students in Free Enterprise and with headquarters in Springfield, Mo., is an international non-profit organization dedicated to inspiring students to improve the world through entrepreneurial action. At the end of each school year, select teams present their projects at the U.S. national competition, with the winner advancing to the Enactus World Cup in the fall, where one team is chosen the winner among all participating universities.
---
SBU Enactus 2018-19 team members are: Front row (from left) Seth Miller, Jordan Martin and Colton Masters; middle row (from left) Macee Curtis, Samantha Martin, Ashley Bell, Alexis Stout, Tyler Burnett and Mollie Davis; back row (from left) Dr. Levi Bridge, Dr. Aaron Black, Tyler Eads, Tennessee Ervin, Stephen Pierce, Jack Erbland, Julian Shade, Dr. Angie Brown-Peterson, Dr. Lee Skinkle and Dr. Eric A. Turner.
*Published: 6-4-19