BOLIVAR, Mo. – Southwest Baptist University's Doctor of Physical Therapy and Bachelor of Social Work (BSW) programs are partnering to enhance the learning of social work students on the Bolivar campus, as well as expanding services for area residents.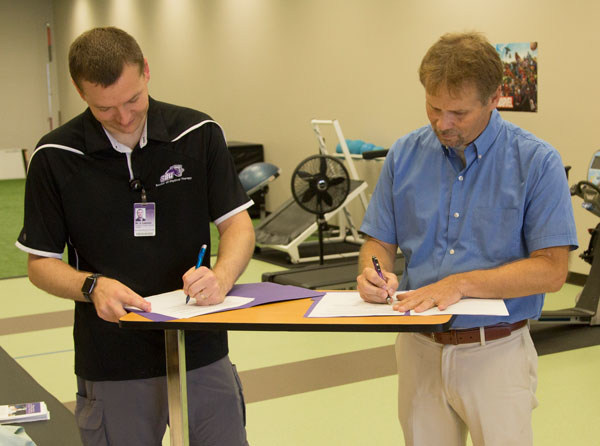 Through the partnership, BSW students will provide support services for physical therapy patients at SBU's Warren B. Davis Family Physical Therapy Faculty and Student Practice. Services are voluntary and include assessment of patient needs, referral to community resources and consultation.
Dr. Steve Lesh, chair of SBU's DPT program, says interprofessional education (IPE) is an emerging concept in health professions. Accreditation agencies are writing directives for programs to pursue IPE in clinical settings.
"The concept of students learning better from seeing experiences from other professionals' eyes helps them to become more effective practitioners and commonly aware of their surroundings and team-oriented responsibilities," Lesh said. "In a sense, it grants a greater vantage point of the treatment of the patient from a wider lens."
"This agreement enhances an already outstanding clinic," said Dwayne Walker, director of SBU's BSW program. "It is an opportunity for students to observe, take part in clinical treatment and work in an inter-disciplinary setting. This type of inter-disciplinary approach helps students work toward common patient treatment goals and outcomes. It benefits both students and patients."
Walker said that professional programs such as physical therapy and social work must provide students an opportunity to practice and demonstrate skills they are being taught.
"With this clinic, we have the opportunity for students to practice those skills with real-life patients in real-life situations," Walker said.
Walker is excited about the future of this partnership.
"This is a rare opportunity for a school this size to have a clinic where students in multiple programs can take part in clinical activities together," Walker said. "A project like this takes a lot of vision, persistence and a strong desire to make a difference for both students and the community. We are grateful to Dr. Lesh and the PT program for such a great opportunity."
PHOTO CUTLINE: Dr. Josh Layman (left, doctor of physical therapy program) and Dwayne Walker (director of bachelor of social work program) sign an agreement between the two programs that will allow the BSW students to provide support services for patients at SBU's Physical Therapy Faculty and Student Practice.
*Published: 9-7-2017