BOLIVAR, Mo. – Southwest Baptist University will dedicate the Robert W. Plaster College of Business and Computer Science and re-dedicate the Gene Taylor National Free Enterprise Center at 10 a.m., Thursday, Sept. 7, outside the Taylor Center on the Bolivar campus.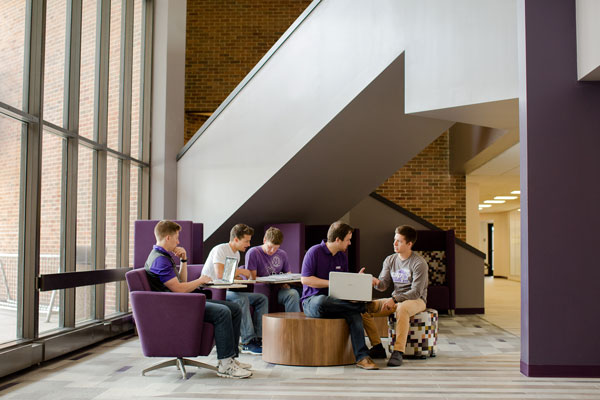 In addition, a Free Enterprise Symposium – made possible by donations from the Charles Koch Foundation and the Acton Institute – will be held in the Meyer Recital Hall, beginning at 1:30 p.m., and moderated by Dr. Alvin Rohrs, retired president and CEO of Enactus. Presenters and panelists during the three sessions include Dr. Anne Bradley, Dr. Lloyd Harsch, Dr. Rachel Douchant and Stephen Moles.
The dedications come after two years of fundraising, groundbreaking and construction to the building that houses offices and classrooms for the college, as well as the department of history and political science.
Named for donors Jill and the late Tom McLoud, a more than 11,000-square-foot addition to the existing building houses new classrooms, a student lounge, study areas, team presentation rooms, seminar rooms, and a computer lab for accounting and business administration students. Renovations to the existing facility also include the remodeling of the first-floor office suite, two computer labs, two research labs for computer and information science, five classrooms, three study rooms and an auditorium that will be named after SBU graduate, Dr. Alvin Rohrs. The project was necessitated by steady enrollment growth in business, accounting and computer science and the reinstatement of the master of business administration degree.
A new feature to the landscape of the building is the Psalm 15 Walkway, which was made possible by a generous gift from Dr. Charlie Clemmons Jr. '59 and his wife, the Rev. Barbara Clemmons. The Psalm 15 Walkway highlights the eight character traits the college desires to be reflected in the lives of its students and graduates.
"We are excited to unveil this outstanding new and renovated space, which wouldn't have been possible without the generosity of our dedicated donors," said SBU President Dr. C. Pat Taylor. "The educational experience of our students and faculty has already been enhanced by the improvements and renovations. We pray that it will always be Christ-centered and a caring environment — caring for our students, caring for our faculty members, and caring for all of our constituents."
The project, which broke ground on Dec. 18, 2015, and cost $3.23 million to complete, was made possible in part by a seven-figure gift from the Robert W. Plaster Foundation in Lebanon, Mo. The J. E. and L. E. Mabee Foundation of Tulsa, Okla., also issued a challenge grant supplying $500,000 to the project, while numerous other corporations, foundations and individuals also gave significantly to the project. GHN Architects & Engineers in Springfield, Mo., were the architects and construction managers.
For more information about the Robert W. Plaster College of Business and Computer Science at SBU, contact Dr. Troy Bethards, dean of the college, at (417) 328-1757 or tbethards@SBUniv.edu.