BOLIVAR, Mo. — Southwest Baptist University officially dedicated the Don and Carrie Babb Department of Nursing and the associated training facilities on the Bolivar campus Thursday, April 4.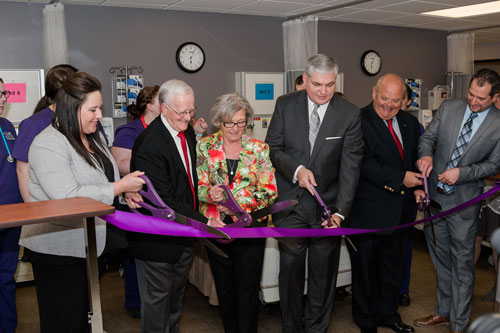 "Today, we honor the Babb family and all they do for SBU and the Bolivar community," said Dr. Eric A. Turner, SBU president. "The healing arts taught here at Southwest Baptist University exemplify our mission of being a Christ-centered academic community preparing students to be servant leaders in a global society in a very real and tangible way.
"I am confident that SBU now has the two top nurse training facilities in the state of Missouri. This project is a great example of our moving toward our goal and strategic plan of ensuring SBU is the exemplar Christian university throughout the world."
The Don and Carrie Babb Department of Nursing
In preparation for the pre-licensure nursing program, a capital fundraising campaign raised more than $1.1 million for renovation of the 5,372-square-foot, state-of-the-art Simulation Lab and Learning Resource Center on the University's Bolivar campus. The University now has nursing programs on three of its four campuses: Bolivar, Salem and Springfield (which has a similar nurse training facility).
Citizens Memorial Hospital/Citizens Memorial Health Care Foundation contributed the lead gift of $600,000 toward funding startup costs for the program. At the same time, the University named the pre-licensure Bachelor of Science in Nursing program on the Bolivar campus the Don and Carrie Babb Department of Nursing.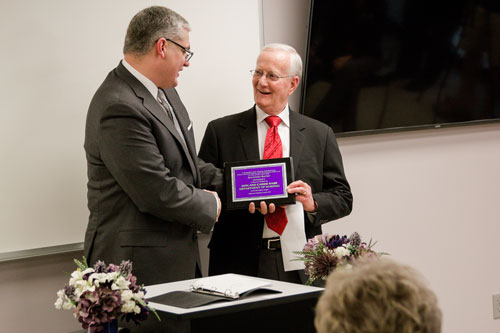 Don Babb is a nationally recognized healthcare leader dedicated to improving the availability of quality healthcare in rural areas. He has led Citizens Memorial Hospital since 1981, as its only chief executive officer. He serves as executive director of the Citizens Memorial Health Care Foundation, Riverside Management and Rehabilitation, and CMH Properties.
"I am very proud to be a partner with you," he said. "The benefits we are going to see are unlimited. Our organization is going to continue to grow … and these are the students we need to help us as we grow. It's an honor for Carrie and I for this recognition. Really, it's an honor for our hospital and our people who work there."
Helping meet demand for registered nurses
Dr. Brittney Hendrickson, dean of the SBU's Mercy College of Nursing and Health Sciences, spoke about the continued demand for more nurses within the healthcare system. According to the U.S. Bureau of Labor Statistics employment statistics, registered nursing is one of the top occupations in terms of job growth through 2024. Nursing consistently has been identified as a field with a shortage of qualified individuals to fill current and anticipated new nursing roles.
"SBU had the foresight to increase program offerings to meet these growing demands in healthcare," she said. "Southwest Baptist University is helping address the nursing shortage by preparing professional nursing graduates through a variety of nursing degree options.
"With the addition of our pre-licensure BSN program, we are educating students at the baccalaureate level that upon graduation are prepared to practice within the complex healthcare systems and assume multiple roles within those systems by integrating the knowledge, skill and attitudes obtained from their SBU liberal arts education. SBU graduates are sought after for these traits and the quality of education they receive."
Hendrickson added that SBU graduates already comprise 30-40 percent of the nursing staff at Citizens Memorial Hospital — a percentage that could grow as a result of this program.
"With this addition, we hope to continue to meet and exceed their nurse staffing needs and the needs of the local Bolivar community," Hendrickson said. "We are looking forward to our students stepping out in the community in the coming weeks, representing SBU nurses."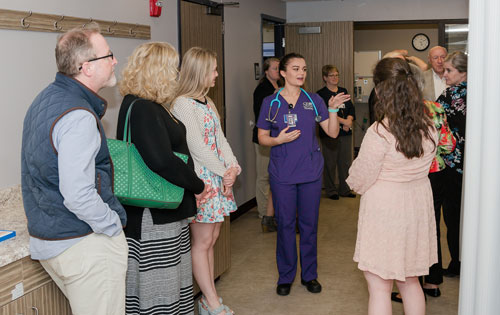 'A safe learning environment'
The first cohort of 24 students began classes in January. Jeffrey Metzler, a nursing major from Minneapolis, Kan., who is in this cohort, spoke on behalf of the students. He expressed their thanks to the Babb family and CMH for their support and particularly for the training facility.
"During lectures and clinicals, we learn many skills, but perfecting those skills comes from this state-of-the-art facility that we are blessed to learn in," the SBU junior said. "The Learning Resource Center and Simulation Lab help provide us with mannequins and scenarios that are incredibly life-like, and the added benefit to the mannequins is that if you mess up, nobody gets hurt."
The training facility includes medical-grade hospital beds, high-tech mannequins, debriefing rooms, nurses' stations, mobile computers, medication rooms with medical supplies, a utility room, a labor and delivery bed and infant warmer, and more features that aid in replicating real-world scenarios in a safe learning environment.
Nancy Delmont, chair of the Don and Carrie Babb Department of Nursing, is pleased with the results of the two-year process of developing curriculum and facilities.
"This state-of-the-art learning resource and simulation center will provide hands-on experiences in the context of real-life situations," Delmont said. "This safe, yet realistic, learning environment will prepare students for practice in our ever-changing complex healthcare environment.
"We have the faculty and facilities for our graduates to have an impact on individuals, the community and the world. We are excited for our continued growth through collaborations with CMH and other area facilities."
About the pre-licensure BSN
Through education in the pre-licensure program, students earn a bachelor's degree that prepares them for the licensure examination to become a registered nurse. Students benefit from SBU's Christian, liberal arts curriculum that provides a strong biblical foundation and enhances problem-solving and critical-thinking skills.
Applications are being accepted for the Spring 2020 cohort for the pre-licensure BSN on the Bolivar campus. For more information, contact Nancy Delmont at ndelmont@SBUniv.edu or (417) 328-1553.
Photo 1: Dr. Brittney Hendrickson, dean of nursing at SBU, Donald J. Babb, Carrie Babb, SBU President Dr. Eric A. Turner, Dave Strader, president of the Citizens Memorial Health Care Foundation, and Pat Douglas, chairman of the Board of Directors of Citizens Memorial Hospital, cut the ribbon at the dedication ceremony for the Don and Carrie Babb Department of Nursing on the Bolivar campus.
Photo 2: SBU President Dr. Eric A. Turner honors Donald J. Babb as SBU dedicates the Don and Carrie Babb Department of Nursing on the Bolivar campus.
Photo 3: SBU-Bolivar nursing students conduct tours of the nursing facility in the Jester Performance and Learning Center.
*Published: 4-8-19