Six projects demonstrating servant leadership focus
BOLIVAR, Mo. – Southwest Baptist University's Department of Computer and Information Sciences has selected 23 seniors – the largest class in the department's history – to work on six projects sponsored by several leading companies and organizations, including the U.S. Federal Reserve banking system.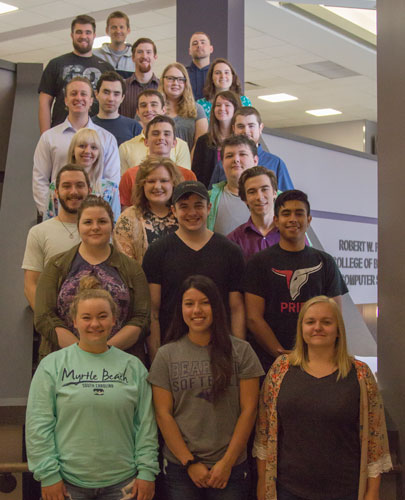 "This is a big year for us," said Dr. Tim DeClue, chair of the CIS Department. "These are ambitious projects, but we have an incredible group of seniors. The mix of projects is pretty diverse, which matches the diversity of ways software can improve lives and help people."
Senior projects are an annual event for students majoring in computer science, computer information science, cybersecurity or web systems and design. Over the course of their senior year, students in the CIS department work on cross-discipline teams to develop commercial-quality applications for end-users working in faith-based companies, not-for-profit charities and leading American companies and organizations.
Projects for the 2018-2019 year include:
Federal Reserve Bank in Kansas City
State of Missouri Veterans Commission
Bolivar, Mo., and Aurora, Mo., public schools
Duck Creek Technologies, the largest employer of SBU CIS alumni
MOPS (Mothers of Pre-school Children), a national faith-based organization located in Denver providing services to women with small children.
The proposed projects include two mobile apps, an AI-driven education system, an intranet-based system, a system with significant security requirements, and two to promote business processes.
SBU's Department of Computer and Information Sciences houses six full-time faculty members, two faculty associates and approximately 135 students majoring in computer science, information science, cybersecurity, or web systems and design. Among evangelically Christian institutions, SBU is one of the leading producers of software engineers in the United States and is the second-largest university computing department in the Missouri Ozarks.
For more information about the department, contact DeClue at (417) 328-1704 or tdeclue@SBUniv.edu.
CUTLINE: Front row (left to right): Ashley Bell, Yezzenia Gonzalez and Emma Tsipan; second row: Michelle Algya, Austin Newman and Angel Torres; third row: Austin Masters, Meleah Francka and Cavanaugh Richards; fourth row: Kierstin Harper, Brady Niswonger and Josh Adams; fifth row: Jacob Allee, Kyndle Katzer and Lance Cleek; sixth row: Grant Jennings and Allison Hawkins; seventh row: Katie Lay; eighth row: Stephen Leskowat and Audrey Meadows; ninth row: Drew Geurin and Jared Parnell; back row: Adam Stallcup.
*Published: 10-4-18