BOLIVAR, Mo. – Southwest Baptist University's Department of Computer and Information Sciences (CIS) Competitive Programming teams took top honors among Missouri undergraduate-only computing programs recently at the IBM-sponsored Mid-Central Region International Collegiate Programming Contest (ICPC).
The contest is sponsored by IBM and is held at sites all over the world. The Mid-Central Region is comprised of universities from Missouri, Arkansas, Illinois, Kentucky and Tennessee.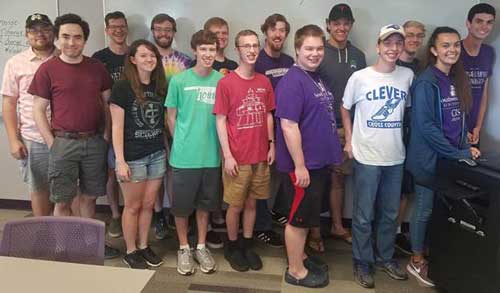 The International Collegiate Programming Contest, also called informally the "Battle of the Brains," is held annually among leading colleges and universities with computing programs. Undergraduate and graduate-level students are allowed to compete together.
"Allowing graduate students to compete with undergraduates is good because it certainly raises the level of problem-solving and analytical ability in the contest," said Dr. Tim DeClue, coach and Computer and Information Sciences chair. "It also makes our kids' achievement even that much more remarkable. Our undergraduate program certainly stacks up against the very best and led Missouri at the competition."
The contest is the final competition for the team in the fall. The SBU team also topped Drury at the Highway 13 Catfight and shut out Messiah College of Pennsylvania in dual meets during the fall 2018 season.
SBU students competing included:
SBU-Purple: Allison Hawkins (senior, St. Joseph), Grant Jennings (senior, Carthage), Stephen Leskowat (senior, Tulsa, Okla.)
SBU-Silver: Jessica Swartz (freshman, Clever), Coleman Yantis (freshman, Joplin), Blake Robinett (freshman, Oklahoma City, Okla.)
SBU-White: Mitchell Northern (junior, Bolivar), Trey Rhodes (sophomore, Neosho), Austyn Burgess (sophomore, Springfield)
SBU-Black: Matthew McNabb (junior, Clever), Andrew Smith (sophomore, Nixa), Ben Schulz (junior, Omaha, Neb.)
SBU-Gray: Cooper Geurin (junior, Bolivar), Micah Falde (junior, Clover, S.C.)
SBU-Gold: Guy Batton (junior, Bolivar), Michael Buxbaum (sophomore, West Plains)
The competitive programming teams will practice and compete again at the Consortium for Computing Sciences Central Plains Regional Programming Contest in the spring. SBU's team finished ranked second in the region in 2017.
Southwest Baptist University's Department of Computer and Information Sciences is home to more than 130 students, six full-time faculty and two faculty associates. The SBU CIS Department is a nationally recognized leader among evangelical Christian schools in the production of computing and software engineering professionals. The CIS Department's computer science program is one of only six ABET-accredited programs in the nation at an evangelical Christian college.
Photo: (Front row, left to right): Grant Jennings, Allison Hawkins, Coleman Yantis, Austyn Burgess, Michael Buxbaum, Matthew McNabb and Jessica Swartz; (Back row, from left): Trey Rhodes, Guy Batton, Mitchell Northern, Cooper Geurin, Stephen Leskowat, Micah Falde, Ben Schulz and Blake Robinett. Not Pictured: Andrew Smith
*Published: 11-27-18