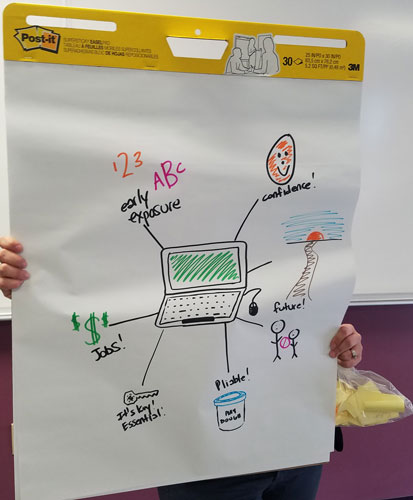 BOLIVAR, Mo. – Southwest Baptist University's Department of Computer and Information Science hosted school administrators and counselors from 19 area school districts for a workshop conducted by a regional partner of Code.org, a nonprofit dedicated to expanding access to computer science education.
The workshop, held Nov. 30 on the Bolivar campus, was designed to teach area educators how to implement the Code.org computer science curriculum in their schools.
"The important part is that these are rural, small school districts, and for the most part, computer science education has never been a possibility until now," said Dr. Tim DeClue, chair of SBU's computer and information science department. "Everything Code.org does is free – the curriculum, the workshops, the professional development, travel, lodging – everything.
"These school districts can choose two teachers in the spring, and Code.org will train them to teach computer science. And, for the first time, students in small, rural schools can have the same opportunities that students in large, urban schools have had for several years; and SBU gets to play a role in that."
During the 2018-2019 school year, SBU plans to host four Saturday workshops for the teachers to keep them on track from a professional development standpoint.
Code.org's vision is "that every student in every school should have the opportunity to learn computer science, just like biology, chemistry or algebra." Code.org also is dedicated to increasing participation by women and underrepresented minorities in computer science.
"(Kansas City) is a Group 3 regional partner," said Emily Meyer, STEM Education Program Manager for Kansas City Union Station's Science City. "Groups 1 and 2, which were the first rounds of on-boarding for this regional partner organizational setup, are seeing higher rates of graduation because they're reaching students who may not find school intriguing or worthwhile in any other capacity, and then, all of the sudden, they're getting to create their own apps and their own games.
"Even students who are more introverted, it's bringing out characteristics and personalities that you don't normally see with standard classroom practices."
And, it's a program that is free for schools to implement.
"The one thing that I love about Code is that through the funding and through what has been provided, we are able to hit a lot of rural, small districts that don't have the resources, don't have the funding, don't have the people to add in a new course," Meyer said. "If you have a history teacher who wants to teach computer science education because they find it important, the history teacher can teach computer science education through Code.
"It's a very flexible platform to get computer science for all; Code's hashtag is #CSforAll. Under-represented students, minorities and women are all important in that workforce development."
The key, DeClue says, is to expose students to computer science.
"They're not all going to be software engineers, but they all need to be exposed to it, so they can at least have the opportunity to choose," DeClue said. "One of the studies by Google showed that students who were exposed to computer science in high school are eight times more likely to major in it when they go to college. And, that's what (the industry) needs – eight times more students majoring in computer science."
For more information about Code.org and SBU's computer science program, contact DeClue at (417) 328-1704 or tdeclue@SBUniv.edu.
*Published: 12-6-17