BOLIVAR, Mo. – Southwest Baptist University's top competitive programming team received a second-place ranking in Central Plains Region Programming Contest on April 6 at St. Charles Community College in Cottleville.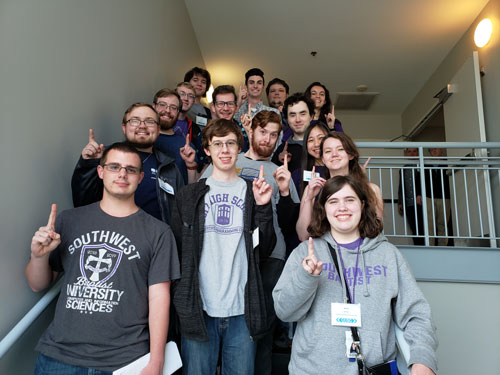 Twenty-eight teams from 12 universities and one community college competed at the contest. SBU's top team – Allison Hawkins (senior from St. Joseph), Grant Jennings (senior from Joplin) and Stephen Leskowat (senior from Tulsa, Okla.) – came within 16 minutes of winning the five-hour competition, but was edged out by a team from the University of Central Missouri.
"I am incredibly proud of this team," said Dr. Tim DeClue, team coach and chair of the computer information and science department, "particularly, the seniors, who did a tremendous job of leading and setting the example for our younger team members. They will be very difficult to replace as they move on to professional roles in the software industry. Still, there are some real bright spots among our younger teams, given the results. One of our Psalm 15 characteristics is perseverance, and I saw a lot of that today."
SBU's second team – consisting of Michelle Chen (junior from Lebanon), Anna Miller (freshman from Downers Grove, Ill.) and Mathew Baldinger (freshman from Sedalia) – finished sixth place overall; SBU's third team – Mitchell Northern (junior from Bolivar), Trey Rhodes (sophomore from Neosho) and Ben Schulz (sophomore from Omaha, Neb.) placed ninth overall. Also competing for SBU were Josh Adams (junior from Dora), Coleman Yantis (freshman from Carthage), Guy Batton (junior from Bolivar), Jessica Swartz (freshman from Clever), Blake Robinett (freshman from Oklahoma City) and Sawyer Timperly (freshman from Maple Grove, Minn.)
The Central Plains Region of the Consortium for Computing Sciences in Colleges (CCSC) is one of only 10 CCSC regions in the United States and includes universities from Missouri, Nebraska, Iowa and Kansas. The Consortium is a non-profit organization focused on promoting quality computer-oriented curricula as well as effective use of computing in smaller institutions of higher learning, which are typically non-research in orientation.
Southwest Baptist University's Department of Computer and Information Sciences is home to more than 130 students, six full-time faculty and two faculty associates. The SBU CIS Department is a nationally recognized leader among evangelical Christian schools in the production of computing and software engineering professionals. The CIS Department's computer science program is one of only six ABET-accredited programs in the nation at an evangelical Christian college.
Photo: (SBU team members) Mathew Baldinger, Coleman Yantis, Anna Miller, Trey Rhodes, Stephen Leskowat, Allison Hawkins, Mitchell Northern, Michelle Chen, Ben Schulz, Guy Batton, Grant Jennings, Sawyer Timperley, Blake Robinett, Josh Adams and Jessica Swartz.
*Published: 4-13-19