BOLIVAR, Mo. — Southwest Baptist University's top competitive programming team received a second-place ranking in Central Plains Region Programming Contest on April 7 at Northwest Missouri State University in Maryville.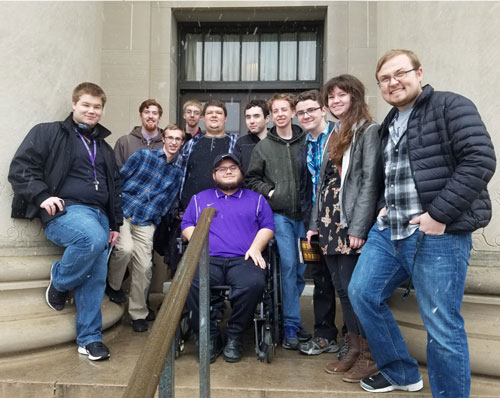 SBU's top team, which consisted of junior Allison Hawkins of St. Joseph, junior Grant Jennings of Joplin and junior Stephen Leskowat of Tulsa, submitted three successful solutions in the three-hour competition in a field of 22 teams.
"This team dealt with some significant challenges to achieve their success," said Dr. Tim DeClue, coach and computer and information sciences chair. "As juniors, they have another year of competition to look forward to, but they have already established their reputation in the region. We are very happy with this result, but we are also already planning for next year."
SBU's second team, which included sophomore Mitchell Northern of Bolivar, freshman Austyn Burgess of Springfield, Mo., and freshman Trey Rhodes of Neosho, finished in eighth place with two correct solutions. The team of senior Russell Davis of Bolivar, junior Josh Adams of Dora and sophomore Matthew McNabb of Clever finished in ninth place with one correct solution. Michael Buxbaum (freshman, West Plains), Andrew Smith (freshman, West Plains) and Seth Miller (freshman, Blue Springs), also competed for SBU.
The Central Plains Region of the Consortium for Computing Sciences in Colleges (CCSC) is one of only 10 CCSC regions in the United States and comprises universities from Missouri, Nebraska, Iowa and Kansas. The Consortium is a non-profit organization focused on promoting quality computer-oriented curricula as well as effective use of computing in smaller institutions of higher learning, which are typically non-research in orientation.
Southwest Baptist University's Department of Computer and Information Sciences is home to more than 120 students, five full-time faculty and two faculty associates. The SBU CIS Department is a nationally recognized leader among evangelical Christian schools in the production of computing and software engineering professionals. The CIS Department's computer science program is one of only six accredited programs in the nation at an evangelical Christian college.
Team members (left to right): Michael Buxbaum, Stephen Leskowat, Austyn Burgess, Andrew Smith, Josh Adams, Russell Davis, Grant Jennings, Matthew McNabb, Seth Miller, Allison Hawkins and Trey Rhodes. (Not pictured: Mitchell Northern)
*Published: 4-12-18