BOLIVAR, Mo. – Southwest Baptist University's Center for Global Connections honored two recipients with its annual Nations Award during the Global Connections Week Chapel service on Monday, Sept. 10.
The award is given to an SBU employee and an SBU alumnus who have made a significant impact in the area of missions and student development.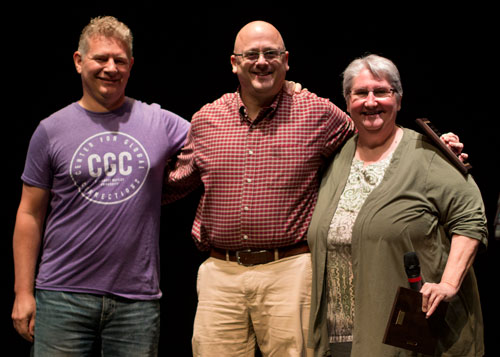 Dr. Duke Jones, professor of Christian education and chair of the Department of Christian Ministry, was the employee recipient of the CGC Nations Award "for exceptional service in the forgotten corners of the world."
"This is an award given to a selected SBU employee who has exemplified a heart and passion for missions and is involved with students, faculty, staff and many others in the area of global service and ministry," said Diana Gallamore, director of the Center for Global Connections.
"He shares a passion to teach, train and develop students both in and out of the classroom. His heart for education, discipleship and evangelism are evident in his teaching and his life testimony."
Jones has volunteered as a team leader with the CGC for several years and has continued to lead Team Thailand.
"I am honored that I work at a place that promotes doing the Great Commission," Jones said. "The best way to teach the Great Commission is to actually do the Great Commission. The honor goes to God for allowing all of us to build His Kingdom.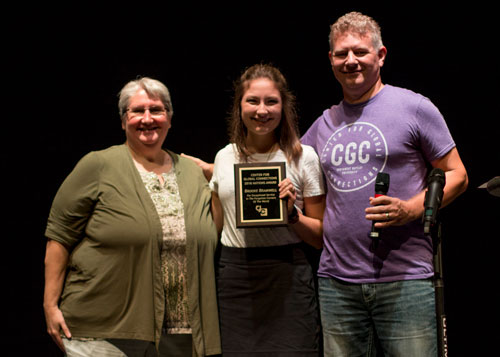 "SBU truly is Christ-centered, and it truly is a blessing to see our students engage the Thai people in Thailand."
Brooke Bramwell, a 2017 graduate in art education, was the alumni recipient.
"(Brooke) has a passion for sharing the gospel in words, actions and dance," said Kelly Rehm, assistant director of the CGC. "She is truly an arrow in the Lord's quiver for those who have never heard. We all admire her toughness, resilience and compassion for the lost."
Bramwell has spent several summers in remote Peruvian villages and hiked halfway across Spain on the Camino de Santiago Pilgrimage, speaking with fellow pilgrims about God's love and grace.
"Participating in the CGC mission projects has given me some of the most life-changing experiences during my time at SBU," said Bramwell, who currently teaches art and computer science at Marion C. Early Elementary in Morrisville. "I am truly honored to receive the Nations Award directly from the organization that pioneered and still develops my passion for making disciples who make disciples. As a result, my heart is stirred and challenged to continually press on toward sharing the gospel of God and my own life with every person, wherever God places me."
The CGC has mission projects planned for winter, spring and summer 2019 to destinations across the globe such as Ireland, Athens, Ukraine and South Asia.
To learn more about the Center for Global Connections, please contact the CGC office at (417) 328-1900.
PHOTO 1: Dr. Duke Jones (center) receives the employee CGC Nations Award from Kelly Rehm (left) and Diana Gallamore, of the Center for Global Connections.
PHOTO 2: Brooke Bramwell (center) receives the alumni CGC Nations Award from Diana Gallamore (left) and Kelly Rehm, of the CGC.
*Published: 9-12-18