BOLIVAR, Mo. – Southwest Baptist University's Center for Global Connections formally commissioned 12 mission teams, as well as Intercultural Studies majors, at the semester's final Chapel service on Wednesday, Dec. 5, in Pike Auditorium on the Bolivar campus.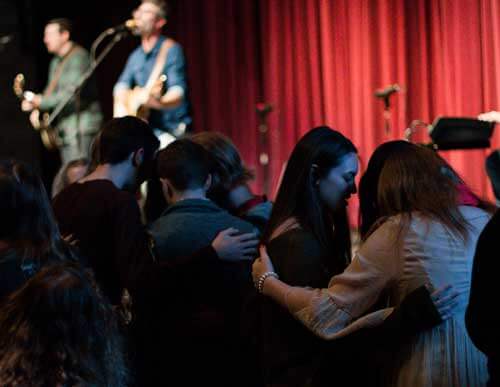 "Students from Southwest Baptist University serve locally, domestically, and internationally during the fall and January semesters in a variety of ministry projects," said Kelly Rehm, assistant director of the CGC. "This is a special time of recognition, unity and prayer to the Lord for His power in their lives while they minister."
The following teams, which includes 206 participants, formally commissioned included (team/leader):
Houston – Kayla Cross
Passion (Dallas, Texas) – Megan Turner, Alicia Meyer, Garrick Allen
Guatemala – Ethan Bond and Brooke Herald
Atlas – Jordan Young
South Asia – Jack Allen and Hailey Vernon
Thailand – Dr. Duke Jones
Cuba – Diana Gallamore
Philippines – Daniel Frazee and Amanda Berkstresser
Polk County – Daniel George
House of Hope – Katelyn Brantingham
Leviticus 19:32 – Madison Cleveland
Disaster Relief – Gabe Craig
Also commissioned were Intercultural Studies (ICS) majors studying abroad. Those students included: Olivia Brinkman (serving in Thailand), Erin Ashcraft (Germany), Callie Chenoweth (Spain) and Christian and Emily Jaynes (France).
SBU alumni Zach Atchley and Nate Jones continued their tradition of closing each semester with musical praise and worship.
The CGC has mission projects planned for winter, spring and summer 2019 to destinations across the globe such as Ireland, Athens, Ukraine and South Asia.
To learn more about the Center for Global Connections, please contact the CGC office at (417) 328-1900.
PHOTO: SBU students, staff and faculty pray over teams going on mission over Christmas break at Wednesday's Chapel service.
*Published: 12-5-18