BOLIVAR, Mo. – Alumni and supporters of Southwest Baptist and Drury universities raised a combined $265,245 and surpassed the $500,000 combined fundraising benchmark during the fifth and final Bank of Bolivar CatFight Giving Challenge, which has helped raise money for each school's annual fund.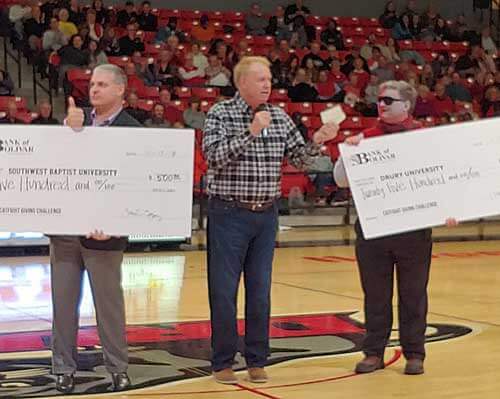 Drury came out on top in the friendly competition, raising $153,928 to SBU's $111,317. Over the course of the giving challenge, SBU won three of the five competitions as both schools raised a combined $615,296.50.
"Thank you to SBU alumni and friends who contributed to the Annual Scholarship Fund through the Catfight Giving Challenge," said Dr. Brad Johnson, SBU Vice President for University Relations. "We are particularly thankful for the Bank of Bolivar and their involvement sponsoring this event."
The fundraising contest coincided with the universities' on-court rivalry in the Bank of Bolivar CatFight on Highway 13 basketball doubleheader on Nov. 13 at Drury's O'Reilly Family Event Center. SBU fell to Drury, 92-81, in the women's game, and Drury outlasted SBU, 85-75, in the men's game.
The giving challenge concluded at the end of halftime of the men's game, with the winner announced during the second half. In addition, the Bank of Bolivar pledged an additional $2,500 to Drury for winning the challenge and $500 to SBU as the runner-up.
"We are grateful for all of our supporters during this challenge," said Ashley Dinwiddie, SBU director of donor relations. "Through their generosity, which has increased our annual scholarship fund, they make a Christ-centered education an affordable reality for many current and future SBU students."
For more information about giving, contact Dinwiddie at (417) 328-1807 or adinwiddie@SBUniv.edu.
Photo: Bank of Bolivar President/CEO Brad Gregory (center) presents checks to the 2018 Bank of Bolivar CatFight Giving Challenge winner, Drury University President Timothy Cloyd (right), and runner-up, SBU President Eric A. Turner.
*Published: 11-14-18