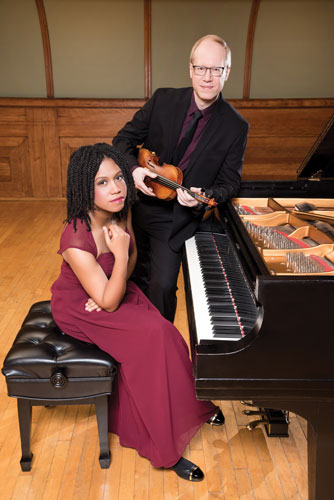 BOLIVAR, Mo. – The William and Kathy Brown Guest Artist Series will present Duo MemDi in concert at 7:30 p.m., April 26, in the Meyer Recital Hall on Southwest Baptist University's Bolivar campus.
Duo MemDi will be performing a recital of violin and piano music with Dr. Igor Kalnin from Luther College and Dr. Rochelle Sennet from the University of Illinois Urbana-Champaign. The duo will be performing works by Beethoven, Paganini, C. C. White, H. L. Adams and James Lee III.
This award-winning duo was founded in the summer of 2010, when Kalnin and Sennet served on the faculty of Blue Lake Fine Arts Camp in Michigan. The objective of Duo MemDi is to perform music that embraces the diversity of world cultures. Particularly, they focus on commissioning and performing music of composers from underrepresented groups.
All of Duo MemDi's live performances are from memory – a rare feat in the world of chamber music. The duo feels it allows for a connection to composers' ideas in a more holistic, insightful way. These ideals inspired the name of the duo: Mem(ory) and Di(versity) = MemDi. Kalnin and Sennet have commissioned and premiered numerous works by composers from diverse backgrounds and performed in Europe, Asia and across the United States.
The public is invited to attend this free concert and is encouraged to attend a reception in the Meyer Recital Hall lobby after the performance.
For more information about the concert series, contact Dr. Robert Carney, associate professor of music at SBU, at (417) 328-1644 or rcarney@SBUniv.edu.
*Published: 4-18-19