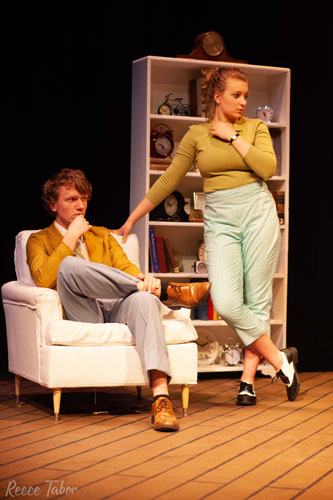 BOLIVAR, Mo. – Southwest Baptist University's department of theatre will present its interpretation of "The Bald Soprano" in its final show of the season at 7 p.m., April 26-28, in the Davis-Newport Theatre on the Bolivar campus.
The production follows a couple and its visitors, and through their conversations, emphasizes how language can often become pointless. "The Bald Soprano" was first produced in 1950, and speaks to the time it was produced, yet is still applicable to the culture of society today.
"Be ready for some weird, strange things happening," said Jonathan Wehmeyer, instructor of theatre at SBU and director of "The Bald Soprano." "The playwright describes this play as an anti-play. So come ready to view something that is not what you're expecting from your average theatre performance."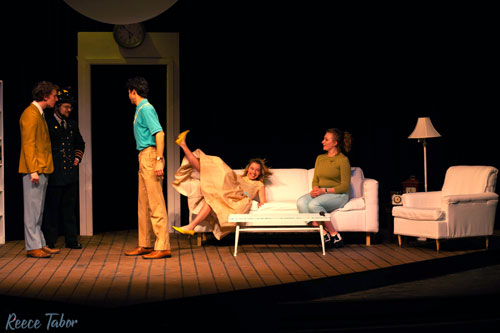 General admission tickets are $10 for adults and $4 for children. Tickets for alumni, senior citizens and students at other universities are $6, while tickets for SBU students are $4.
Tickets can be purchased online at www.sbuniv.edu/theatre, over the phone at (417) 328-1691 or in person at the SBU box office from 1-5 p.m. Monday-Friday in the Jester Learning and Performance Center.
For more information, contact the theatre box office at (417) 328-1691.
CUTLINE 1 (Photo by Reece Tabor): Max Stoner (seated) and Haley Gill during rehearsal for "The Bald Soprano."
CUTLINE 2 (Photo by Reece Tabor): (From left): Max Stoner, Daniel Stucky, Joel Walley, Brittany Davis and Haley Gill rehearse a scene from "The Bald Soprano."
*Published: 4-19-18